A concerning increase in recent CCP (Chinese Communist Party) virus infections seen in China's highly inoculated city Ruili and in neighboring Burma, forced the city back into lockdown after easing restrictions for four months.
Ruili City's health department confirmed that the Delta strain was detected in the gene sequencing of seven cases. Another 16 CCP virus cases, commonly known as the novel coronavirus, are under investigation, the authorities said during a July 7 press conference.
Fifteen cases were identified in the new round of mass testing, launched on July 4, after three locally transmitted CCP virus cases were reported, according to the Health Commission of Yunnan Province.
This marks the fourth outbreak of virus in the southwestern city since September 2020.
Ruili authorities launched a campaign on April 2 to vaccinate all 300,000 residents within five days following the last wave at the end of March. Chinese media reports said that most of the population had received at least one dose of China-made vaccine.
At least half of the population in Ruili received the single-dose CanSino vaccine, which claims to provide protection against the CCP virus after 14 days.
The Yunnan provincial government dispatched over 150,000 CanSino vaccines to Ruili, which were expected to be administrated before April 6, according to state-backed Huanqiu.
The local health authorities did not specify which vaccines it uses. But the Ruli government said the one-jab CanSino is available to all residents over 18 years old, including Burma nationals, according to a June 2 notice.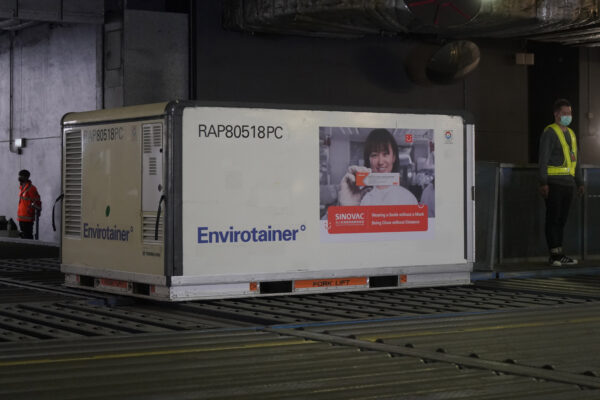 Recently, there have been growing doubts about the efficacy of Chinese vaccines.
Singapore said on July 7 that people who received China-made vaccines would not be regarded as vaccinated because of the lack of data showing efficacy of the Sinovac vaccine against the Delta strain.
Chinese expert Shao Yiming told domestic media on June 7 that Chinese-made vaccines are for "prevention of symptom development," instead of "preventing infections."
Lin Xiaoxu, a former virology researcher at the Walter Reed Army Institute of Research, told The Epoch Times last month that there was insufficient data on the infection rate of fully vaccinated people, because the Chinese regime did not collect such data.
Currently, citizens in Ruili stay at home because the authorities have forced them to self-isolate. People are warned they will be punished for going out without permission.
On the morning of July 7, the southwest China city expanded the lockdown to the whole region, shutting down all non-essential businesses and public institutions, according to the notice.
Jiegao Bridge, the main point of entry to Burma (also known as Myanmar),  was closed to traffic in and out of the city on June 5.
Luo Ya contributed to this report.