Guangzhou, the capital of Guangdong, a province in southern China, was reported to be severely affected by the Indian variant of the CCP virus. More than 60 percent of its residents have already been vaccinated, yet Guangzhou remains a hotbed for the virus, which has raised questions about the vaccine's effectiveness.
On June 5, seven cities including Zhuhai, Zhongshan, Dongguan, Shenzhen, Huizhou, Qingyuan, and Shaoguan dispatched 5,600 medical staff to support Guangzhou, despite there already being more than 170,000 medical staff in Guangzhou by the end of 2020. This raised suspicion that the actual epidemic situation may be much more serious than what the CCP (Chinese Communist Party) reported.
On June 3, an audio recording of a Guangzhou doctor went viral on Twitter. The doctor said: "Guangzhou and Foshan have basically been impacted, just not locked down yet … at least 200 confirmed cases daily, and 30 percent of them were asymptomatic cases. The second batch of nurses have been dispatched to support Guangzhou—the first batch was exhausted. The most horrifying thing is that most are asymptomatic cases."
The doctor said, "if you just met those strangers (carriers) in the past few days, or you had close contact with them … 6 feet away [with only] contact by air, you will have no symptoms."
Using Big Data to Track Close Contacts
As the outbreak of the CCP virus in Guangzhou spreads, the local CCP authorities are using big data to locate close contacts of infected patients.
A person infected with the CCP virus dined at Ying Feng restaurant on May 30. Upon his testing positive for the virus, the authorities quickly identified customers who had gone to the restaurant for either take-out or dining-in during the same time period. All of the close contacts, as well as their families, were sent to local hotels for isolation.
A family member of a close contact, under the pseudonym Tang Ming, is a resident of Guangzhou's Haizhu district. He is currently being quarantined at the Rosedale Hotel & Suite.
"All people who appeared within about a 1-mile radius around that restaurant during that period of time were quarantined together, with no one escaping from it," Tang told The Epoch Times.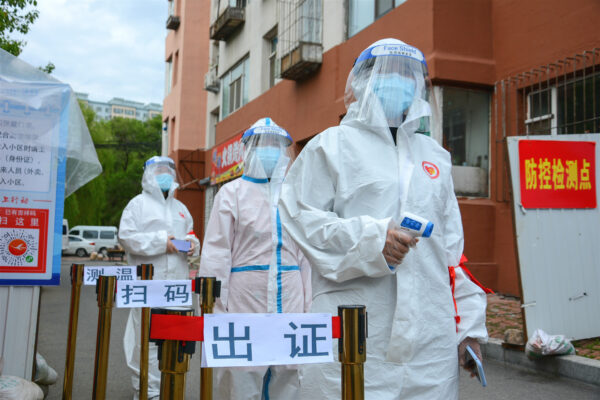 How did the authorities find the close contacts?
According to what the local authorities said, as long as "you have a mobile phone, which has information about your location, the big data authorities can request your data from the mobile phone companies. All those who were there during the requested time frame are located. If you didn't take your mobile phone to the restaurant, you won't be tracked," Tang said.
Mobile phones within the range of a base transceiver station automatically send signals to the station, which is how the mobile phones' location data are recorded.
The CCP's big data is very scary to those who understand it, because it closely monitors every citizen and turns the whole country into a big prison. Everyone's privacy is openly exposed for the authorities to see.
"In the domestic arena, the Chinese Communist Party's objective is to leverage big data analytic capabilities to strictly and comprehensively monitor and control China's population," according to a September 2020 report (pdf) called "Chinese Views of Big Data Analytics" by RAND Corporation, a U.S. think tank.
In China, "The MPS [Ministry of Public Security] is exploiting new data sets that it plans to centralize in a 'police cloud,'" RAND's report states.
Human Rights Watch reveals in its multiple reports that the CCP's big data system is used to monitor and track dissidents, human rights activists, religious groups, and small ethnic groups.
Guangzhou Authorities Halt Vaccinations
In the past several days, the pandemic in Guangdong has reportedly been deteriorating, but many people who have been vaccinated locally are still testing positive for the virus.
Li Ming, deputy mayor of Guangzhou, announced an abrupt halt to vaccinations at a press conference held by the local government on May 31.
According to Li, the local government's current focus is swab testing. Administering vaccinations was stopped due to overcrowding at the vaccination sites, which she believes could be potential sources of infections.
In fact, by the end of May, more than 60 percent of Guangzhou's residents had been vaccinated. Therefore, the resurgence of the outbreak has people wondering if there is something wrong with the vaccine.
Shao Yiming, a researcher at the Chinese Center for Disease Control and Prevention (CCDC), told Chinese media on June 7 that current Chinese domestic vaccines are not for "preventing infections."
According to Shao, vaccines are divided into three levels of protection. The primary level is for "prevention of infection," which is the most desirable level. The secondary level is for "prevention of symptom development," or so that minor illnesses do not become serious or even develop into death. The tertiary level is for "prevention of transmission," meaning that even if someone is infected with minor symptoms, it is difficult to transmit the virus to other people because there is only a small amount of virus in the body.
He said Chinese vaccines are designed for the secondary level. "The effective rate of prevention is against flare-ups, not for prevention of infection. That's why some people are likely infected (by the virus) even after receiving the jabs," Shao said.
Forced Quarantine
Tang recalled the moment when he was notified by the authorities to quarantine.
Tang said he suddenly received a flood of calls from his local community office and local epidemic office.
His first thought was that these are just scammers.
He did not think that he'd be infected because his routine had been just going back and forth from office to home. He felt very confident and said, "I have never been to (Yingfeng Restaurant)." However, little did he know that his family had been there.
Tang joked that he had been very active in getting vaccinated and performing nucleic acid tests, but he did not expect to be "implicated by his family."
Tang entered quarantine on June 5.