A coastal Chinese city has tightened lockdown restrictions by barring hundreds of thousands of residents from leaving and punishing those who do, amid a widening Delta variant outbreak.
The Fujian Provincial Health Commission confirmed 15 cases on Sept. 24, with 11 in Xiamen city. As of Friday, the city totaled 222 cases in the past two weeks, more than the official infection figures reported in Putian city, the latest COVID-19 outbreak's epicenter.
Given that the Chinese regime is known to underreport the number of infections, the official counts are unlikely to represent the total, but they reflect a high infection rate in Xiamen city.
The scenic coastal city of Xiamen closed major tourist spots, issued travel restrictions, and shut all non-essential locations at the beginning of the new outbreak.
The regime's top health authorities required the city to step up efforts to monitor and control people's movements, launch mass testing, and place more close contacts under quarantine, Sun Chunyang, the deputy director of the National Bureau of Disease Control and Prevention, said at a conference on Sept. 21.
Tong'an district, an area that accounted for 90 percent of cases reported in the city, told residents "not to leave home other than in exceptional circumstances" and that "gatherings are prohibited" in a Thursday notice.
Over 660,000 residents in Tong'an district are currently on their seventh day of lockdown after authorities ordered them to stay at home on Sept. 16. The official panel tasked with controlling and preventing the spread of the CCP (Chinese Communist Party) virus had closed off residential compounds and villages affected by the outbreak.
Xiamen police said in another Thursday notice that they gave two men five-day administrative detention sentences as punishment after the two tried to cross a fence to leave Tong'an district, according to state media Xinhua.
Staff guarding at the entrance to the district stopped the two when they tried to walk out of the area for the first time on Sept. 22. Police arrested them later while they were crossing the fence to detour around checkpoints.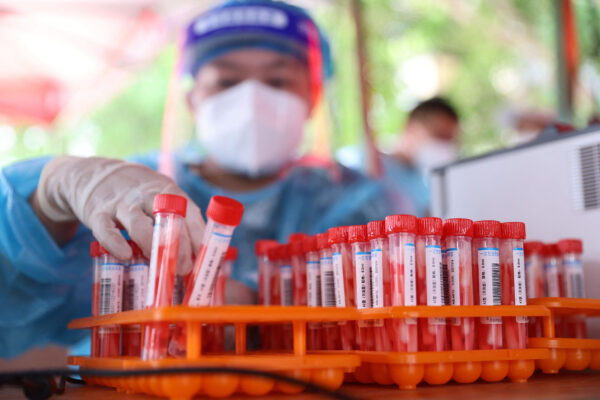 The leadership of Tong'an vowed to complete its fifth round of mass testing on Thursday. Yang Hua (pseudonym), a resident from Guanxun village in the district, told The Epoch Times that residents are afraid of receiving tests as the site is too crowded.
She started to queue for a nucleic acid test from 4 a.m. Sept. 20, but didn't receive a test until 9 p.m., she said. Over 50,000 residents in the village had to receive the nucleic acid test at one site.
"You won't know [the real situation] from the official report, " she said.
Another resident from Panxu town in Tong'an said a couple of fights broke out in the queue as everyone hoped to be tested first.
The outbreak in Xiamen city has prompted other cities across the country to issue travel warnings ahead of tourist season beginning in late September.
A major national holiday starts from China's Mid-autumn Autumn Festival. Generally, millions of people are expected to travel across the country.
Hong Ning and Zhang Yujie contributed to this report.