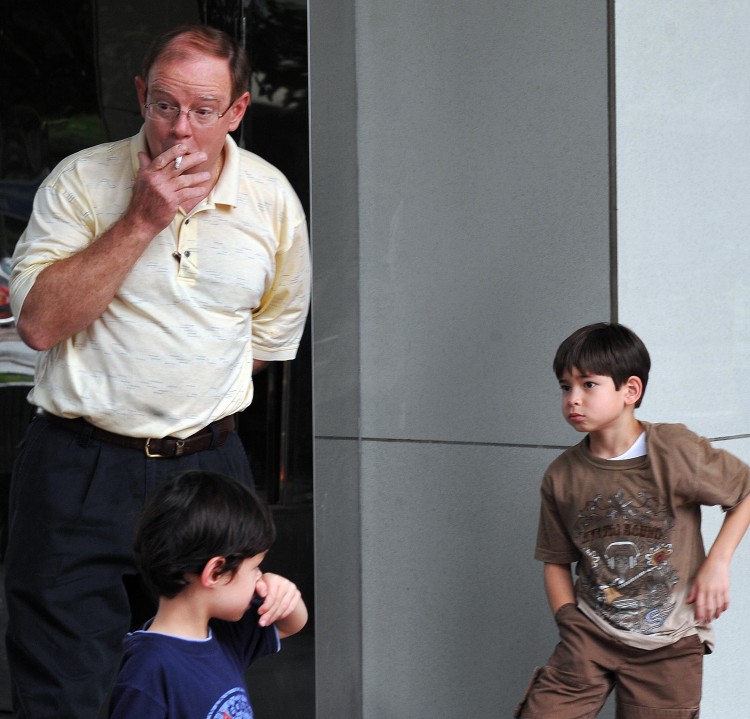 "Mummy and Daddy please stop smoking", is a wish nearly all children have and they are willing to make considerable sacrifices to help their parents quit, a recent government survey shows.
The survey, commissioned by the Department of Health on children's attitudes to smoking, found that 98 per cent of children with a smoking parent want them to give up and almost three-quarters are worried about their parents dying as a result of tobacco use.
More than half of the 1,000 8- to 13-year-olds surveyed would be prepared to give up pocket money, seven out of 10 would promise to do their homework every night and go to bed on time, and one-third would even give up Christmas presents.
The youngsters also revealed that they want to live in a smoke-free environment, with about 80 per cent opposed to parents smoking in front of them at home and in the car.
The survey gives backing to an NHS television and radio advertising campaign launched at the weekend to highlight the dangers of second-hand smoke exposure to children.
Based on research published by the Tobacco Advisory Group of the Royal College of Physicians, the adverts show that smoking out of an open window at home or in a car does not protect children from the damaging effects of cigarette smoke, most of which is in the form of invisible, odourless gases.
The report, Passive smoking and children, found that about 2 million children are exposed to second-hand smoke in the home, and many more outside the home, and that this is having a huge impact on their health. Thousands of children develop lung infections, middle ear infections, and asthma each year, leading to more than 300,000 GP visits and about 9,500 hospital admissions, costing the NHS about £23.3 million. Passive smoking was also linked to 40 cot deaths, which is one in five of all cot deaths that occur annually.
The Advisory Group is calling for measures to limit children's exposure to passive smoking, emphasising that young people can only be protected when smoking among adults is reduced. It makes recommendations for increasing public awareness of the dangers of second-hand smoke through media campaigns and calls for a new strategy to prevent the uptake of smoking in young people. 
Children who live with smokers have a 90 per cent chance of becoming smokers themselves.
The chair, professor John Britton, said in a statement: "It's about taking smoking completely out of children's lives."
This view is echoed by the Royal College of Paediatrics and Child Health (RCPCH), which supports the policy recommendations in this report.
The president of the RCPCH, professor Terence Stephenson, is calling for new approaches to address this problem. He said in a statement: "We should be making cars totally smoke-free if there are children travelling in them."
The Chief Medical Officer for England, professor Sir Liam Donaldson, also welcomes the recommendations, as they aligns with the government's 10-year tobacco control strategy for England, A Smoke-free Future.
Health Secretary Andrew Lansley said in a statement: "We all know smoking kills but not enough people realise the serious effect that second-hand smoke can have on the health of others, particularly children."
He hopes that the national advertising campaign will "encourage people to protect others from second-hand smoke". Lansley admits the government needs to do more. So from this Friday, as part of the strategy, large shops will no longer be allowed to have tobacco displays. The next move will be a consultation on plain packaging for tobacco later in spring.
Not all groups welcome the government interventions. On the website of the smokers' group Forest, Simon Clark, the director, posted: "It's only a matter of time before loving parents who smoke in or around their homes are accused of child abuse and risk having their children taken into care.
"Tobacco is a legal product. If the government doesn't want children exposed to even a whiff of smoke they will have to amend the smoking ban to allow designated smoking rooms in pubs and clubs. That is the only sensible solution.
"Meanwhile, are they going to ban barbecues and bonfires?"