"I didn't realize it at first, but it slowly dawned on me that I had been rehearsing for this role my entire life," says actor, singer, and performer Paul Raci. "Being a CODA (child of deaf adults), my whole life has been spent working with the deaf community, especially my parents."
"I only wish they could be here to see this," said an emotional Raci.
Raci was recently nominated for an Academy Award in his role as Joe in the film "Sound of Metal"—a departure from his usual television spots here and there..
"I worried and wondered if I could handle a role of this magnitude," says Raci of his role as Joe, the "late-deafened" Vietnam veteran and alcohol counselor.
But as Raci wrestled with the role, he realized his life's story was Joe's story.
"My father was born deaf and was a proud member of the NAD (National Association of the Deaf) as was my mother, who was deaf from about the age of 5. I saw the setbacks, the frustration, the taunting, and the bullying," he said. As a child, I watched my mother, a most studious woman, who was an expert lip-reader. I mimicked many of her movements for the role. I myself suffer from bouts of tinnitus from my time in Vietnam, as did many of my brothers who worked on the flight deck with me. They gave us a piece of cardboard as hearing protection. Many of those guys are fully deaf now, so this role was me—it literally mirrored my life."
The Role
Actor Riz Ahmed ("Shifty," "Four Lions," "Nightcrawler") portrays a heroin-addicted heavy metal drummer who's going deaf after refusing to protect his ears and who is struggling to keep "clean." His girlfriend, portrayed by actress Olivia Cooke ("Thoroughbreds," "Ready Player One"), fearing a relapse, sends him to a deaf-sober house. It's at this point that Raci makes his entrance.
"Riz's sponsor finds a deaf-sober house run strictly for the deaf community, which was founded by, and run by my character, a Vietnam vet who is deaf from the war and who is also an alcoholic," Raci said. The script originally called for Raci's character to have been an Iraqi war veteran, but in a request designed to help him give as authentic a portrayal as possible, Raci asked that the character mirror his real-life service in Vietnam. "It really made the part come alive for me."
"I thought about my parents all through this," Raci added. "And I thought about all the wonderful deaf people I had known growing up."
"I just hope I honored them all," he said.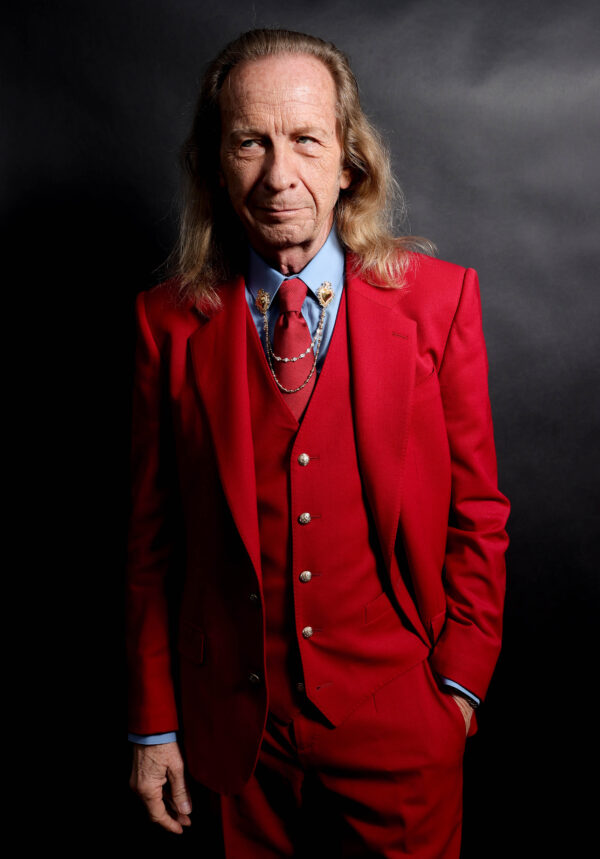 Real People
Raci says that he is sensitive to the needs of the deaf community.
"I had to be the conduit for my dad. I saw the way hearing people treated him. My father always felt oppressed. I was the one who had to negotiate contracts, even as a little kid. If this role was that of a person fully deaf from birth, as my father had been, do you think that I could have given this same kind of performance? I couldn't have taken that role, it would't have been me. It wouldn't have rung true," he said. "But this was my life."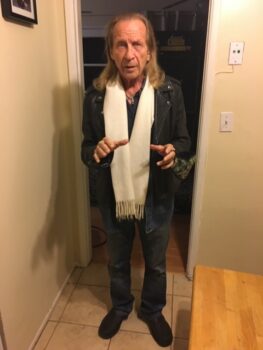 You might think that a role which doesn't spotlight the positive side of the deaf culture might have offended Raci. You'd be wrong.
"See, that's the thing—that's the thing that this movie is going to show you," he said. "The world thinks about how deaf people are just the sweetest people. They're so quiet. They wouldn't rape anybody, they wouldn't break a law … or smoke anything bad … or do drugs. But we're people, like anyone else. And that's what drew me to this role. These are real people. This shows you a recovery house with about 12 hardcore addicts who are deaf—and addicted," he said.
Raci says he'd rarely seen the deaf portrayed as it was,warts and all, until he read this script.
"The deaf are addicts, they're lawyers, they're accountants, they're good people and bad people," he said.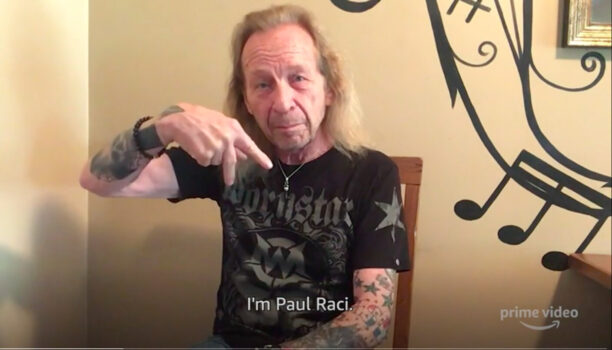 Raci's Arrival
Raci is always looking for ways to introduce the deaf culture to new audiences, which is what attracted him to the band, "Hands of Doom," a "Black Sabbath tribute band," where he performs what the band calls "ASL (American Sign Language) Rock."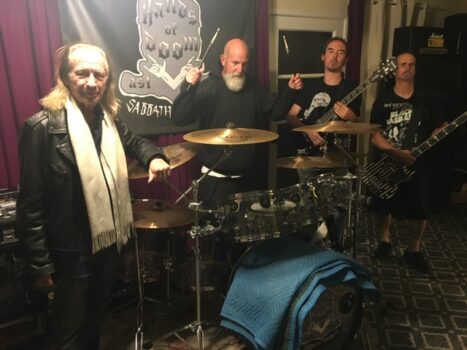 "I act out each song, and that really makes each song come alive, especially for the deaf community," he said. The band has gained a strong following among the deaf community and Black Sabbath fans the world over. "I try and bring my experiences and my growing up with deaf parents, into every performance."
Raci's family has seen his band, and his turn in "Sound of Metal." And they approve.
"My family has seen it, and they're really happy with it. They knew it was real, and from the heart," he said. "Especially the ending."
While Raci has been acting for more than four decades, he says he's been waiting for this role his entire life.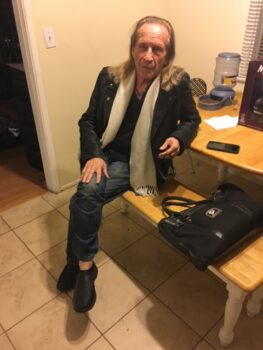 "This role? Man, you have no idea. I've been acting for 40 years. I've got damned good acting chops. I came out here in 1989. I've done plenty of theater … but I've never gotten a big role in a movie, just bit parts. I'm 72 years old. I've been doing this 41 years.," he said. They offered this part to Robert Duvall, but thankfully, he didn't want to learning language.
They shopped it around. They wanted a "name" attached to it, and "Paul Raci" wasn't a name.
"My agent, who's also my wife, actually called them and begged them to look at my audition. She said, 'Did you look at his audition?' They said, 'You know what? We've had so many people audition for this part … we're just going to give it to a name.' They said that. They actually said that!" said an incredulous Raci.
Not to be denied, Raci's wife called the producers one last time and begged them to look at the screen test. She said, "Please, please, look at this tape, because this guy knows what he's doing."
Minutes later, Raci got the call every actor dreams of.
"They called me back five minutes later. The director said, we want to meet him right away." Producers offered Raci the role right there on the spot.
"And now … if you're a character actor too, you know, and so does every other day player in this town …I 'm going to be up for best supporting actor. Me! 41 years I'm doing this," Raci said. "I'm being nominated for best supporting actor for this thing, because I kicked butt!"
"Everybody, and I mean everybody talks about the last scene. A few months ago, there was the press junket: I did 40 interviews of four minutes each: CNN, CBS, NBC, Phoenix stations, Minnesota, New York … and they were all asking, 'How'd you do that…that last scene?'"
Raci credits director Darius Marder with allowing him to find the role within himself.
"Darius Marder, this was his first directing effort, although he wrote "Beyond the Pines," and "Loot" and he was just awesome as a director. He's sensitive, he's wonderful, he's smart. He let me do what I had to do. We talked about what he wanted from me. And after that last scene, I looked over and Darius was just weeping. I mean weeping. Riz and I laugh about it now … but it's about two grown men being vulnerable. One reviewer in Toronto said, 'I wanted to stop the movie because I wanted to see if the actors were ok.'"
The final scene should come with a "spoiler alert" to keep tissues handy. "I've had dozens of people ask me, 'What about that last scene?' One writer from The Chicago Tribune asked me about the last scene … he wanted to know how it was accomplished. He said, 'You can't teach that kind of acting can you?' And I said, 'No, no you can't. I was made for this. Now, could I have done that scene 40 years ago? No. But now? That's my whole life in that role … and it's all in that last scene. Now people want to know where I've been," he said with a laugh.
Where Paul Raci has been is waiting for a role like this his entire life. If the stars align and the portrayal is seen by enough of the right people, Raci knows exactly where he'll be next: "The words 'Academy Award winner Paul Raci,' have a nice ring to them," he said. "I like the sound of that."