Yachts are the epitome of wealth, status, and privilege. But now, yachts of all sorts and sizes are more accessible for everyone to enjoy. Your next celebration might easily include a travel adventure for a few of your closest loved ones.
For many, being out on the ocean is one of life's most serenely joyful experiences. Just step from the dock onto a boat and you're off for what can only be described as sheer bliss. It almost doesn't matter whether it's a kayak, small sailboat, or a dinner cruise—but let's face it, yachts are the best of all.
A preowned "starter yacht" can easily set you back a million dollars, and that price tag quickly doubles for a new one. However, via today's peer-to-peer booking sites luxury yachts are surprisingly affordable options for a special outdoor experience.
My husband, Rob, and I recently chartered a yacht to celebrate renewing our wedding vows in the company of family and friends. It was a grand experience for us and a unique travel opportunity for our guests.
Originally, we had sailed into the sunset on a 76-foot sailboat to say our wedding vows. We planned to have a vow-renewal party after 10 years, but life happened. At 15 years, COVID-19 hit. This time, 16 years later, we decided to renew our vows aboard a power yacht. The past year taught us a great lesson: There is no time like the present. So happy sweet 16 to us.
I booked the yacht 10 days in advance for a midweek journey (weekends require more advance planning). Unlike a sailboat, the decks of a luxury motor yacht stay dry, and the interior common areas and cabins are spacious, so the chilly outdoor coastal temperatures aren't an issue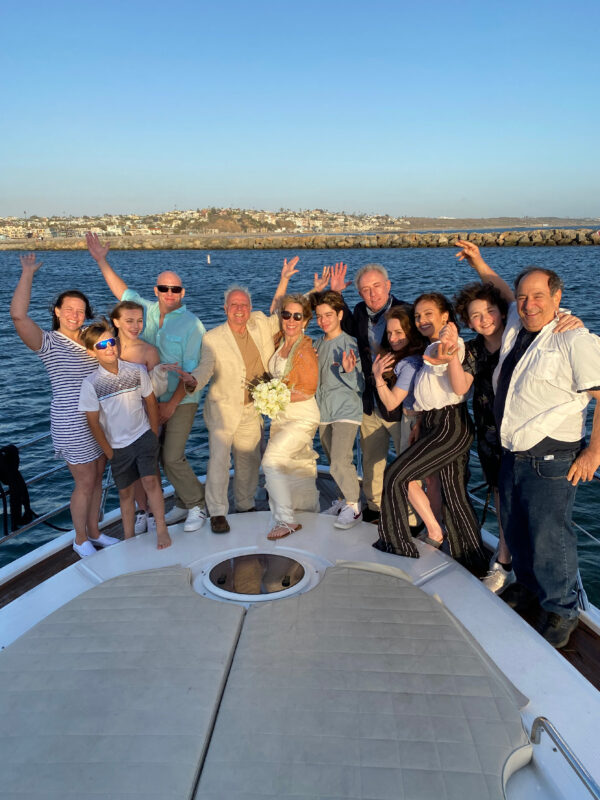 We celebrated on an Azimut 64 Fly, which is a much-sought-after, elegant Italian-built oceangoing vessel that features three cabins below deck, a fly bridge with abundant cushioned sitting areas, a large cushioned foredeck for relaxing or sunbathing, spacious galley, dining, lounge areas, two bathrooms, teak decks, and a convenient place to swim and barbeque on a stern deck. Stunningly designed, it offers comfortable cushioned areas fore and aft at all levels for socializing with plenty of nooks for those seeking a little privacy. Our yacht was named Princessa, which made us all feel a bit like royalty.
With our captain, Romualdo, we set sail past barking seals and squawking gulls and headed for the open sea. A few miles offshore he spotted swarming pelicans that had come to feed off schools of fish near the surface. He explained that they attract dolphins, so we headed straight for them. There we were greeted by the largest number of dolphin pods I've ever seen. Exquisite creatures, they swam around and alongside us for nearly an hour. I smiled so much that my face literally hurt.
If you're looking to host a special traveling celebration, consider these benefits that yachts offer. You're forced to focus on a slim guest list, and intimacy is a key benefit. You, your friends, and family will share a glorious travel adventure together, and while owning a yacht is inaccessible to many, renting one is within reach. A bonus is that you're not responsible for the maintenance.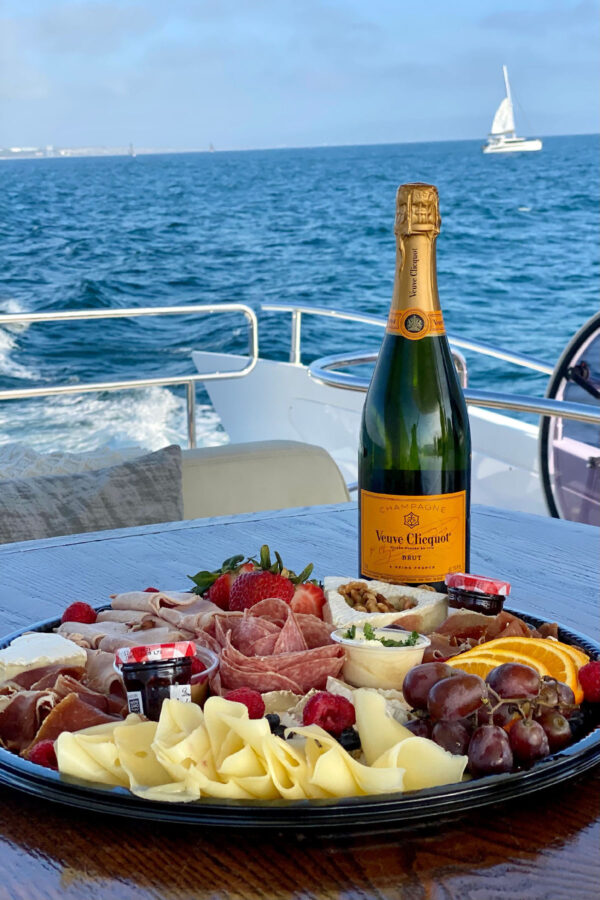 We found GetMyBoat.com—a large peer-to-peer booking service highly rated for its wide, curated selection of quality charters. After I specified the size and date, GetMyBoat.com connected me with Happily Ours, which manages chartering for three stunning yachts. Booking was easy, with boat manager Julia Ford highly responsive. You'll get the best service booking early in the week. The very capable and experienced Romualdo was a great sailor who was engaging when engaged and otherwise unobtrusive.
While GetMyBoat is a great tool for people looking to book luxury boating experiences, their offerings aren't solely for extravagant vacations. The platform aims to make boating more accessible to everyone who wants to enjoy being on the water, and they offer the largest range of boat rentals and charters at price points to fit almost any budget. You can search from affordable pontoons to luxury super-yachts and go boating for a few hours or a whole week.
If you decide to try this for yourself, here are a few tips that might help. Make sure to confirm everything in writing, within the app or web platform you use. Going outside of any app or platform often nulls the platform's responsibility. Yachts and boats are not usually accessible before your confirmed time, so plan to load any food, drinks, and other supplies promptly and efficiently. And have some Dramamine on hand for your guests—just in case. 
Enjoy your time on the water. If ever there was a time to "go with the flow," this is it. But remind guests beforehand that they might need to be flexible. The ocean isn't always predictable, and she may have a few ideas of her own.
When You Go
Our yacht cruise left Marina del Rey, California, and traveled along the coast in the Los Angeles area, but GetMyBoat can arrange for boating adventures all over the country: GetMyBoat.com. The Princessa yacht can be booked through Julia Ford: 972-741-2383.   
Margot Black is a freelance writer. To read features by other Creators Syndicate writers and cartoonists, visit the Creators Syndicate website at Creators.com. Copyright 2021 Creators.com