"We are now at the highest ridge in Charleston," our driver-guide announced as our 16 passenger carriage, pulled by two mules, moved along Horlbeck Alley onto King Street. "It's 12 feet above sea level here."
Ah, that explains why they call this area of South Carolina "the Low Country."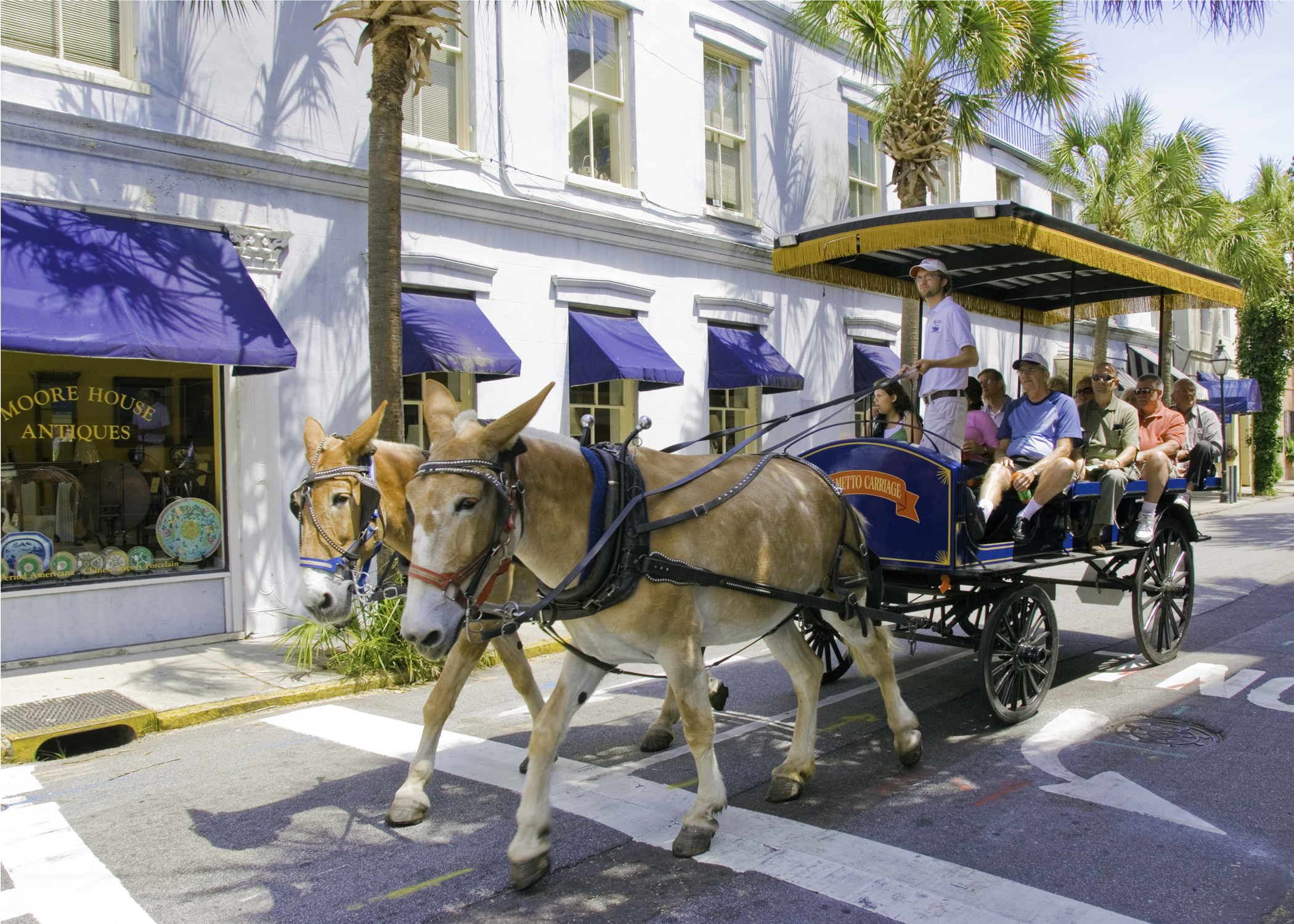 You can learn some interesting things by taking one of these tours. The young man who conducting our Palmetto Carriage Tour has an undergraduate degree in history plus 27 hours of post-graduate credits in Southern history—and he clearly enjoys the subject.
As the sights slowly rolled by us, he explained that King Charles II of England granted a huge tract of land in the New World to a group of eight men as a reward for their loyalty to the crown during the Oliver Cromwell years. They named it Carolina, honoring the king with the Latin-inspired term that references the two kings named Charles who immediately preceded and immediately followed Cromwell. They then named the city Charles Towne after Charles II; the name evolved into Charleston after the American Revolution.
It's the oldest major English settlement south of Virginia, he pointed out, with some of its buildings around 300 years old. Its history includes significant roles in both the American Revolution and the Civil War.
"Know what they call that part of a house here in Charleston?" he asked, gesturing toward what some of us call a porch and others call a veranda. "It's a 'piazza,'" he tells us, "after the Italian word for an open gathering spot, often adorned with columns."
We find little things like the fact that people in Charleston use that unusual word rather than the usual ones interesting to know. And we find Charleston very interesting to get to know. It is, we have concluded after two visits within less than a year, one of the very best U.S. city travel destinations.
One of America's Best-Preserved Cities
Walk around the historic district here—delight in the grand architecture of both colonial and antebellum eras; relish the cobblestone lanes and the gas lanterns on posts and along walls; admire the wrought-iron fences, gates, and balconies; enjoy the lovely landscaping and take pleasure in the lovely colors. It's easy to understand why Charleston is ranked as one of the country's best-preserved cities.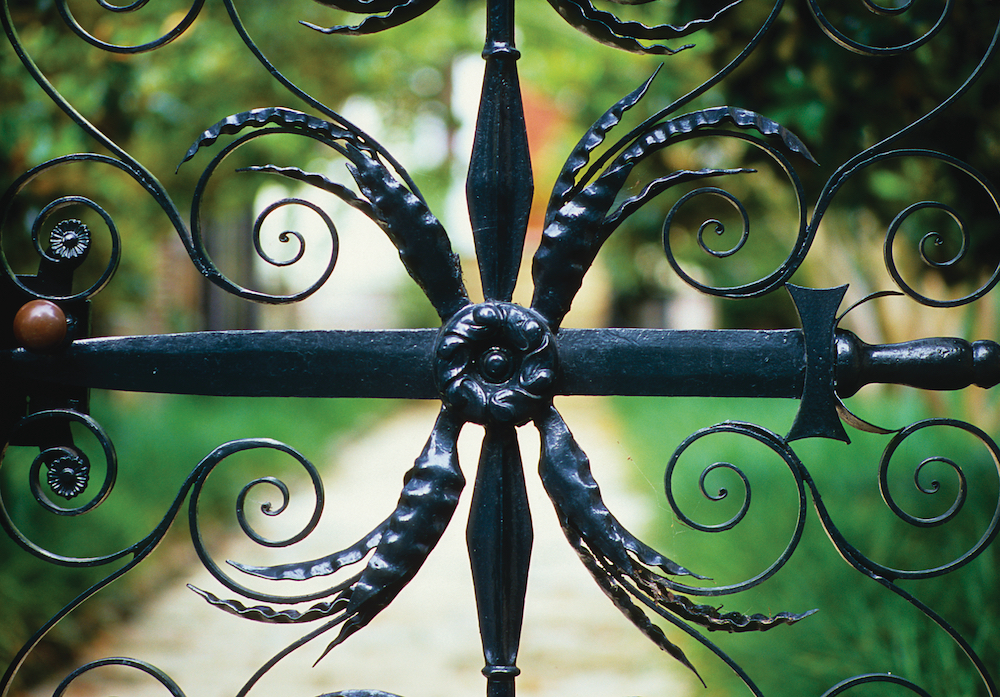 It was the first American city to adopt a zoning ordinance preserving and protecting historic structures; 23 square blocks of its Lower Peninsula area are set aside as a historic district where exterior alterations require approval from the city's Board of Architectural Review.
To fully appreciate the appeal of this lovely city, you need to walk around. A good place to start is in the Old City Market area. The stalls of its brick sheds once drew locals shopping for meat, fish, fruits, and vegetables, and now draw tourists shopping for gifts and souvenirs.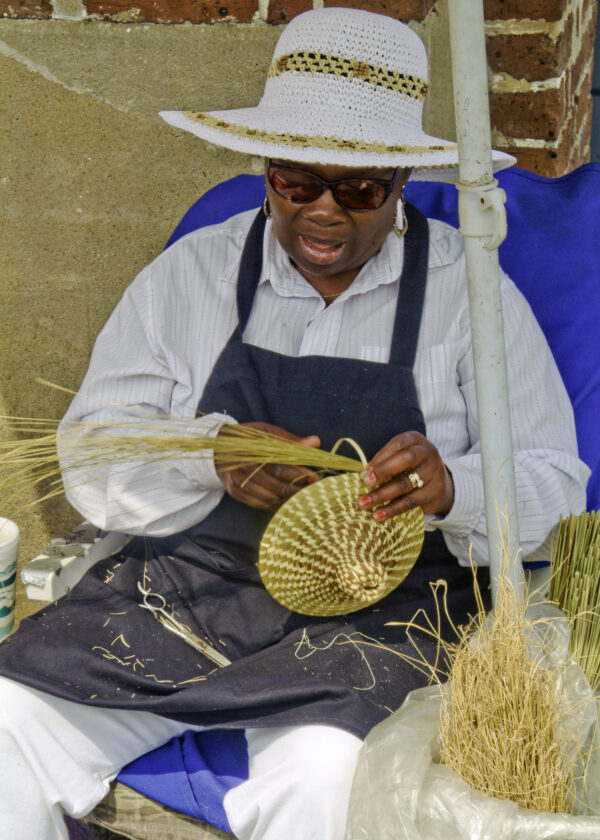 Outside the market building and at some other spots nearby you will see African-American women sewing sweetgrass baskets for sale. They do it the way that has been passed down from African ancestors. It takes great skill and a long time to produce such baskets, and that, combined with the sharp decline in both the number of women skilled in the craft and the available supply of sweetgrass, is why they sell at such premium prices.
The route we walked soon led us to Chalmers Street, just north of Broad Street, a particularly picturesque cobblestone street with brightly colored houses, wall-mounted gas lanterns, and other interesting architectural details.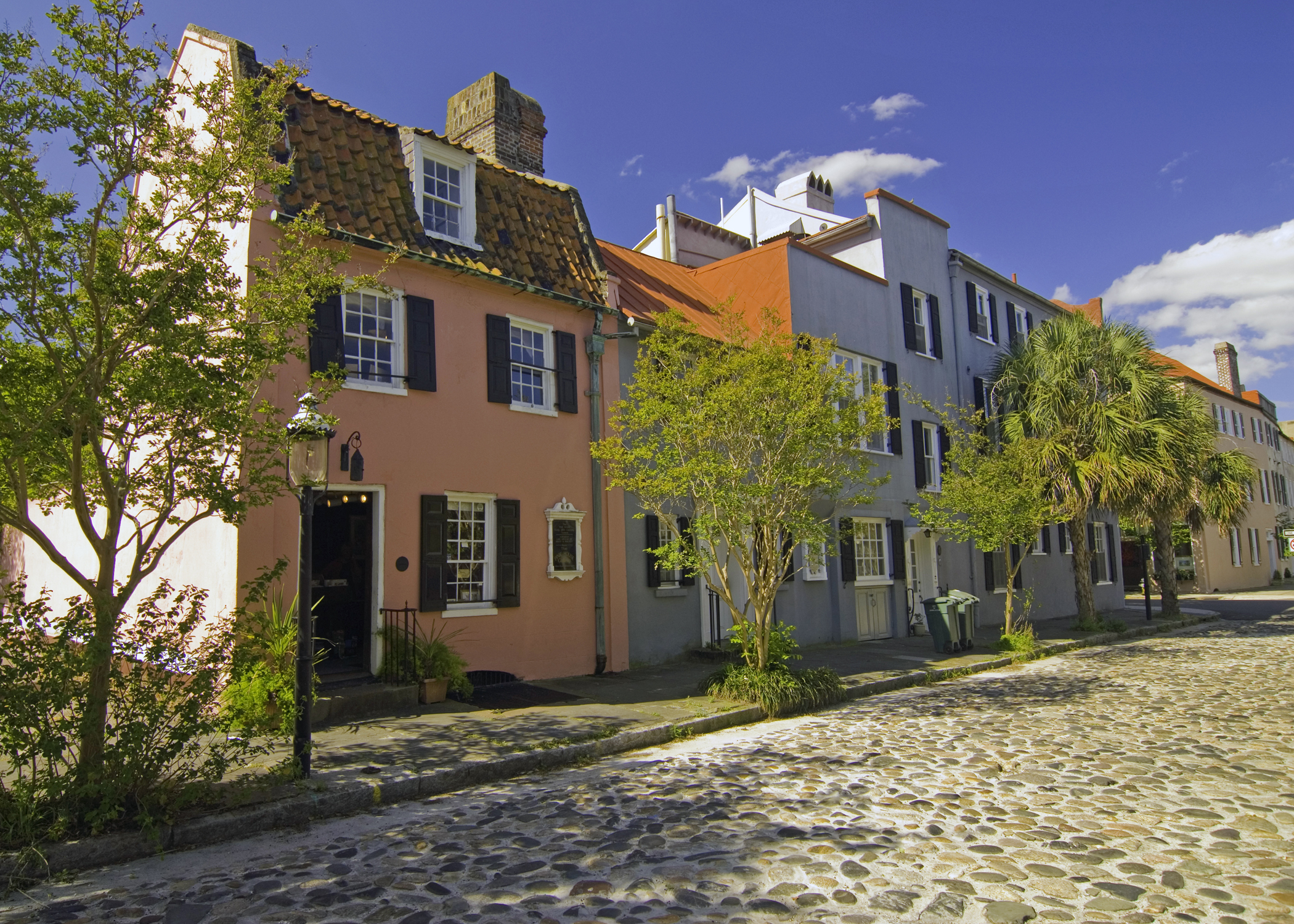 Those beautiful wrought iron works, many featuring intricate ornamentation, which you see on fences, gates, and balconies around such places as Chalmers Street and throughout the historic section, are a legacy of African slaves and their descendants who created almost all of these fine pieces.
Almost every building you walk by—be it a home, a shop, a church, or a public building—seems to contain a small plaque testifying to its historical museum-like status. There are so many of them—in all, more than 1,000!
A favorite with most visitors is a walk along the area of East Bay Street just south of Broad Street, an area known as Rainbow Row. As the nickname suggests, the rows of houses here are reminiscent of the colors of a rainbow.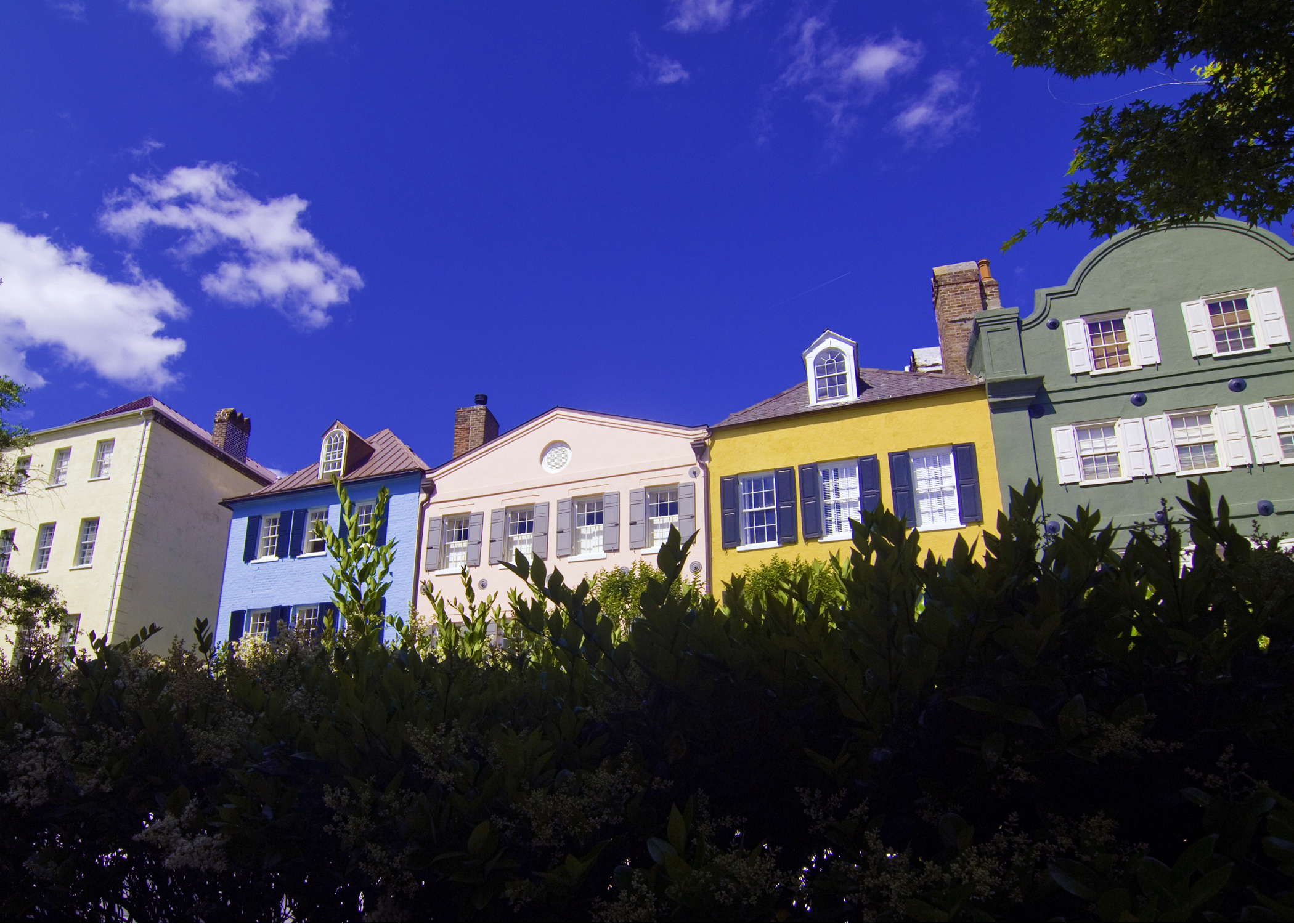 Why South Carolina Is Called the 'Palmetto State'
As we walked through the historic Lower Peninsula section, we passed by all sorts of architectural delights and then came to a great view of still more—grand mansions, these with water in the foreground. The Battery is what they call this area, located at the point where, as some locals put it, "the Ashley River and the Cooper River come together to form the Atlantic Ocean."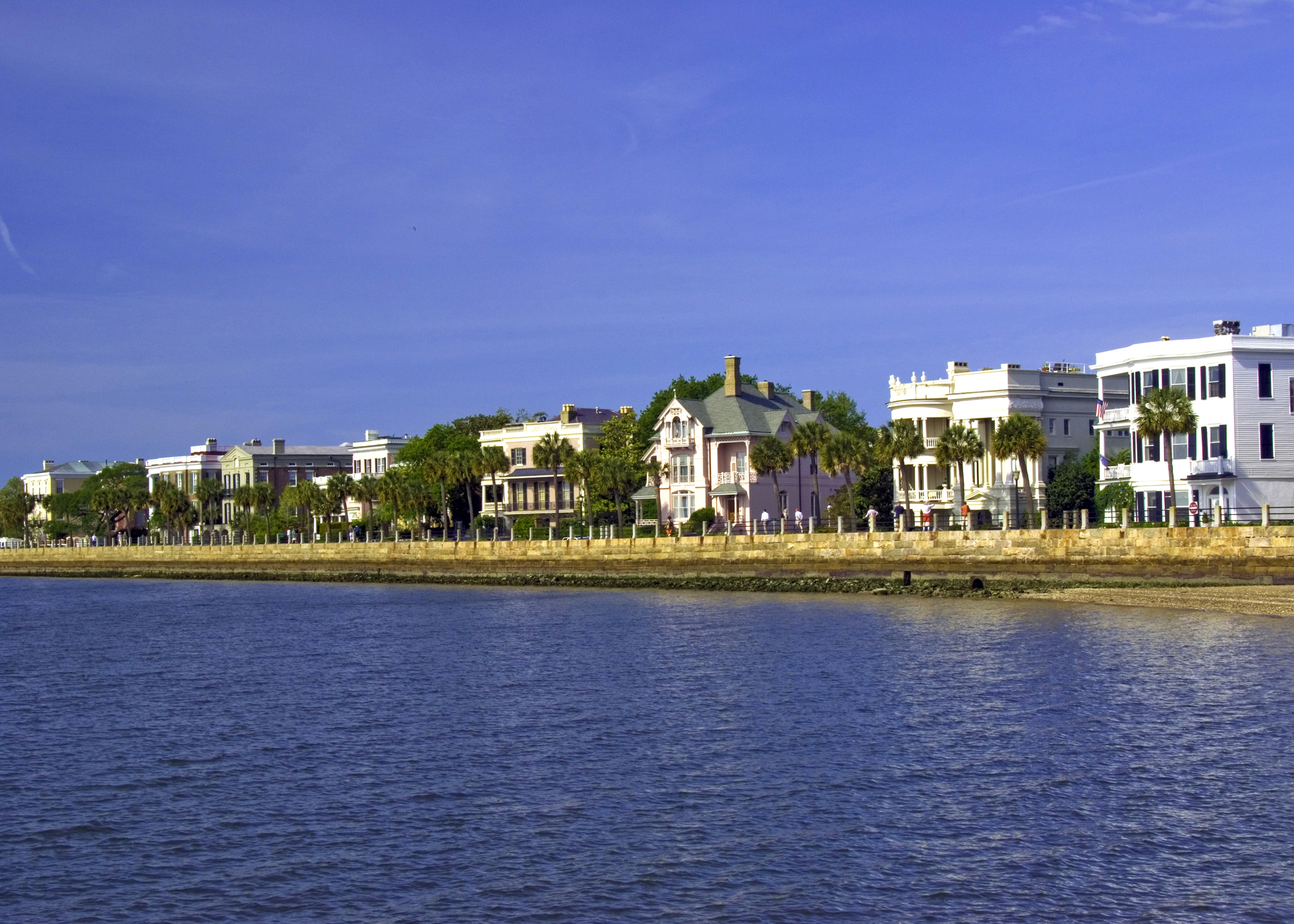 It's also the point where you find White Point Gardens, a lovely spot with tall oaks and palmetto trees. On one side are the stunning mansions of South Battery, on the other side, cannons face out toward a small island in the middle of the harbor that houses a place called Fort Sumter. From here, in the mid-afternoon of April 12, 1861, cadets from The Citadel, the famous military academy located in this city, opened fire on the fort—the American Civil War was underway.
While Fort Sumter may be well-known, nearby Fort Moultrie on Sullivan's Island, also open to the public, is not—yet it, too, is very historic. It may be commonly overlooked, but it is a fact that South Carolina saw more battles and skirmishes during the American Revolution than any other of the 13 colonies.
The attack on Fort Moultrie, sometimes referred to as the site of the first significant victory by the American patriots, is an interesting one. Its newly erected walls were made from palmetto trees. When British ships fired upon the fort, its rubbery palmetto logs sort of absorbed or bounced the cannonballs rather than being crushed by them, thus blocking for quite a while significant British gains in the colony. This is why the palmetto tree came to symbolize South Carolina.
The Charleston Single House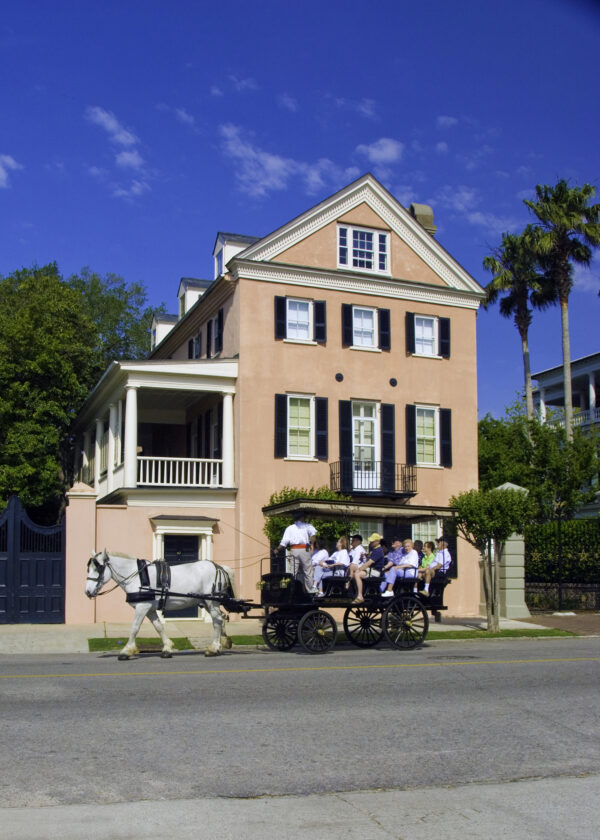 You see palmetto trees just about everywhere you walk in the historic district. And you see a great diversity of architectural style—Colonial, Federal, Georgian, Gothic Revival, Greek Revival, Italianate, Victorian, plus one highly unusual style distinctive to this city, the Charleston Single House.
Rather than having a wide façade facing the street, with a Charleston Single House, the two long sides run front to back. Often, but not always, it is augmented by a long "piazza" and when so, it usually also has balconies and a false door at the balcony for privacy. It was designed to provide much welcome cross ventilation in the days before air conditioning. A Charleston Single House, like the "piazzas" of other style houses, usually is positioned facing west or south to catch prevailing breezes.
Dining Out
It isn't just its architecture and history that drew us back to Charleston. It's also the food. We've always considered New Orleans our favorite city in which to dine out, but Charleston matches it. That surprised us.
And, by the way, if you are at lunch or dinner or anywhere else in town and overhear a local mentioning "the Holy City," the reference probably isn't to Rome or Jerusalem. It's a local nickname for Charleston. To understand why, take a good look out across its low skyline. In any direction, you will see spires and steeples piercing the view—181 of them, including from a church at which George Washington and Robert E. Lee both worshiped.
We didn't have time to explore some of the churches that we know are well worth checking out, nor did we find time for visiting a couple of the great houses we now wish we had seen. But, then, isn't it so much better to leave a place wishing that you had seen even more of it than to leave feeling you have seen enough of it?
If You Go
Information: See the Charleston Area Convention & Visitors Bureau website.
Accommodations:
The best and best-located hotel in Charleston is Charleston Place, a 450-room Orient-Express property; it is also home to the outstanding Charleston Grill restaurant.
Dining:
The Grills at Charleston Place: Long considered one of Charleston's premier dining experiences, this stylish spot located in the city's finest hotel.

The Oak: A restoration and renovation of an 1850s landmark bank building have created the most elegant, most comfortable dining space in Charleston. It has deservedly achieved ranking as one of America's finest steakhouses.  Try Chef Brett McKee's "Pittsburgh-style" steak—unsurpassed! Ask your waiter to explain how it's done. The restaurant enjoys a reputation for outstanding seafood as well and will soon be adding a large addition specializing in seafood in the adjacent building.
Grill 225: Located off the lobby of the upscale Market Pavilion Hotel. Another Charleston great that merits national ranking.
Tristan: Located in the market area, it rates very highly for lunch and dinner and it is especially known for its outstanding Sunday brunch.
Travel Guides: "Fodor's In Focus Charleston: with Hilton Head & the Lowcountry" is a good choice.
Fred J. Eckert is a retired U.S. ambassador and former member of Congress. His writings have appeared in many leading publications, including Reader's Digest and The Wall Street Journal. He is also an award-winning photographer whose collection of images spans all seven continents.