Kian Soltani is a musician with a keen sense of aesthetic and plenty to communicate.
The cellist, together with pianist Julio Elizalde, made their Mostly Mozart Festival debuts in a salon-style program as part of the Stanley H. Kaplan Penthouse set series, A Little Night Music. They showed, perfectly, how to make serious music fun.
Born in Austria in a city bordering Germany, to a musical family of Persian descent, Soltani shared his heritage through a program exploring his roots.
The pair warmed the audience up with an exuberant take on  Schumann's Fantasiestücke, originally named "Soirée Pieces" before the composer changed the title to capture the mercurial mood changes. From Germany we journeyed into Persian folk tunes, in a piece Soltani commissioned of Reza Vali. Virtuosity was on display with a Chopin piece that featured the piano and Popper's Hungarian Rhapsody to show off the cello. Soltani also performed a piece of his own, Persian Fire Dance, a playful piece with moments where you might even forget you're hearing a cello.
In an interview ahead of the performance, Soltani spoke of his role as a young artist.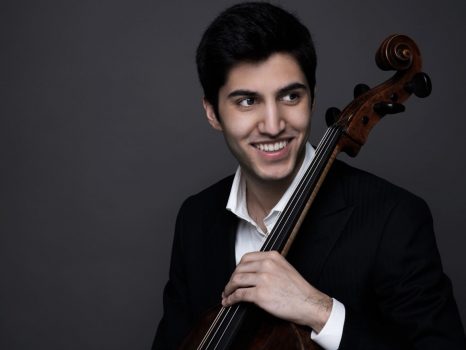 The young cellist made his breakthrough at age 19 and has since toured the world with a number of renowned ensembles and musicians, plumbed the depths of the repertoire with interesting collaborations, and released a debut album. Now 27, Soltani says he is part of the first generations of musicians in an essentially a vastly connected world—it's what he loves about what he does, and he says he has the perfect instrument for the mission.
"It has basically no limits," Soltani says of the cello.
"Almost no other instrument apart from the piano has such range, but the thing with the piano is that you cannot sing so beautifully," Soltani said. "It has this range where you can be the lowest voice … be the beautiful melody in the mid register … and you can go as high as the violin almost. The violin sounds beautiful at the top but it just cannot go any lower, you're missing those basses. Cello has it all."
And he wants to play it all.
"I really want to play it all, I want to take it all in," Soltani said. His musical voracity is not unchecked by a discerning intellectual curiosity.
"Just because it has the label classical music doesn't mean it's great," he added. And music of other genres is not automatically better or worse. Classical just happens to be the mode in which his instruments speaks.
So luckily, classical music is the most universal language. It's a system encompassing endless styles and capable of representing with clarity the voice of any unique culture—making even the cello a suitable medium for Persian folk music.
Think of French composer Saint-Saens's Oriental themes, Czech composer Dvorak's Americana pieces. If you really want to understand music, you have to understand the history—much of which is classical.
"That is a privilege that we have now, that we can go back and play all of the music that has existed—and I love it," he said. Today there are even more style and quote-unquote genres, but Soltani isn't interested in what label or category a piece falls under, he just wants to listen to and play good music.
"No generation before has had this access before, really they have not, especially because of the internet—with immediate access to everything," Soltani said. "So we should use that, and educate ourselves in all kinds of music."
"I think it's important to really appreciate and understand that we have this incredible privilege now, being born in this time, to have access to so much music," he said.
Soltani says it's important that his generation take advantage of this and lead the way.
"I think by doing that we can slowly really break down those barriers, and also maybe break down the negative stereotypes that surround classical music—that it's not for everyone, that it's boring, or people think it's better than the other genres," he said. "There are always some people that are like, 'Well I've never been to a classical concert before—and I can't believe I actually liked it!'"
"I see a lot of that already, and that gives me hope and inspires me also to keep going down that route," he said.
His philosophy is that classical music doesn't have to be, and won't be, everyone's favorite, but it's where music evolved from and worth our attention.
"It's such natural music, how is it possible that someone would not like it, those masterpieces of the history of music," he said. If you weren't introduced to it early on, there may be more negative preconceptions to break through, but "all it takes its one great performance."
"So it's our responsibility, even more so, to always perform on the highest level, so that people can be inspired," Soltani said.
"I really like to make a connection with the audience, and take them into my world," he said, "and I hope that it works."