Celebrating Curiosity at the Antiquarian Book Fair
April 11, 2013 11:31 pm Last Updated: September 3, 2013 8:38 pm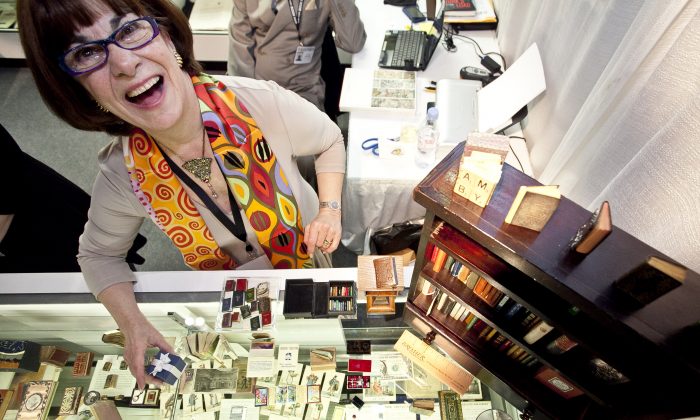 NEW YORK—This weekend the Park Avenue Armory will host a celebration of human curiosity. The New York Antiquarian Book Fair returns for the 53rd year, this time with over 200 exhibitors of rare books, manuscripts, maps, and ephemera. 
Lovers of knowledge, exploration, and history will find something to love, whether their interest be geography, travel, botany, biology, natural
science, religion, language, music, or literature. 
Exhibitors Cameron Treleaven of Aquila Books and Helen Kahn, both from Canada, share a booth and a love of travel. 
"I've always been fascinated by explorers who didn't know where they were going to go, or whether they knew they were going to get there," said Kahn, who deals in mainly early travel books to the East. 
Treleaven, who brought a selection of North Pole and Arctic exploration books from Calgary, explained the value of antique books in today's knowledge-driven world. 
Content is a huge determinant in demand. Cornerstone books—those that are relevant from different standpoints and fields of study—are most sought after.
"The more broad the range of subject matter, the more demand for the book," he explained. 
Aside from subject, the next determining factors for value are the condition of the book, its rarity, whether it is signed by the author, and its binding type, he said. 
"The tooling, the gold gilding, and hand-sewing are really lost arts," he said. 
Big ticket, leather-bound tomes aren't the only items that collectors are looking for, though. Antipodean Books, Maps, & Prints sells a collection of magazines, historical newspaper issues, and postcards—"things that people would have tossed at the time," said owner David Lilburne. "These are the things that fall through the cracks."
Lovers of literature should not miss "Farewell to Sherlock Holmes" at the booth of Estates of Mind. The framed illustrated manuscript is Sir Arthur Conan Doyle's statement marking the end of the famed mystery series. 
History buffs should see the collection of American documents at Timeless Values, including a print of the Declaration of Independence worth $45,000. It is one of only 4,000 copies. 
High Ridge Books is displaying several large wall maps. The star of the collection is a huge one of the United States created during the Civil War. Another features the five boroughs of New York City, circa 1849, when Queens was farmland. Central Park was not yet designed, and most settlement was concentrated in Lower Manhattan. 
Hailing from Stockholm, Sweden is Charlotte du Reitz, who specializes in books about Asia and Africa. Her booth features phrase books used by travelers and missionaries. She also carries studies of China, Japan, and Africa written by explorers and scholars, reminders to we abusers of the Internet that the world was fluently connected long before we could zoom around on Google Maps. 
The Internet has been a mixed blessing for the rare book business, said du Reitz. On the one hand, the digitization of old books makes knowledge available to a greater number of people and draws attention to the wealth contained within them, but also makes competitive pricing challenging for dealers like her. 
"So many books are on the net now, and people can check prices and order books from anywhere," she said. "Everything is visible. But people have to remember that provenance is important." 
The New York Antiquarian Book Fair runs from April 11 through 14 at the Park Avenue Armory. Visit http://www.nyantiquarianbookfair.com for more information.