The tributes continue to pour in to honor the late Swedish soprano Birgit Nilsson (1918–2005) on her 100th birthday. The deluxe box set "La Nilsson: Complete Decca, Philips, and DG Recordings" is a mammoth collection of all her recordings for the three labels. It also contains three Italian operas ("La Fanciulla del West," "Turandot," and "Aida") and Carl Maria von Weber's German-language "Oberon" that she recorded for Warner Classics.
The set is housed in a solid box, and it contains 79 CDs comprising 27 complete operas as well as recitals, and two DVDs. It comes with a 200-page hardcover book on glossy paper with remembrances of the singer and her art, photos of the star and her colleagues, as well as lists of singers in each of the operas, recording dates, and other information, though not the texts. The set is well laid out, and the recordings are easy to find. The original album covers are also reproduced.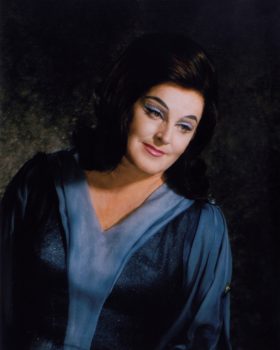 Obviously, the composer most represented is Wagner. There are two complete "Ring" cycles, one conducted by Karl Böhm and the other by Georg Solti. A fascinating DVD, the BBC's 1965 "The Golden Ring" is a documentary film about the recording of the last opera in the "Ring" cycle, showing the vast effort (endless rehearsals and studies of the score by the conductor and engineers) and excerpts of the performances and comments by Nilsson (speaking perfect English) and others. The DVD has both an English and a German version. A post-recording party has surprising footage of Dietrich Fischer-Dieskau smoking a cigarette.
Nilsson worked with many of the best conductors of the time, including Lorin Maazel, Erich Leinsdorf, Rafael Kubelik, Thomas Schippers, Colin Davis, and Hans Knappertsbusch. She also insisted on top-flight casts, and some of the most important singers of the era appear in the set: for example, Fischer-Dieskau in "Tannhäuser," "Don Giovanni," and "Götterdämmerung"); George London; Jon Vickers; Regina Resnik; Wolfgang Windgassen (the leading Wagnerian tenor of the time); the exciting tenor Franco Corelli in "Tosca," "Aïda," and "Turandot." The latter opera is also performed with the great Swedish tenor Jussi Bjorling only one year before his untimely death. Renata Tebaldi sings Liù.
Nilsson was also revered for her Richard Strauss roles, and the set has her Salome and Elektra. The latter is presented in an audio version as well as a DVD of her 1980 performance at The Metropolitan Opera.
That she was also wonderful in Mozart is demonstrated by two recordings of "Don Giovanni" (one with Cesare Siepi and the other with Fischer-Dieskau in the title role.) There are also operatic recitals (Verdi, Beethoven, Weber, and Wagner) and "Swedish Songs in Land of the Midnight Sun" (which has as a bonus track an ebullient "I Could Have Danced All Night" from "My Fair Lady").
Verdi is also done with glorious voice and high style: The set includes her hair-raising Lady Macbeth with co-star Giuseppe Taddei, as well as a moving "Un Ballo in Maschera" with Carlo Bergonzi and Cornell MacNeil, and "Aida" with Franco Corelli and Grace Bumbry, plus an album of Verdi arias with excerpts of operas Nilsson never recorded, such as "Pace, pace, mio Dio" from "La Forza del Destino."
La Nilsson is a singer for the ages, and this set splendidly and comprehensively covers her career.
Barry Bassis has been a music, theater, and travel writer for over a decade for various publications.