The novel coronavirus that originated in Wuhan, China, and the disease it causes, COVID-19, has spread to more than 140 countries and territories around the world, killing thousands.
The Epoch Times refers to the novel coronavirus as the CCP virus because the Chinese Communist Party's coverup and mismanagement allowed the virus to spread throughout China and create a global pandemic.
Below are updates from March 19. Click here for March 20 updates.
Egypt to Shut All Cafes, Malls, Sports Clubs in Evenings
Egypt said on Thursday it would shut all cafes, shopping malls, sports clubs and nightclubs from 7 p.m. until 6 a.m. local time every night until March 31, strengthening measures introduced to prevent the spread of CCP virus.
The government said supermarkets, pharmacies, bakeries, and neighborhood corner stores were exempt from the closure, which comes at a time when schools and universities are already closed.
It has also moved to cut the number of public sector employees reporting to work in an effort to discourage crowding and slow the spread of the disease.
Flights were grounded by noon local time on Thursday until the end of March, with the exception of outward-bound flights needed by foreign tourists.
The government said that during the flight ban and school shutdown, hotels and all educational facilities would be sanitized.
Egypt has so far registered 256 cases of the respiratory disease, including seven deaths. It said that 42 people had recovered after receiving treatment.
Italy Reports 427 COVID-19 Deaths in a Single Day
Italian health officials said that 427 people have died from the new CCP virus in the past 24 hours, its second-worst death toll in as many days.
Now, the Civil Protection agency said that 3,405 people have died amid the pandemic, according to officials in a state-run ANSA report on Thursday.
Mnuchin Confirms Plan for $1,000 Cash Payments to Americans
Treasury Secretary Steven Mnuchin confirmed a plan to send $1,000 in cash payments to all Americans within nine weeks.
The White House is talking to congressional leaders in both the Democratic and Republican parties about a stimulus plan to deal with the CCP virus crisis.
Spain Reports 209 COVID-19 Deaths in 24 Hours
Spain's death toll from the CCP virus epidemic has risen by 209 in 24 hours—the worst day so far for the country, according to the health ministry on Thursday.
Spain is now the second worst-hit country in Europe, reporting a total of 767 fatalities from the virus, after Italy. So far, 17,149 cases have been confirmed in Spain, health authorities said.
Monaco's Prince Albert II Contracts Coronavirus
The palace of Monaco confirmed that Prince Albert II has tested positive for the CCP virus.
The palace, in an online statement Thursday, said that he tested positive for the virus earlier in the week. The 62-year-old prince is now being monitored by a team at Princess Grace Hospital.
Over 1,700 People Test Positive Overnight in New York
New York reported a huge increase in cases of the new COVID-19 disease on Thursday, with over 1,700 people testing positive overnight.
The state reported 1,769 new cases, of which nearly half were in New York City.
New York now has 4,152 cases, including 2,469 in the city. The state has the highest number of cases in the United States.
Hawaii Won't Allow 2 Cruises to Disembark
Two cruise lines won't be allowed to disembark in Hawaii after being blocked by other ports, state officials said.
Holland American Line's Maasdam and Norwegian Cruise Line's Norwegian Jewel will be allowed to refuel and take on supplies but no passengers will be allowed to disembark, the Hawaii Department of Transportation (HDOT) said.
Gas Price in London, Kentucky Hits Under $1 Per Gallon
The price of a gallon of gasoline has hit under $1 per gallon at a station in Kentucky, likely triggered by the CCP virus crisis.
The pandemic has driven oil prices down for weeks after stunting China's economy. Meanwhile, OPEC members have grappled over oil, with Saudi Arabia slashing prices, triggering a price war with Russia.
According to GasBuddy, a BP gas station in London, Kentucky, lowered its price to 99 cents per gallon.
RNC Chairwoman Ronna McDaniel Tests Negative for CCP Virus
Ronna McDaniel, chairwoman of the Republican National Committee, has tested negative for the CCP virus, according to a party spokesman.
"On the advice of her doctor, @GOPChairwoman was administered a test for COVID-19. That test has fortunately come back negative," the spokesman, Michael Ahrens, said on Twitter.
Australia and New Zealand Ban All Foreigners
Australia and New Zealand are banning all non-citizens and non-residents from entering their countries.
Australian Prime Minister Scott Morrison announced Thursday afternoon that the travel ban will go into effect at 9 p.m. on Friday. New Zealand Prime Minister Jacinda Ardern said that its ban will be effective at 11:59 p.m. Thursday.
Australian citizens and their direct family members will still be allowed to enter the country but will have to undergo self-quarantine for 14 days.
South Korean Teen Who Died of Pneumonia Tests Negative
Health authorities in South Korea said that after investigating the death of a 17-year-old boy who may have been infected with COVID-19 in Daegu, he has tested negative for the disease, Yonhap reported.
The teenager died at 11:15 a.m. at Yeungnam University Hospital after more than one of his organs failed, according to the Korea Centers for Disease Control (KCDC). The Korea Herald reported that he had been receiving treatment for pneumonia.
He had been admitted to the hospital on March 13, and was moved to the intensive care unit for ECMO (extracorporeal membrane oxygenation) treatment on March 14 after assisted breathing failed to help.
The boy was reported to have had no preexisting medical conditions.
There had been concern that the teen had contracted COVID-19 after one out of 10 tests came back positive for the virus—a urine test on the day that he died. But further posthumous tests by the KCDC have since confirmed that the patient was not infected with the virus.
London's Tube Running Reduced Services
London's transport authority said it is running reduced services after the government declared that "people should now only be making journeys that are absolutely essential."
Transport for London said Wednesday said it would close up to 40 Underground train stations until further notice. The reduced service would "enable London's critical workers to make essential journeys."
It also said it was prepared to cut down other services including buses and trains. The whole of the Waterloo & City line and the Night Tube will be closed from Friday.
NEW: @TfL have announced a reduced service to enable key workers to make essential journeys.

➡️ Up to 40 stations now closed

➡️ Waterloo and City line and the Night Tube suspended from tomorrow

Details here. Please check before you travel: #COVID19 https://t.co/OMc1nd9rVP pic.twitter.com/xlBF18Xett

— Sadiq Khan (@SadiqKhan) March 19, 2020
78-Year-Old Researcher Dies
A 78-year-old pathology researcher at the University of Washington Medicine has died of COVID-19, according to statement released by the medical school on Twitter.
According to the department website, Dr. Stephen Schwartz was a professor of pathology since 1984. His work was focused on vascular biology.
"We are deeply saddened that faculty member Professor Stephen Schwartz passed away due to a COVID-19 infection," the statement said. "He has left a lasting imprint on our department, our university, and the broader scientific community and will be greatly missed."
It is unclear whether Schwartz contracted the virus in relation to this research work.
He is one of 66 people now to have died in Washington state from the virus outbreak.
Nicaragua, With No Travel Restrictions, Reports First Case
Nicaragua has registered its first known case of CCP virus infection, a 40-year-old Nicaraguan man who picked up the virus during a recent visit to Panama, Vice President Rosario Murillo said on Wednesday.
"Anyone who has had contact with him, anyone in his family who has symptoms, will immediately proceed to have samples taken for a test," Murillo said on national television.
The government of Nicaragua's socialist dictator Daniel Ortega has yet to put in place any preventative measures for the global CCP virus pandemic. Borders remain open with no restrictions for travelers, the BBC reported.
Last weekend, Murillo called for a citizen march dubbed 'Love in times of COVID-19,' despite recommendations against large crowds from the World Health Organization.
"Because it is the whole world that is facing the COVID-19 pandemic, 'Love in times of COVID-19,' united in neighborhoods, regions, and communities to take care of ourselves together," he said of the march.
Second Congressman Tests Positive
Rep. Ben McAdams (D-Utah) said on Twitter Wednesday evening that he has tested positive for COVID-19.
McAdams said he first started feeling unwell on Saturday evening upon his return to his home state from Washington, D.C. After a visit to the doctor on Sunday, he self-quarantined as a precaution at home. But as his symptoms continued getting worse, his doctor recommended he get tested on Tuesday.
"I developed a fever, a dry cough, and labored breathing," he said.
The positive test results came back on Wednesday.
Please read my statement on contracting #COVID19. I have self-quarantined since first having symptoms and consulted with my doctor. #utpol pic.twitter.com/upx4NcTvF8

— Rep. Ben McAdams (@RepBenMcAdams) March 19, 2020
Asian Shares Resume Decline After Latest Wall Street Tumble
Shares in Asia failed to hold onto opening gains on Thursday after the latest selloff on Wall Street.
Stocks fell in Tokyo, Sydney, and Seoul in early trading Thursday. Markets have been skidding as fears of a prolonged CCP virus-induced recession take hold.
The Dow Jones Industrial Average lost more than 1,300 points, or 6.3 percent on Wednesday. It has now lost nearly all of its gains since President Trump's inauguration.
Most analysts now expect the U.S. economy to contract sharply in the rest of March and throughout the second quarter due to the worsening pandemic.
President Donald Trump said at a White House press briefing on March 17 that the country "could be" heading into a recession. But he said he was focusing on doing everything possible to knock out the virus.
"When we're finished with the virus, we'll win. When that victory takes place, our economy is going to go through the roof."
El Salvador Registers First Case
El Salvador has registered its first case of CCP virus infection in the country, President Nayib Bukele said on Wednesday.
In a televised address, Bukele said the person was known to have visited Italy recently.
Taiwan's Swift Response Allowed It to Contain Outbreak
Despite Taiwan's proximity to mainland China—just 80 miles away—it has managed to control the outbreak with a relatively low 100 confirmed cases and one death as of March 18.
Community spread has not occurred among Taiwan's population. Life on the island is largely uninterrupted—without the widespread restrictions currently adopted in the United States and Europe.
Our reporter from Taiwan looks at how the island's response has earned praise from health experts.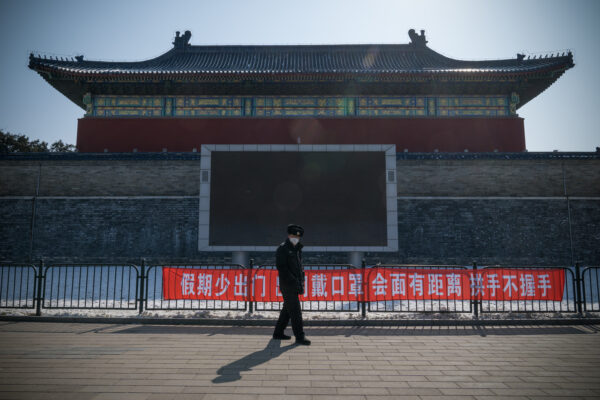 CCP Launches Global Disinformation Campaign in Attempt to Shift Blame
A sprawling and aggressive disinformation campaign unleashed globally by the Chinese Communist Party (CCP), sparked by a motley mix of internal failures, aims to upend the narrative over the pandemic—and it's happening in real time.
The propaganda push, which has escalated in recent weeks, aims primarily to deflect blame over the Chinese regime's botched handling of the CCP virus, sow discord internationally, and portray the image that the regime has contained the outbreak.
Former U.S. government officials, China experts, and national security consultants told The Epoch Times that the disinformation campaign points to a bigger issue—Beijing's global aspirations. The campaign has helped stir anger from Chinese citizens away from the regime and toward the United States, which has increasingly been a target of its propaganda. And some in the United States are buying it.
Mauritius Confirms First 3 Cases
Mauritius has confirmed its first three cases of CCP virus, according to a government statement on Thursday.
"It concerns three Mauritian nationals who have traveled back to Mauritius recently aged 21, 25, and 59 years respectively. Two have worked on cruise ships and one is from the United Kingdom," the government said on its website.
New Zealand Cases Rise to 28
New Zealand on Thursday confirmed eight new cases of coronavirus linked to overseas travel, taking the total number of infections to 28.
The Ministry of health said one of the new cases is in hospital, while others are at home and self-isolating.
Bowen Xiao, Frank Frank, and Reuters contributed to this report.