The novel coronavirus that originated in Wuhan, China, and the disease it causes, COVID-19, has spread to more than 160 countries and territories around the world, killing thousands.
The Epoch Times refers to the novel coronavirus as the CCP virus because the Chinese Communist Party's coverup and mismanagement allowed the virus to spread throughout China and create a global pandemic.
Below are some March 20 updates. Please see our special coverage of the CCP Virus for future updates.
Staffer in Pence's Office Test Positive for COVID-19
An official in Vice President Mike Pence's office has tested positive for COVID-19—the first known such case in a White House staffer.
"‪This evening we were notified that a member of the Office of the Vice President tested positive for the Coronavirus. Neither President Trump nor Vice President Pence had close contact with the individual," said Pence's Press Secretary Katie Miller in a statement late Friday.
"Further contact tracing is being conducted in accordance with CDC guidelines."
NBC News Employee Dies After Testing Positive
An NBC News employee died after testing positive for the CCP virus, the head of the broadcaster's news department announced Friday.
Larry Edgeworth was a technician who worked in the NBCUniversal's 30 Rock studio equipment room in New York City. He was 61. His wife, Crystal, told NBC that Edgeworth also suffered from other health problems before contracting the CCP virus.
In a statement to staffers, NBC News chief Andrew Lack confirmed his death.
"I'm deeply saddened to tell you that we've lost a longtime member of our NBC News family – Larry Edgeworth passed away yesterday," Lack wrote, according to Deadline Hollywood.
Trump Replaces In-Person G-7 Summit with Video Conference
President Donald Trump has replaced an in-person meeting of the Group of Seven (G-7) leaders at Camp David in June with a video conference due to the growing pandemic, the White House announced on March 19.
The gathering of world leaders at the G-7 summit is the latest in a string of high-profile events to be postponed or canceled due to mounting fears of the rapidly spreading CCP virus, which has claimed the lives of at least 200 Americans.
The decision comes as nations around the world seal their borders and ban travel to stop the virus's spread.
State Department Reports First Case
The State Department reported that one of its staff in Washington tested positive for COVID-19, according to an email sent to staff and viewed by CNN.
"Today, we learned of our first case of someone who works in a domestic annex in Washington, D.C.," the email from Under Secretary for Management Brian Bulatao read.
The building is not the main building of the State Department, which is located in the Foggy Bottom neighborhood.
Bulatao noted that a "small number" of State Department staff who are overseas have tested positive for the virus.
Australia Central Bank Buys $2.9 Billion of Bonds
Australia's central bank bought AU$5 billion ($2.87 billion) in local government bonds on Friday, in the first round of its unlimited quantitative easing program as it looks to cushion the economic shock from the CCP virus pandemic.
The Reserve Bank of Australia's (RBA) operation is aimed at reducing the funding costs for banks so that cheap credit is freely available across the economy that is on the verge of its first recession in nearly three decades.
The move brings the RBA into an uncharted monetary policy setting of controlling the yield curve that only Japan has so far attempted but with little success in stimulating its economy.
Volvo Cars To Temporarily Close plants in US, Sweden
Swedish carmaker Volvo is suspending production at its factories in Sweden, the United States, and Belgium, it said on Friday, even as it resumes manufacturing in China.
Volvo's Swedish factories in Torslanda, Skovde, Olofstrom, and its U.S. plant in South Carolina will close between March 26 and April 14, the company said. Its plant in Ghent, Belgium, has already been temporarily shut down.
"Our primary concerns are the health of our employees and the future of our business," Chief Executive Hakan Samuelsson said. "I think for the economy, we need to do something drastic, rather then trying half-hearted measures that drag on forever."
"We are seeing the effect from this coronavirus is increasing every day. We see problems in the logistics supply side," he told Reuters. "We have to help contributing to social distancing."
Samuelsson said the financial impact of the shutdown would become clearer when the carmaker published first-half earnings. The company will reduce the working hours of white-collar staff during the factory closures and will take advantage of government incentives, Samuelsson said.
The financial impact on Volvo also depended on how different countries reacted to contain the virus.
"There is a big difference between countries. Some have curfews, with restaurants and schools closed. In other countries there are less drastic measures. I just think we need to synchronize that more."
Louisiana May Not Have Capacity to Treat Patients Within a Week
Louisiana Governor John Bel Edwards on Thursday warned that without efforts to effectively contain the CCP virus, the state may not be able to adequately provide healthcare to its patients within a week.
"This is early, but our trajectory is basically the same as what they had in Italy," Edwards said during a news conference in Baton Rouge, reported The Advocate. "And if there's anything I said today that ought to get people's attention, it's that."
"My fear based on modeling I've received today is that as early as seven days we can start to exceed our capacity to deliver healthcare," Edwards said at a televised call with President Donald Trump and other governors in the country, according to The Hill.
Edwards asked for help from the federal government including permission to send patients to a federally-run Veterans Affairs hospital in New Orleans.
"We're going to do everything we can to mitigate and slow the spread, but in the time we have, we've got to increase our surge capacity. That is our biggest concern," Bel Edwards added.
There are 347 confirmed cases in Louisiana.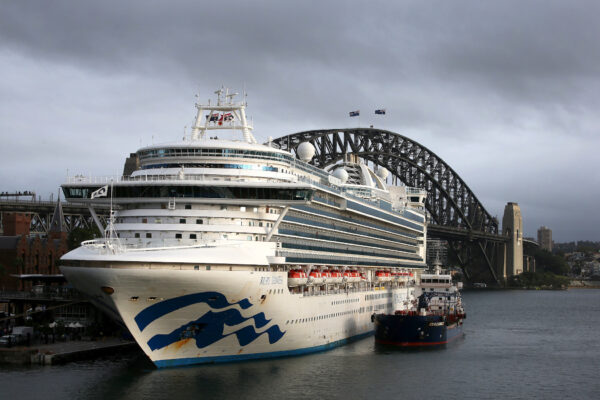 3,800 Urged to Self-Isolate After Positive Tests on Cruise Ship
Three people on a cruise ship that visited New Zealand before returning to Sydney have come down with the CCP virus, prompting pleas for all 3,800 people on board to go into self-isolation for a fortnight.
At least one additional passenger is also unwell and likely to have the virus.
The Princess Cruises-operated Ruby Princess ship returned to Sydney on Thursday with 1,100 crew and 2,700 passengers on board.
Doctors tested 13 unwell patients with three found to have the virus. One person who tested positive was a crew member.
"Two of the three positive results were people who were passengers on board the ship," NSW Health Minister Brad Hazzard told reporters on Friday.
"One of those passengers was not at all well, and was taken off the ship and has been taken to a hospital here in Sydney and is being cared for. That particular passenger, now patient, is not particularly well."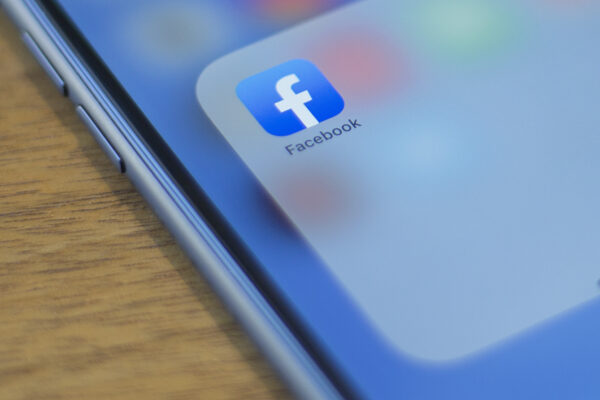 Facebook to Ban Ads for Hand Sanitizer, Disinfecting Wipes, Virus Test Kits
Rob Leathern, a Facebook company official, announced Thursday that the social media giant is banning advertisements for certain products on high demand such as hand sanitizer, disinfecting wipes, and COVID-19 test kits. The move will help prevent price inflation, Leathern said.
We'll be ramping up our automated enforcement for ads and commerce next week. If we see abuse around these products in organic posts, we'll remove those, too (2/2)

— Rob Leathern (@robleathern) March 19, 2020
"In addition to masks, we're now also banning hand sanitizer, surface disinfecting wipes, and COVID-19 test kits in ads and commerce listings. This is another step to help protect against inflated prices and predatory behavior we're seeing," he wrote on Twitter.
"We'll be ramping up our automated enforcement for ads and commerce next week. If we see abuse around these products in organic posts, we'll remove those, too."
Two weeks ago, Facebook announced it would temporarily ban ads for medical face masks.
Air Canada to Lay Off More Than 5,100 Employees
Air Canada is set to lay off more than 5,100 members of its cabin crews because of a decline in flights following the CCP virus outbreak, CBC News reported late on Thursday.
Air Canada has "no choice" but to cut staff, calling the move "difficult but necessary," CBC reported, citing a letter from the airline's vice president of in-flight service, Renee Smith-Valade.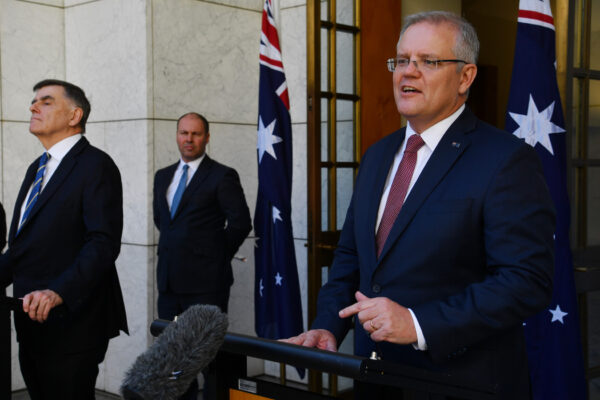 Australia Limits 4 Square Meters Per Person
Prime Minister Scott Morrison on Friday afternoon introduced a limit of four square meters per person pertaining to indoor gatherings, which have been restricted to 100 people.
That means a room of 100 square meters should only have 25 people in it. Such measures will affect offices, restaurants, and other places.
Furthermore, people should keep about 1.5 meters from others.
Morrison also said that those who feel unwell must stay home.
"There will be cases of community contact where it's not suspected and they might just get a sniffle or a cold, the sort of thing that many of us have soldiered through and gone to work in recent years," he said. "We can't do that anymore. Nobody should be going to work or mixing with society or friends or going out if they are unwell at all. Stay at home if you're unwell."
Schools will remain open for now, but NAPLAN testing has been canceled for the year.
"Our strategy is in for the next six months to keep schools open and we think that risk is appropriate," Morrison said.
He added that Australians should "reconsider any unnecessary travel," when asked whether people should cancel any domestic holiday flights now ahead of possible further restrictions. Morrison said that the national cabinet will consider on Tuesday whether any further travel restrictions will apply in the Easter school holidays.
Australia now has 756 confirmed cases and 7 deaths.
California Issues Statewide 'Stay at Home' Order
California Governor Gavin Newsom late Thursday issued a statewide "stay at home" order directing all 40 million residents to remain at their place of residence except for essential activities amid the growing pandemic.
Governor Gavin Newsom makes a major announcement on California's response to the COVID-19 outbreak. https://t.co/VlQM38OkYK

— Office of the Governor of California (@CAgovernor) March 20, 2020
The measure, effective Thursday night, was announced as he estimated that over 50 percent of California's population—some 20 million people—will be infected with the CCP virus over the next eight weeks. California is the most populous U.S. state.
Newsom said that modeling suggests that some 56 percent of California residents are expected to be infected, requiring up to 20,000 hospital beds more than the state can currently provide.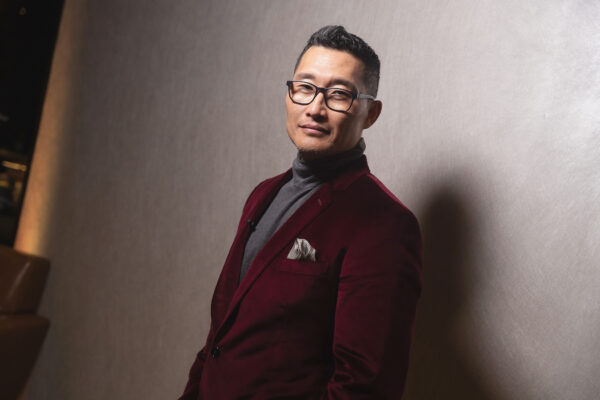 'Lost' Star Daniel Dae Kim Tests Positive
Daniel Dae Kim, known for his role in TV series "Lost" and "Hawaii Five-0," has tested positive for COVID-19, the disease caused by the CCP virus.
The star is staying optimistic and has said he hopes to develop immunity to the virus so he can donate his antibodies to vaccine research efforts.
"Yesterday I was diagnosed with COVID-19, the disease caused by the coronavirus," Kim said in an Instagram post. "Looks like I'll be OK, but I wanted share my journey with you in the hopes that you find it informative or helpful. Hope you all stay safe, calm, and above all, healthy."
In the video accompanying the post, the 51-year-old said that he was on his way home to Hawaii after he was in New York City for several weeks shooting a role in a TV series, "New Amsterdam." Production was stopped due to the virus.
Isabel van Brugen, Mimi Nguyen Ly, Angela Bright, and Reuters contributed to this report.
For March 19 updates, click here.