The novel coronavirus that originated in Wuhan, China, and the disease it causes, COVID-19, has spread to more than 100 countries and territories around the world, killing thousands.
The Epoch Times refers to the novel coronavirus, which causes the disease COVID-19, as the CCP virus because the Chinese Communist Party's coverup and mismanagement allowed the virus to spread throughout China and create a global pandemic.
Below are March 18 updates. For March 19 updates, click here.
Italy Reports Nearly 500 Deaths in 24 Hours
Italian health authorities said that nearly 500 people have died from the new coronavirus in 24 hours as the country struggles to contain the outbreak.
The country's Civil Protection chief, Angelo Borrelli, said that 475 people died from the CCP virus in a single day, raising the death toll to 2,978 as of Thursday. The 24-hour death toll a day before was 345, according to ANSA.
Trump Signs CCP Virus Aid Bill, Hours After Senate Passage
President Donald Trump has signed off on the House's emergency aid package passed hours earlier in the Senate on Wednesday in an effort to deal with the economic fallout stemming from the pandemic and widespread disruptions to everyday life.
The emergency aid package will provide paid sick and family leave for a number of Americans, offer free CCP virus testing, and bolster unemployment insurance. It's the second such aid package this month.
US Congressman Diaz-Balart First Congressman to Test Positive
U.S. Representative Mario Diaz-Balart said on Wednesday he has tested positive for COVID-19 after developing symptoms of the disease.
Diaz-Balart, a Florida Republican, said in a statement he has been self-quarantining in Washington since Friday and has not returned home to Florida because his wife's pre-existing conditions put her at exceptionally high risk. The congressman said he developed a fever and headache on Saturday evening and was notified "a short while ago" that he tested positive.
I'm feeling much better. However, it's important that everyone take this seriously and follow @CDCgov guidelines in order to avoid getting sick & mitigate the spread of this virus. We must continue to work together to emerge stronger as a country during these trying times. pic.twitter.com/g5W5vSQIyH

— Mario Diaz-Balart (@MarioDB) March 18, 2020
He is the first member of Congress to test positive for the disease.
200 at Children's Hospital Tested After Doctor Tests Positive
Two hundred patients and health care workers at the Children's Hospital of Wisconsin were tested for the coronavirus after a doctor tested positive, authorities said.
"We have seen this happen at health care organizations across the nation, and we knew it was only a matter of time before we had a confirmed case on our team," the hospital, located in Wauwatosa just outside of Milwaukee, said in a statement to the Chicago Tribune. The doctor was quarantined at home for the CCP virus and has mild symptoms.
Italy to Deploy 10,000 Student Doctors
Italy will rush 10,000 medical students into service, waiving their qualifying exams as the nation struggles to handle the COVID-19 outbreak which has left 2,503 dead amid an unprecedented lockdown.
Italy is the worst affected nation outside of China, with a total of 31,506 confirmed cases according to currently available data from John's Hopkins University. Iran has the third-highest number of confirmed cases at 17,361.
Hospitals in northern Italy, where the pandemic got its first toe-hold in Europe, have been pushed to breaking point, as cases rise across the rest of the country, putting pressure on the national health system.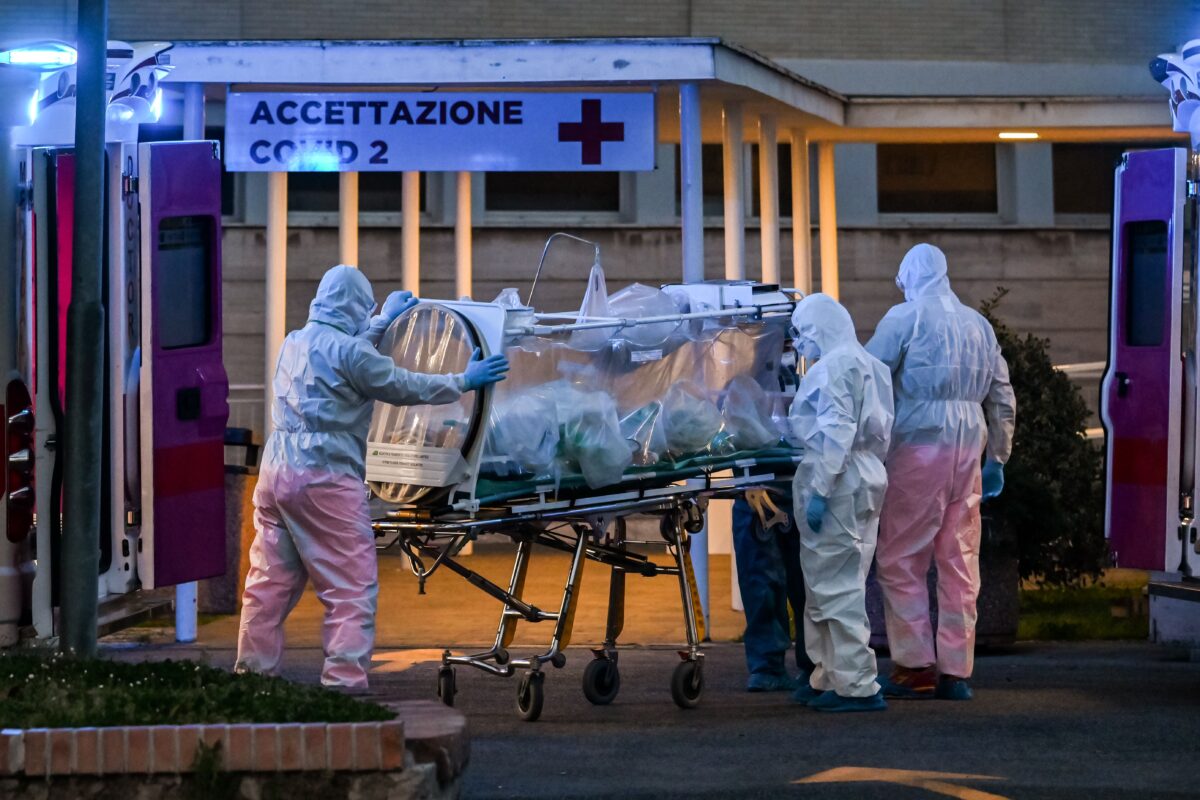 General Motors, Ford to Suspend US Operations Over Pandemic
General Motors and Ford both confirmed on Wednesday that it will initiate the suspension of all manufacturing operations in the United States, Mexico, and Canada over market conditions triggered by the ongoing pandemic.
GM said it would deep clean facilities and attempt to protect its workers from potentially contracting the CCP virus, adding that the suspension of manufacturing at factories will last until at least March 30.
New Rule Will Let Doctors Practice Across State Lines
A rule coming soon from the U.S. government will allow doctors and medical professionals to practice across state lines amid the COVID-19 pandemic.
At President Donald Trump's direction, the Department of Health and Human Services is issuing a regulation today that will "allow all doctors and medical professionals to practice across state lines to meet the needs of hospitals that may arise in adjoining areas," Vice President Mike Pence told reporters on Wednesday.
The announcement came after New York Gov. Andrew Cuomo on Tuesday asked retired workers and medical students to sign up to care for patients ahead of an expected surge in patients infected with the CCP virus and Maryland Gov. Larry Hogan said the state would allow doctors with licenses from other states or expired licenses from Maryland to practice medicine in the state.
New York Businesses Required to Have 50% of Employees Work From Home
New York businesses that rely on in-office workers must decrease their in-office workforce by 50 percent, according to an executive order New York Gov. Andrew Cuomo planned to issue on Wednesday.
"We are announcing a mandatory, statewide requirement that no business can have more than 50 percent of their workforce report to work outside of their home," Cuomo said at a press conference in Albany.
"No more than 50 percent of the workforce can report for work outside of the home. That is a mandatory requirement. I'm going to do that by executive order."
Trump Announces Suspension of All Evictions, Foreclosures
President Donald Trump said Wednesday that the Department of Housing and Urban Development (HUD) will temporarily suspend "all foreclosures and evictions" over the pandemic.
In a press conference, the president said renters and homeowners will experience "immediate relief" until the end of April as the CCP virus spreads across the United States, shuttering businesses and forcing millions of people to take time off work.
"The Department of Housing and Urban Development is providing immediate relief to renters and homeowners by suspending all foreclosures and evictions until the end of April," Trump remarked. "So we're working very closely with [HUD Secretary] Dr. Ben Carson and everybody from HUD."
Some local and state authorities have suspended evictions amid the viral pandemic, citing financial uncertainty. Efforts to curb the spread of COVID-19, which is caused by the CCP virus, has forced the closures of schools, restaurants, bars, retailers, entertainment venues, and other workplaces across the United States for potentially months.
Economists: US Recession Coming
A recession in the United States is coming due to strong measures taken in response to the COVID-19 disease, but the recission will be followed by a strong rebound, according to economists.
Looking at any empty restaurant or coffee shop, it's hard to deny the severity of the economic blow of the COVID-19, according to Beth Ann Bovino, the chief U.S. economist at Standard & Poor's Ratings Services.
"While the economic data for March has not been released, social distancing is likely to lead to a steep drop in consumer spending, which will have knockdown effects on business investment," she wrote in a report.
The economy's outlook is also dimmed by the oil price hit on capital investments in energy infrastructure and expanded travel bans, she added.
"As a result, S&P Global Economics believes that the U.S. is entering recession—if not already in one."

Costco to Control Number of People in Stores
Costco is changing store protocols amid the viral pandemic after the warehouse club has experienced a huge surge in sales as people try to stock up on essential items.
CEO Craig Jelinek, in a letter to members, said the chain has experienced a significant rise in business over the past several weeks as the CCP virus continues to spread.
"We've increased our protocols in sanitizing surfaces, including shopping cart handles, merchandise shelves, front-end belts, and registers. Limits have been implemented on certain items to help ensure more members are able to access the merchandise they want and need. Our buyers and suppliers are working to ensure in-demand merchandise as well as everyday favorites are available in our warehouses," Jelinek said in his letter.
Canada Unveils Major Aid Package
Canadian Prime Minister Justin Trudeau on Wednesday said his government would provide C$27 billion ($18.6 billion) in support directly to families and businesses struggling because of the coronavirus outbreak, and it stands ready to do more.
It was his biggest move yet to combat the economic impact of the fast-spreading virus, which has infected some 600 Canadians in all 10 provinces, killing nine. In an unprecedented move, Canada and the United States shut their vast common border to non-essential travel.
The aid package did little to assuage investors. Canada's main stock market fell 6 percent and losses for the loonie were the biggest in nearly 10 years.
The government will also provide C$55 billion in additional aid to businesses and households through tax deferrals. The combined measures will put more than 3 percentage points of the country's annual output into circulation, officials said.
"No Canadian should have to worry about paying their rent or buying groceries during this difficult time," Trudeau told reporters outside his home, where he has been under quarantine since last week when his wife tested positive for COVID-19.
"(These) economic measures will ensure that our economy rebounds after this … Our government is prepared to do more."
Ottawa "will do whatever it takes" to support the economy, Finance Minister Bill Morneau told reporters later, calling the measures a first phase of economic stimulus meant to offset the "profound impact" of the epidemic.
The government will provide up to C$900 every two weeks to workers who must stay home but do not qualify for unemployment benefits, and a one-time special payment for low- and modest-income households, among other measures.
Talks with airlines and the oil-and-gas sector about specific aid to them are ongoing, Morneau said. Ottawa will soon announce a significant investment in Alberta – the heart of the country's struggling energy sector – which will include funding to clean up orphan wells.
"We still think the government needs to do more to secure a strong recovery further down the line," Stephen Brown, a senior economist at Capital Economics, said in a note.

Spain's CCP Virus Cases Spike
Cases of the CCP virus soared in Spain overnight, with over 2,500 new patients testing positive, officials said.
Spain now has 13,716 cases, an increase of 18 percent from the day before, Health Ministry emergencies coordinator Fernando Simon said at a press conference, according to The Local.
Over four out of every 10 patients, or 42 percent, are hospitalized, according to Simon. Another 1,081 people have fully recovered from COVID-19, the disease caused by the new virus.
Spain has one of the highest case counts in the world, behind only China, Italy, and Iran. Five hundred and 58 people have died in Spain from COVID-19.
Prime Minister Pedro Sánchez told Spaniards earlier in the day that the crisis will get worse.
"The worst is yet to come, as our health system feels the impact of caring for such a huge number of infected people, as the days of isolation drag on, when we feel the economic impact" of the pandemic, he said, adding, "I am asking you to make sacrifices but I'm also calling for unity … it is what we have to do to save many lives."
WHO Recommends Against Using Ibuprofen to Treat COVID-19
The World Health Organization is recommending against using ibuprofen to treat symptoms of COVID-19, the disease caused by the CCP virus.
recent study in the Lancet, a medical journal, advanced a theory that an enzyme boosted by ibuprofen and other anti-inflammatory drugs could lead to more severe infections in COVID-19 patients. French Health Minister Olivier Veran said in a statement that the use of ibuprofen and similar drugs could be an "aggravating factor" in infections caused by the new virus.
"In the case of fever, take paracetamol," he wrote on Twitter. The French health ministry said in a bulletin to doctors that ibuprofen and other nonsteroidal anti-inflammatories shouldn't be used in COVID-19 patients.
Asked about the Lancet study at the World Health Organization's Geneva headquarters, spokesman Christian Lindmeier said health experts at the United Nations' health agency were looking into it "to give further guidance."
"In the meantime, we recommend using rather paracetamol, and do not use ibuprofen as a self-medication. That's important," he said, according to AFP.
Reckitt Benckiser, one of the companies that produces a medicine containing ibuprofen, said that use of ibuprofen "is still currently being recommended by most European health authorities as part of the symptomatic treatment of COVID-19."
The company "is not aware of any evidence that ibuprofen adversely impacts the outcome in patients suffering from COVID-19 infection," it said.

US Closing Border With Canada: Trump
The United States border with Canada will be closed to "non-essential traffic," President Donald Trump announced on Wednesday.
Trump said the temporary closure was made with the consent of Canada.
The closure won't affect trade, Trump said, promising more details later in the day.
Canada announced Tuesday it was shutting its borders, with exceptions for permanent residents, U.S. citizens, and several other groups.
US: Americans Should Only Buy Food for a Week
Americans should only buy enough food to last a week amid the CCP virus pandemic, according to the Food and Drug Administration (FDA).
"While we are confident that stores will remain open and supply will continue to meet demand nationwide, we ask all Americans to only purchase enough food and essentials for the week ahead," FDA Commissioner Stephen Hahn said in a statement.
The agency said there are no nationwide shortages of food but people might see low inventory at local stores.
Grocery stores across the nation are cutting hours amid the spread of the CCP coronavirus, citing the need to clean stores and restock, including Kroger, Walmart, and Publix.

Iran Reports Spike in Deaths
Iran reported its single biggest jump in deaths from the new coronavirus on Wednesday as another 147 people died, raising the country's overall death toll to 1,135.
The nearly 15 percent spike in deaths—amid a total of 17,361 confirmed cases in Iran—marks the biggest 24-hour rise in fatalities since officials first acknowledged cases of the virus in Iran in mid-February.
Still, even as the number of cases continues to grow each day, food markets were still packed with shoppers on Wednesday and highways were crowded with traffic as families traveled between cities ahead of the Persian New Year, Nowruz, on Friday.
Iran's deputy health minister, Alireza Raisi, urged the public to avoid travel and crowded places. In a statement on state TV, Raisi told Iranians the coming period represented two "golden weeks" to try curb the virus from spreading further.
He criticized people for not adhering to the warnings to stay home, saying the virus is very serious. "This is not a good situation at all," he said.
Iran's President Hassan Rouhani on Wednesday defended his government's response to the coronavirus outbreak in the face of of widespread criticism that officials acted too slowly and may have even covered up initial cases before infections rapidly spread across the country.
In a speech to his Cabinet, Rouhani said the government was "straightforward" with the nation, saying it announced the outbreak as soon as it learned about it on Feb. 19.
"We spoke to people in a honest way. We had no delay," he added.
The government has come under heavy criticism for what has been seen as a slow and inadequate response. For weeks, government officials implored clerics to shut down crowded holy shrines to stymie the spread of the virus. The government finally closed the shrines this week.
"It was difficult of course to shut down mosques and holy sites, but we did it. It was a religious duty to do it," Rouhani said.

Malaysia Starts 2-Week Isolation Period
Malaysia went into a two-week partial lockdown on Wednesday after coronavirus infections in the country spiked to the highest in Southeast Asia, with some buyers rushing to supermarkets to stock up on essentials like instant noodles.
Malaysia and the Philippines, which has quarantined about half its 107 million population, have imposed the toughest restrictions on movements of people in Southeast Asia, causing early confusion and chaos, though capital markets in both countries will stay open.
Hours before the movement curbs kicked in at midnight in Malaysia, thousands of people lined up at bus stations to go back to their hometowns. Hordes of Malaysians who commute daily to Singapore for work crossed the border to spend the next two weeks there.
Malaysia reported its first two coronavirus deaths on Tuesday, including a man who attended a mass Muslim gathering linked to nearly two-thirds of the country's 673 infections.
The government of Prime Minister Muhyiddin Yassin, who took office only this month, has assured there is enough stock of essentials for the country of 32 million people.
Nevada Governor Shutters Gambling, Dining
Gambling will grind to a halt by Wednesday in casino-mecca Las Vegas, a city known for glitzy and sometimes reckless fun, as the governor of Nevada issued a sweeping order aimed to stop the spread of the virus.
Governor Steve Sisolak ordered a monthlong freeze on gambling, shutting down everything from the famous casino resorts to slot machines found in convenience stores, cutting off an industry that fuels the state's tourism and hospitality-powered economy.
Sisolak's broad directive also includes the monthlong closure of non-essential businesses like bars, movie theaters, and gyms at noon Wednesday. Restaurants must to shutter their dining rooms and only offer takeout or delivery.
"This is affecting the lives of our citizens. People are dying. Every day that is delayed here, I'm losing a dozen people on the back end that are going to die as a result of this," Sisolak said at a news conference Tuesday night.
California Governor: Most Schools Won't Reopen This Spring
It's likely "few if any" California schools will reopen before summer break, Gov. Gavin Newsom said Tuesday as he provided a stark assessment of the implications from the spreading coronavirus that threatens to overwhelm the state's hospitals and drain its spending reserves.
While urging Californians to stay united and promising "we will get back to the life that we have lived," Newsom also acknowledged much is unknown and so the state is preparing for frightening worst-case scenarios. He put the California National Guard on alert for duties that include humanitarian missions like ensuring proper food distribution and public safety as some grocery stores resorted to rationing to control panic buying.
He said the state is acquiring two vacant hospitals to beef up capacity as it faces the possibility of a surge of hospital patients. California also is negotiating with about 900 hotels to acquire tens of thousands of rooms that could be used for hospital patients and for the homeless, a group particularly susceptible to coronavirus, which is spread by coughs and sneezes.
Colombia Declares State of Emergency
Colombia's President Ivan Duque declared a state of emergency on Tuesday as the country steps up measures to stop the spread of coronavirus, including ordering the elderly to stay home from Friday until the end of May.
Speaking during a televised address, Duque said full details on the state of emergency would be announced on Wednesday. Governments on every continent have implemented containment measures to contain the disease, which has infected more than 187,000 people and killed nearly 7,500.
"To protect our grandparents we have declared an obligatory isolation starting Friday, March 20 from seven o'clock in the morning until May 31," Duque said.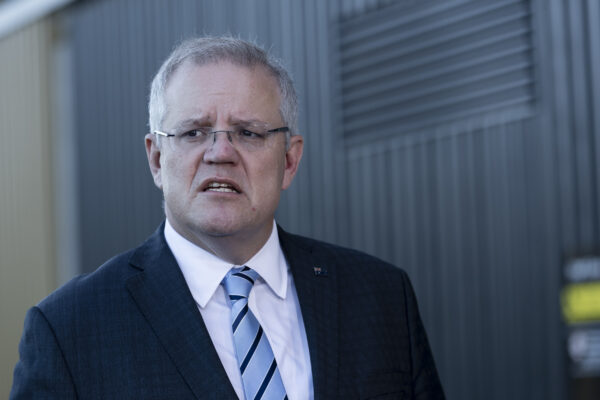 Australia Tells Citizens 'Do Not Travel Abroad'
Australian Prime Minister Scott Morrison has said that all Australians should not travel abroad amid the coronavirus pandemic, as the Australian government is updating the travel advisory to level 4, which is "do not travel," for the entire world—the first time ever a ban like this has been implemented in the country.
Morrison noted that the ban is indefinite and that other countries appear to be putting up similar travel restrictions.
"We are upgrading the travel ban on Australians to level 4 for the entire world. That is the first time that has ever happened in Australia's history," Morrison said at a news conference Wednesday morning. "The travel advice to every Australian is 'do not travel abroad.' Do not go overseas. That is very clear, that instruction."
"Regardless of your destination, age or health, our advice is 'do not travel' at this time," the advice on the Smart Traveller website says. "As more countries close their borders or introduce travel restrictions, overseas travel is becoming more complex and difficult."
Morrison also announced that non-essential indoor gatherings will be limited to 100 people, effective immediately on Wednesday.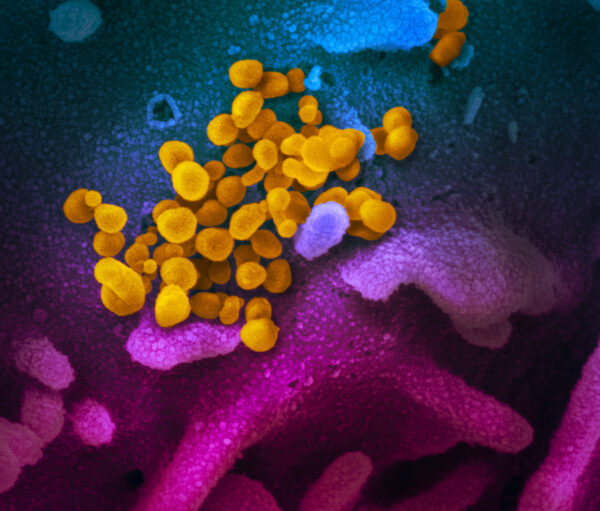 Virus Can Linger on Steel and Plastic for up to 3 Days: Study
The novel coronavirus, which causes the disease COVID-19, is stable on surfaces for hours and can survive for up to three days on some, according to the largest biomedical research agency in the world.
The National Institutes of Health (NIH) said in a news release that a new study has provided key information about the stability of SARS-CoV-2, the virus that causes the potentially deadly respiratory disease.
It concludes people may pick up the virus through the air and after touching contaminated objects.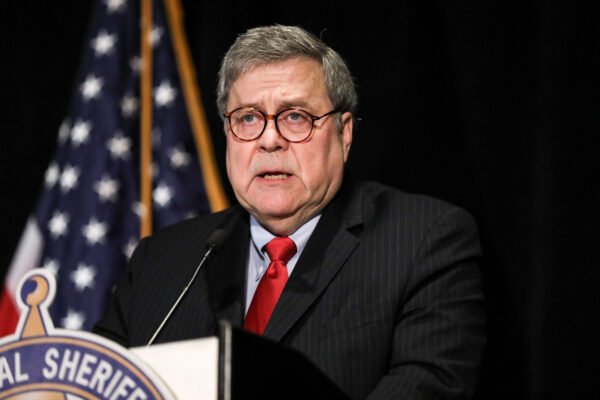 Barr: Prioritize Investigations of Fraudsters
Attorney General William Barr has instructed U.S. attorneys nationwide to prioritize prosecutions and investigations of scammers, fraudsters, and cybercriminals who are seeking to take advantage of the public panic over the coronavirus outbreak.
Barr issued a directive on March 16 urging federal prosecutors to "prioritize the detection, investigation, and prosecution of all criminal conduct related to the current pandemic."
"The pandemic is dangerous enough without wrongdoers seeking to profit from public panic, and this sort of conduct cannot be tolerated," Barr said in the memo.
College Presidents Upbeat About Finances, Pre-Coronavirus Survey Says
Two-thirds of college and university presidents are confident their schools will be financially stable over the coming five years, but that confidence level drops off when the outlook is 10 years into the future, according to a survey by Inside Higher Ed that was taken before the ongoing Wuhan coronavirus crisis.
The survey comes as the Dow Jones Industrial Average seesaws daily between historic drops and dramatic leaps, ending March 17 more than 1,000 points higher than the previous day, to land at 21,237 after hovering above 29,000 just a month ago.
It also comes as many institutions of higher learning have banned classroom lectures and moved to remote online instruction to combat the virus. Schools such as Harvard, which has an endowment estimated at $41 billion, have also angered students by reportedly evicting them from campus housing with scant notice, often without indicating if they would be receiving pro-rated refunds.
Beijing Lashes Out After Trump Says 'Chinese Virus'
After President Donald Trump called the novel coronavirus the "Chinese virus" in a Twitter post, the Chinese regime lashed out at the United States.
On March 16, Trump posted: "The United States will be powerfully supporting those industries, like Airlines and others, that are particularly affected by the Chinese Virus. We will be stronger than ever before!"
The following day, at a daily press conference on the coronavirus outbreak response held at the White House, Trump explained his choice of words.
For March 17 updates, click here.
Mimi Nguyen Ly, Zachary Stieber, Jack Phillips, Janita Kan, Emel Akan, Simon Veazey, Matthew Vadum, Nicole Hao, the Associated Press, and Reuters contributed to this report.