A few days ago, a California man caused a stir on Reddit when he posted that his girlfriend's cat, a typical "wandering" cat, came back home with a note attached to its collar (the cat and the note are above). Below is the note enlarged.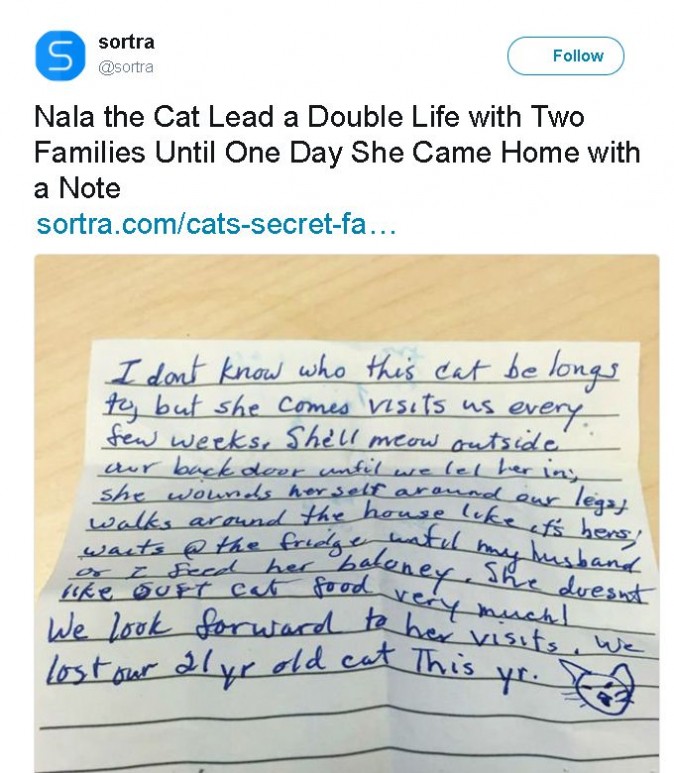 The note reads:
"I don't know who this cat belongs to, but she comes visits us every few weeks. She'll meow outside our back door until we let her in. She wounds herself around our legs; walks around the house like it's hers; waits at the fridge until my husband or I feed her baloney. She doesn't like just cat food very much! We look forward to her visits. We lost our 21 year old cat this year."
So how is one to feel after reading something like this? On one hand, it's kind of sweet, and you feel for the other family that lost their cat. On the other hand, you can't help but feel that your cat is a bit traitorous, as it basically lives a double life.
As it turns out, duplicitous cats/pets are not an uncommon occurrence. Here's some of what other Reddit users had to say about the topic:
Growing up we lived in a trailer on the back of my uncles property, so we let our German Shepherd run lose. He generally just hung around the trailer and the nearest neighbors all knew him. He was getting older, about 11 or 12 when we noticed he wasn't eating much dog food anymore. My mom was worried it was getting close to the time he was going to pass away and had started preparing us kids.
That is, until we came home one day and he's sitting on the porch gnawing on this huge deer bone. Turns out it was hunting season and the last few weeks he had been making the rounds to all the neighbors to get the scraps from the deer they brought back. He wasn't eating dog food because he was gorging himself on deer meat.
Shared by Reddit user Bunnyhat
My grandma used to live like 6 houses down from us. When her cat died, one of our cats moved in. Not for love of my grandmother, just to get away from the rest of the cats. Sometimes they wait for a vacant spot that they know they can use to get food/attention. 
Shared by Reddit user Girlinhat
Read the full thread here.