From the archives: This story was last updated in July 2019.
Cats often give people the impression that they are cold and aloof. But actually, felines do grieve as humans do. Cats exhibit their own signs of mourning, and typically, they show their sense of loss with behavior changes.
A few years ago in 2017, a mysterious white cat, which suddenly appeared without warning at a man's funeral, displayed very bizarre behavior. This unusual sight was caught on film by the man's grandson, who then shared it on Facebook. The video has since gone massively viral, racking up more than 10 million views.
It transpired that the deceased man from Malaysia, Ismail Mat, was a cat lover. "At the funeral, the white cat came and started circling the grave," his grandson, Soffuan CZ, said. "My grandfather was a man who loved cats."
In the footage apparently captured by Soffuan, the mystery white cat appears out of the blue at Ismail's funeral and starts acting very strangely. The feline appears as though it wants to dig out Ismail's body. The animal refuses to be taken away from Ismail's grave at the Al-Hidayah Mosque even though Soffuan's cousins and aunts try to move it away.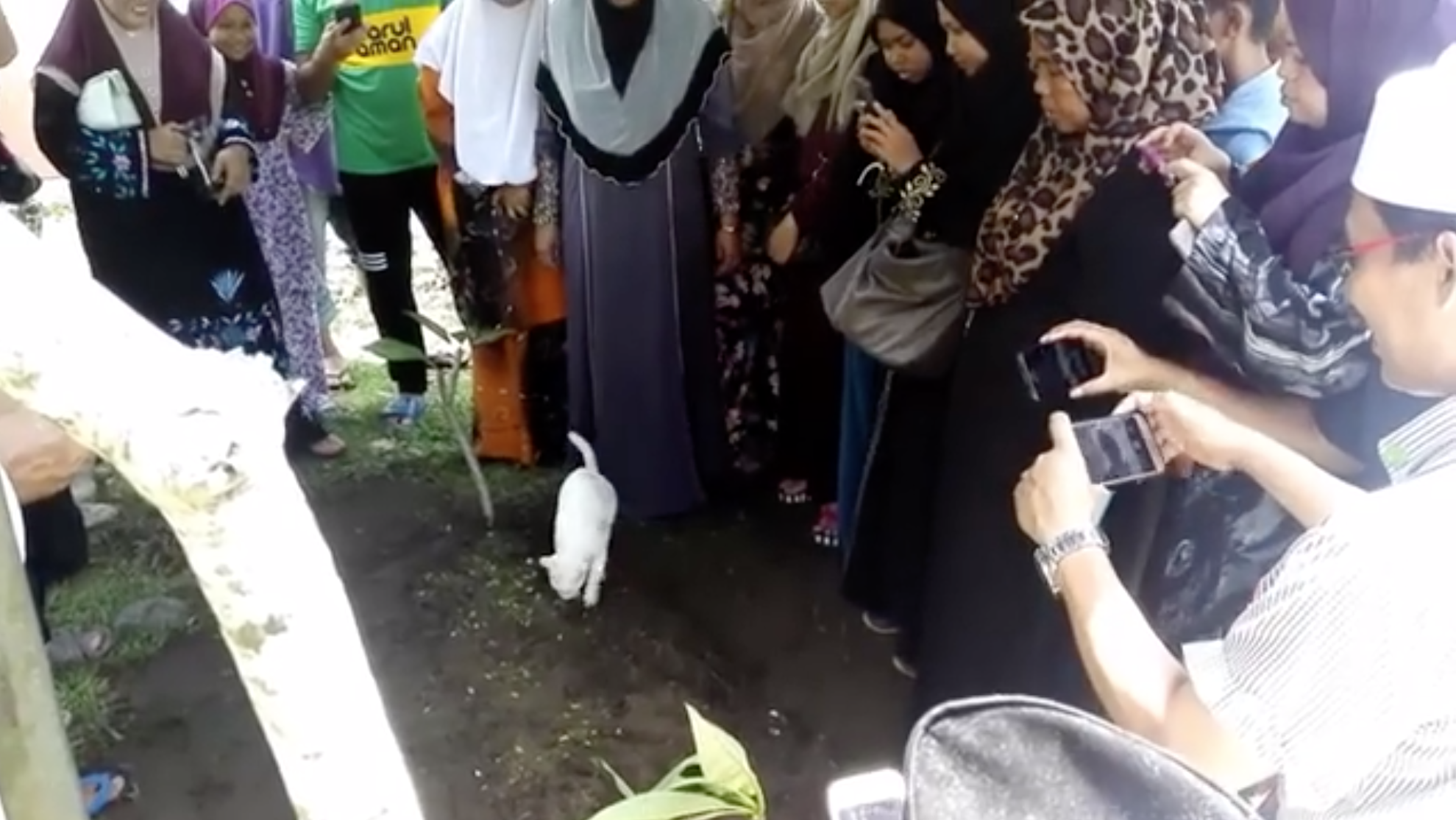 "This white cat is actually not a pet cat, but probably a hometown cat near the mosque," Soffuan wrote in a Facebook post. "The presence of this cat is interesting to our family, because the cat wouldn't leave the grave when we wanted to go home," he added.
The white feline seemed to know Ismail and was grieving over the loss of the man, who loved cats. "My grandfather was the only one who cared for the cat while he was alive," Soffuan wrote.
"[When] we were all gone, the cat went back to the grave," he shared. "Got info from the villagers, [they] said the cat was always wandering around the mosque…"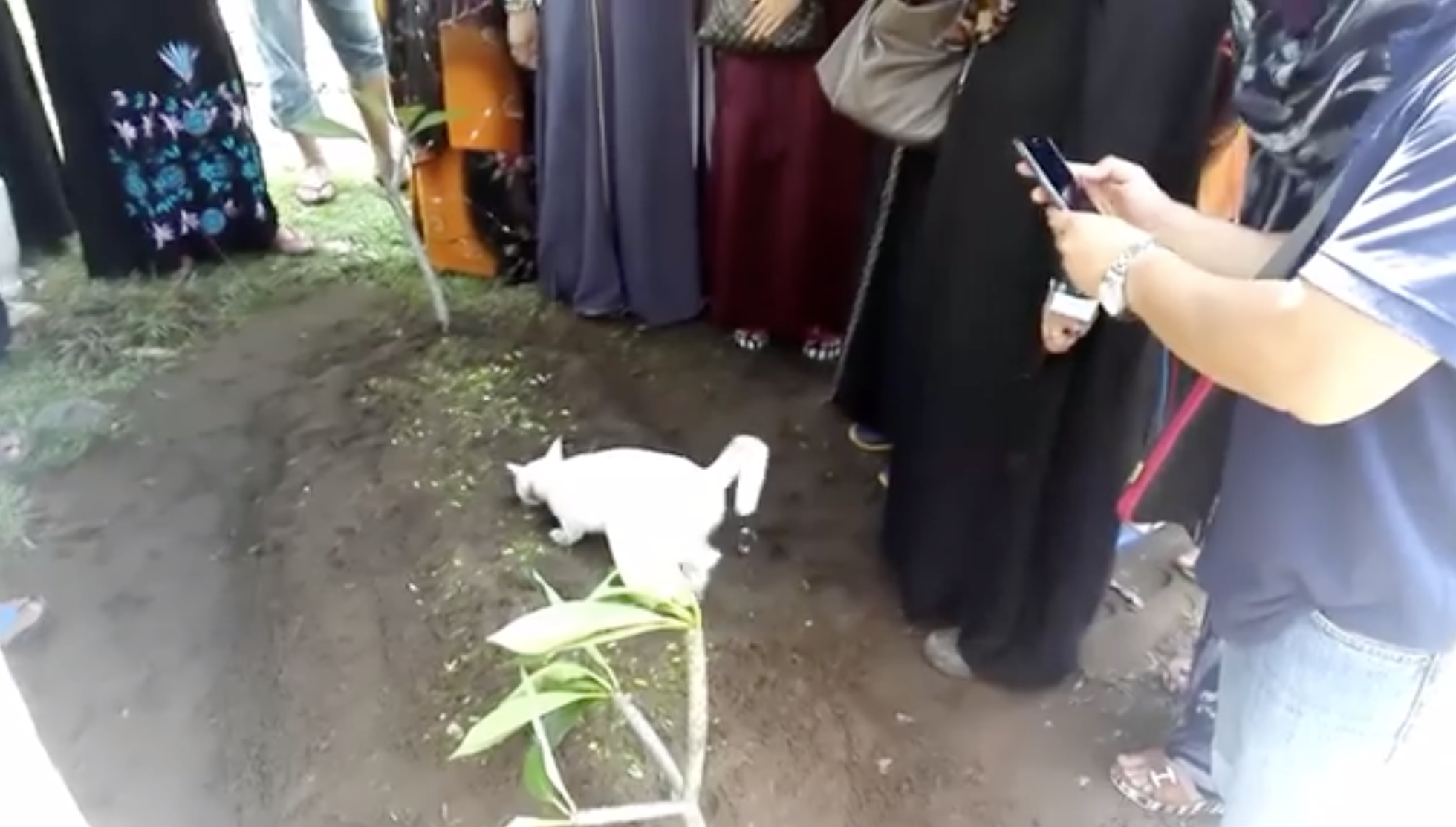 Anita Kelsey, a cat behavior expert based in London, stated that the cat's behavior was "unusual," The Telegraph reported.
"I never stop being amazed at animal behavior. It's obviously seen something being buried that it wants to get to," Kelsey said. "Cats can grieve the loss of a presence and show it in many ways, but it's usually dogs we see exhibiting this behavior."
In another story circulating on the internet since 2016, a heartbroken cat was said to miss her late owner—an old lady called Kundari—so much so that she has spent a year living at her burial plot in Central Java, Indonesia. The grieving feline was initially heard crying as she lay atop her beloved master's grave. Passerby Keli Keningau Prayitno attempted to adopt the cat, but seemingly refusing to part ways with her late owner, she went back to the burial spot again, curled up over the blue tombstone.
"I thought she was homeless and tried to help but every time she would keep returning to the same place," Keli said, according to MailOnline.
The cat sleeps on the grave of her dead owner every night, but she returns to her former home each day to be fed by the old lady's children. After being given food and water, she walks back to her late owner's resting place without fail, apparently hoping to stay close to her.
"Then the cat would go back again to the same place. She sleeps there and meows," Keli said. "It's very sad to see. It shows just how close animals are to their owners.."
Seeing these cats mourning over the loss of their loved one, it simply breaks our hearts…
Watch the video:
You may also want to watch this video
Dog stands above dead dog—what's he doing is saddening