A woman from Canada who stayed at the Bahia Principe resort in the Dominican Republic in 2016, is among the latest of several people to have stepped forward with allegations of being poisoned while on vacation in the Caribbean nation.
Tina Hammell told CNN that she and her husband were taking a nap in their room at the Punta Cana resort when a strong chemical odor and stinging sensation in her throat and nose suddenly woke her up.
"My throat and nose were on fire," she told the broadcaster. "It smelled like paint."
"She jumped up and ran outside, coughing and hacking," Tina's husband John said. "It stung bad."
Tina, 49, said she fell critically ill and has been struggling with numerous health problems ever since, reported FOX News.
The Ontario couple said they were moved to another room, but Tina's symptoms only got worse and eventually she went into convulsions.
"I remember my muscles, my hands all turned in and my legs came up, I just was spasming and I lost consciousness," Tina told CNN.
"My wife was still having a hard time, basically breathing, staying alive. She just kept having these convulsions, and they just kept sticking needles into her. You don't want to lose anybody, especially your wife and children, and there was nothing I could do," John told the broadcaster.
She was later rushed to a hospital in the Dominican Republic where she stayed for four days, leaving only to catch their flight back home. Medical records from the hospital indicate she had suffered severe damage to her lungs.
Doctors in Canada told the Hammells that she had been poisoned but they didn't know by what, according to CNN.
"I never had a breathing problem before, I never had asthma, I never smoked, you know, we were healthy." Tina said.
Nearly a Dozen US Tourist Deaths in the Last 18 Months
The Hammells said they were compelled to step forward with their story after hearing about the recent string of tourist deaths and severe illnesses on the island.
The State Department confirmed the deaths of American tourists whose families have come forward in the last 18 months with claims that their loved ones have died while on vacation in the Dominican Republic, Fox News reported. But authorities in the Caribbean nation have insisted that the deaths were the results of natural causes.
Four of those deaths took place in resorts owned by Bahia Principe, and each one came after the victim suddenly became severely ill while in their hotel room.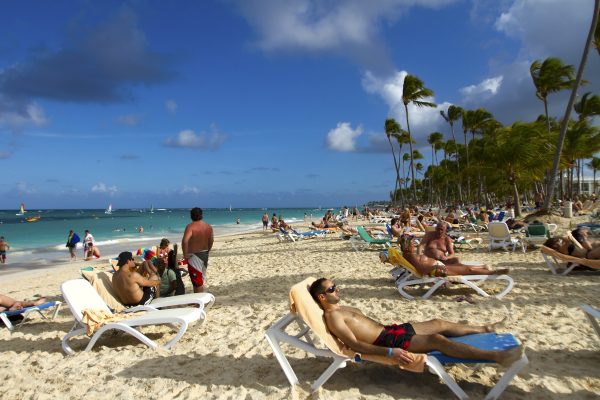 Ivan Alcantara, a public relations spokesperson for the Bahia Principe Hotels & Resorts company, told reporters the resorts are safe, the broadcaster reported.
Alcantara said he is confident that an investigation into the deaths will confirm and support claims that the tourists died of natural causes.
The FBI said it has dispatched investigators to the Dominican Republic. The agency said it is also running tests on blood samples retrieved from several of the deceased tourists.
Lawsuit Filed
A Colorado couple has sued for $1 million in their lawsuit after the Grand Bahia Principe La Romana refused to reveal what chemicals they use for gardening or offer the couple a refund, after they got severely sick during their stay at the resort in 2018.
Kaylynn Knull and Tom Schwander believe their illness was caused by the pesticides used at the hotel during their stay on the property.
"As soon as we came back to the room, we noticed it smelled like somebody had dumped paint everywhere," Knull told the Denver Channel. "We were drooling excessively. My eyes would not stop watering."
"That night, we both woke up soaked in sweat at like 4 in the morning and kind of terrified," Knull said. "We booked a flight home before the sun came up."
Back in Colorado, Knull visited a doctor who said she was likely poisoned by a pesticide used liberally on plants at the resort. Knull said the case has stalled in Dominican courts.