TORONTO—Bryan Stone, an interior architectural designer and owner of an award-winning Canadian design studio, attended Shen Yun Performing Arts the afternoon of March 30, 2019 at the Four Seasons Centre for the Performing Arts with his family.
He was impressed by the beauty of the performance.
"It was all encompassing. It was the colors, it was the music, it was the backdrops. Everything was stunning. They did a beautiful job," he said.
As an interior designer, Stone said he was inspired by the color combinations and the flowing fabrics.
"Everything just kind of came together seamlessly. It was very well-done," he said.
Based in New York, Shen Yun has set out to revive traditional Chinese culture. Since its establishment in 2006, the company has toured the world, bringing superior performances of classical Chinese dance and music to millions of audience members.
In addition to depicting classical Chinese dance, an art form developed over thousands of years of history, Shen Yun presents folk and ethnic dances that reflect China's great cultural variety. All the dances are accompanied by an unique orchestra, the first in the world to permanently combine classical Western and Chinese instruments.
Stone was particularly impressed by the music.
"I kept having to remind myself that it was live music because it was done so well. It was very, very good," he said.
He was also touched by the values depicted on stage.
"Values of kindness and values of friendship and having fun, but still reflecting back on their traditions, which is amazing," he said.
"I would absolutely recommend it to my peers. I think it's a once-in-a-lifetime performance to see and obviously a lot of effort has been put into it … I would absolutely say, 'go and see it,' for sure."
'It Was Really Extraordinary'
Derek Rosebush, CFO of a large Canadian energy-distribution company, also attended Shen Yun Performing Arts that afternoon.
"It was extraordinary! My daughter and I both loved it," he said.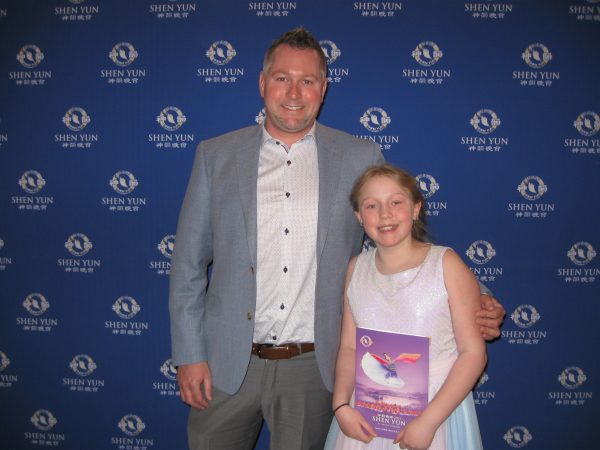 Rosebush was particularly impressed by erhu player, Linda Wang, who performed the soul-stirring piece, "Divine Reflection."
"Dazzling," he said. "It just lifted you right out of your seat … it was just amazing to watch her play."
Rosebush was also moved by the spirituality reflected in the performance, particularly seeing how it inspired the characters in the stories to become better people.
"It was really extraordinary," he said.
Shen Yun takes the audience on a journey that passes from heavenly realms to different dynasties, culminating in the present day. The historical progression depicted in the performance stood out for Rosebush.
"It was neat to see how much influence [each dynasty] had on the culture moving forward and how things are different there (in China) today," he said.
With reporting by NTD Television.
The Epoch Times considers Shen Yun Performing Arts the significant cultural event of our time and has covered audience reactions since the company's inception in 2006.