Some stories are so dramatic, powerful, or resonant that they transcend time as well as art forms. Such stories can gracefully transition from page to stage to screen. One such story is "Camille," which comes from a novel by Alexandre Dumas fils.
Published in 1848 as "La Dame aux Camélias" ("The Lady with the Camelias"), this novel was adapted into a play of the same name in 1852 by the author himself. In English, the popular story is often called "Camille." Elements of the story were based on the 23-year-old author's affair with Parisian courtesan Marie Duplessis, who inspired the character of Marguerite.
Unsurprisingly, the classic story has been adapted to the stage and the screen countless times. Among the 20 film versions, "Camille" from 1936 stands out as the first full-length talking picture of the story. Starring Greta Garbo and Robert Taylor and directed by George Cukor, it was one of MGM producer Irving Thalberg's last films before his untimely death. Many acclaimed it as his greatest work and Greta Garbo's best performance.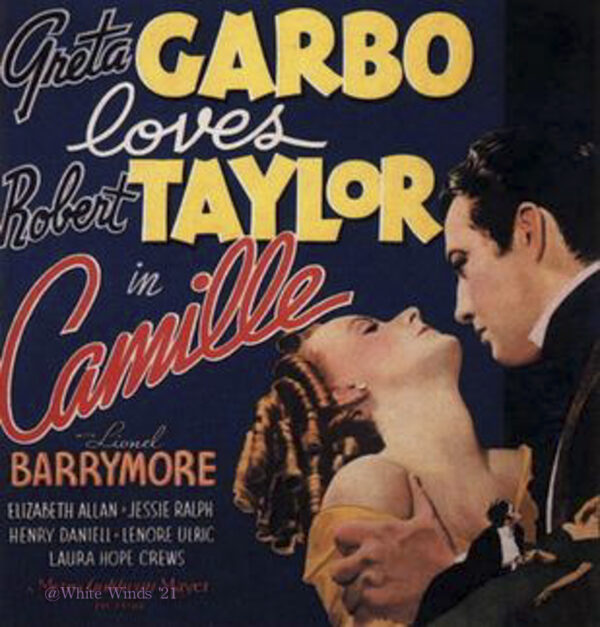 A Classic Story Comes to the Screen
Marguerite Gautier (Garbo) is a charming woman of pleasure; her salon is a center of gaiety. She lavishly spends money on clothes and her signature fresh camellias, but she suffers from tuberculosis. Her main rival is the opportunistic Olympe (Lenore Ulric), who vies for the attention of the wealthy Baron de Varville (Henry Daniell). Marguerite mistakes the earnest, handsome young Armand Duval (Taylor) for the chilly nobleman.
Armand, who has admired her from afar for a year, is disappointed when he realizes that she was only interested in him because she thought he was the baron. She quickly transfers her attentions to the real baron, who becomes her "protector," but she secretly is attracted to Armand.
After Marguerite recovers from another bout of illness, she meets Armand again and invites him to her birthday party. Conveniently, the baron has gone to Russia. Amid the mad frivolity, Armand is the only guest who notices Marguerite retreating into her bedroom with a coughing spell. He professes his love for her, and she asks him to get rid of the guests and return later that night for a private supper. However, before Armand comes back, the baron arrives. Marguerite instructs her maid, Nanine (Jessie Ralph), to bolt the door, since she needs the financial support of the jealous baron.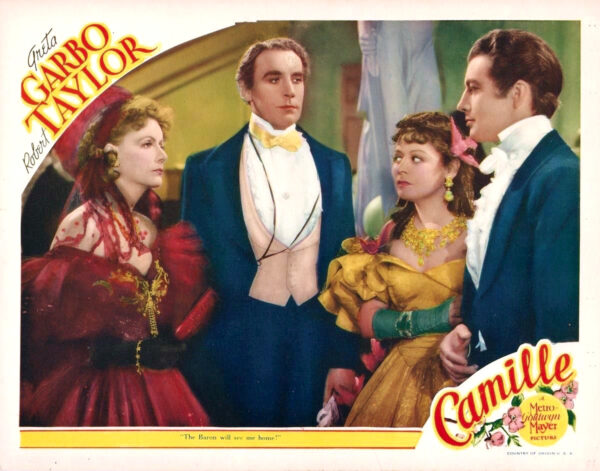 Armand is furious, but when he confronts Marguerite the next day, they quickly reconcile. He convinces her to go to his family's country home so he can nurse her back to health. In the little cottage with Nanine, she grows strong on fresh air and Armand's sincere love. He asks her to marry him, but she is reluctant because of her past and her illness. Everything seems perfect until Armand's father (Barrymore) arrives and privately warns Marguerite that her reputation will ruin his son's future. Marguerite must decide whether she can sacrifice their happiness together for his future.
Raising Hollywood's Standards
In 1934, an internal change happened within the film industry that revolutionized moviemaking forever. Although one of the biggest events in Hollywood history, few people heard about it at the time, and many modern viewers are unaware of this important incident. I'm referring to the formation of the Production Code Administration (PCA) in July of 1934, which gave the Motion Picture Production Code power to regulate film content throughout production.
The formation of the PCA under moral family man Joseph I. Breen caused more than the disappearance of risqué costumes and the banning of profanity. It sparked a major shift in story material.
Many filmmakers met the new trend of high morals for films by adapting stories from higher art forms. Classic novels and plays became fare for dramatic inspiration. Many of these stories had been popularly adapted to the screen as silent films, but they found new life in the early Code era. "Camille" was one such film.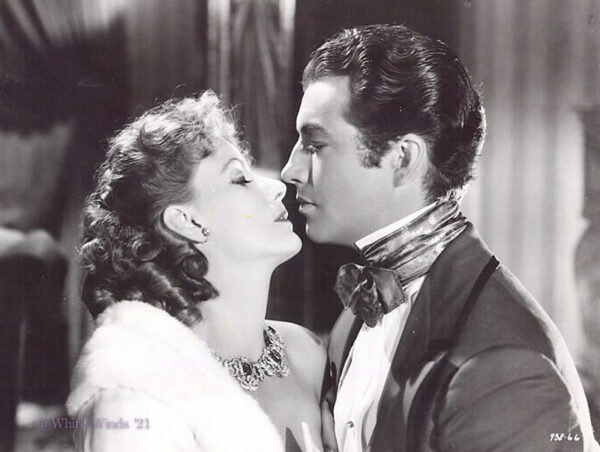 Interestingly, classic literature, even when a century or more old, often didn't meet the Code's conservative moral standards. Thus, these timeless stories were often "breened" to present a good moral and maintain the standard that "evil is wrong and good is right."
"Camille" was a tricky story, since it focuses on a courtesan. The Code forbade plainly depicting prostitution, but the PCA allowed subtle allusion to a woman's reputation. For example, Marguerite and Olympe have no legitimate profession, yet they live very extravagantly. They are clearly supported by wealthy patrons, such as the Baron de Varville. The film doesn't show what the ladies give in exchange, except for companionship. They could merely be paid escorts.
As a Code film, the 1936 movie doesn't depict Marguerite's having an illicit affair with Armand. Their relationship seems very wholesome, as illustrated by Armand's desire for them to marry. The original story's moral is that Marguerite and Armand's love is doomed because of society's prejudices. By contrast, the film's moral is that their love is doomed because of her former sins, as her ruined health reflects her damaged reputation.
A Classic Story
"La Dame aux Camélias" is a classic story famous in many art forms. The iconic tale of a fallen woman who finds true love too late is told in countless operas, including the numerous takes on "Manon Lescaut." The tragic tale presents a subtle parallel of Manon, as it's referenced in "Camille" when Marguerite and Armand discuss the book.
"The Lady of the Camelias" inspired one of the most famous operas, "La Traviata." A year after the stage play's success, Giuseppe Verdi adapted the story into his famous Italian opera, renaming the heroine Violetta Valéry. Although the opera, originally titled "Violetta," received a chilly response at its premiere, it was successful when performed in Venice the next year with a younger and slimmer soprano in the consumptive titular role. Its story is very close to the 1936 film's plot, similarly highlighting her repentance and nobility in sacrificing her personal happiness for Armand.
The story has also danced its way onto the ballet stage a few times, most notably as "Marguerite and Armand," which British choreographer Sir Frederick Ashton created in 1963 for famous dancers Margot Fonteyn and Rudolph Nureyev. This ballet secured their partnership and gained great acclaim, becoming their signature piece. No other couple performed this ballet until the 21st century.
A Noble Woman
It's often easy to guess why a story has endured the test of time. "Camille" has remained popular because, in whatever medium it's presented, it's moving. The story is moving because it's about the highest expression of love, sacrifice. Men may sacrifice their lives for comrades on the battlefield, which is noble and heroic. Marguerite displays a similar selflessness by giving up her extravagant lifestyle, her happiness, and, ultimately, her life for the man she loves.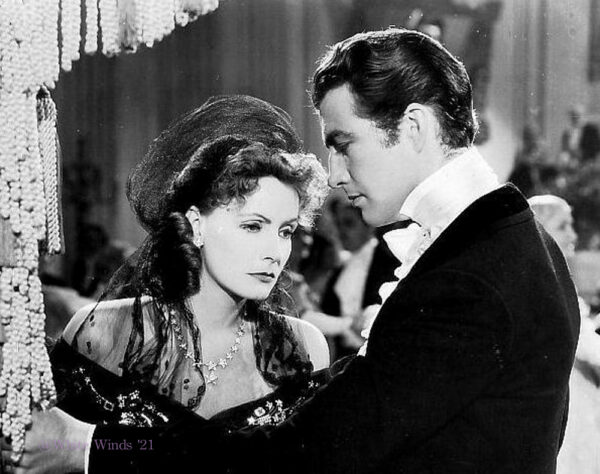 Before she meets Armand, Marguerite has never known true love. His earnest feelings soften her indifferent heart, moving her to give up the comfort and admiration of her Parisian salon. When they're in the country together, she experiences greater happiness than she has ever known. For once in her life, she loves and is loved. It's because she loves Armand that she sacrifices this bliss for his ultimate happiness, since she knows their relationship would destroy his life. Instead, she lets their parting destroy hers, since her broken heart and renewed Parisian lifestyle shatter her fragile health.
In its purest form, this story isn't about a fallen woman; it's about a noble woman whose soul is transformed by the one thing that can change people: love. Whether sung, danced, or spoken, it's a beautiful story of nobility, generosity, and sacrifice.