With fall in full swing and winter around the corner, root vegetables are in season. While they usually aren't the prettiest vegetables, their rough, gnarled exteriors often hide sweet and creamy insides packed with nutrients. 
As an organization focused on heritage diets and nutrition education, Oldways is often asked about how to use certain foods and ingredients. We find that root vegetables are a group of foods that for some seem shrouded in mystery. 
A root vegetable, as you might expect from the name, is the underground root of a plant. Common examples include carrots, beets, and turnips.
Here, though, we'll explore three lesser-known varieties: yuca, celeriac, and parsnips. They can all be found in grocery stores, specialty markets, or farmers markets across the country.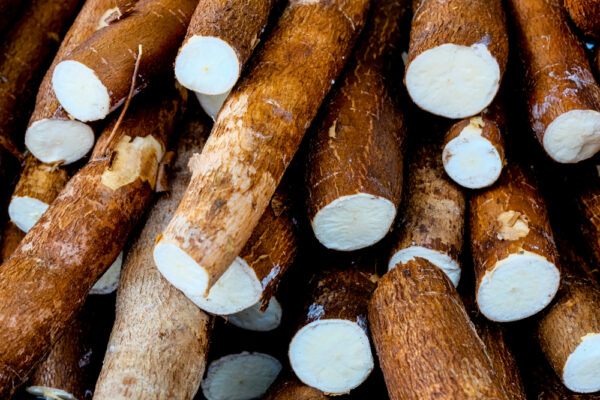 Yuca
Yuca is the root of the cassava plant (not to be confused with yucca, which is a completely different plant that doesn't have edible roots). You may see yuca root labeled in a store or market as cassava, manioc, or mandioca. 
About the length of a banana but thicker around, yuca is tapered at the end and covered in a tough, dark brown skin. The skin is so tough, in fact, that you'll need a sharp knife to cut it away from the edible interior. Yuca must be cooked before it's eaten, to destroy its naturally occurring calcium oxalate.
A staple starch throughout Africa, the Caribbean, and Latin America, yuca is used in many diverse ways around the world. It contains fiber, antioxidants, and many other beneficial nutrients. Its consistency and sweet, earthy flavor are similar to that of potatoes, though yuca tends to be more starchy. A simple, delicious recipe if you're trying yuca for the first time is yuca fries. 
It's possible that you've had yuca without even knowing—it shows up as an ingredient in foods that may surprise you, often in the form of flour. Tapioca flour is made from starch that has been extracted from yuca, while cassava flour, sometimes called yuca flour, is made from the ground root after it has been peeled and dried.
Both flours are commonly used in gluten-free baking, from breads to pastries, and tapioca flour is also often used as a thickener—similar to cornstarch—for soups, stews, sauces, and puddings.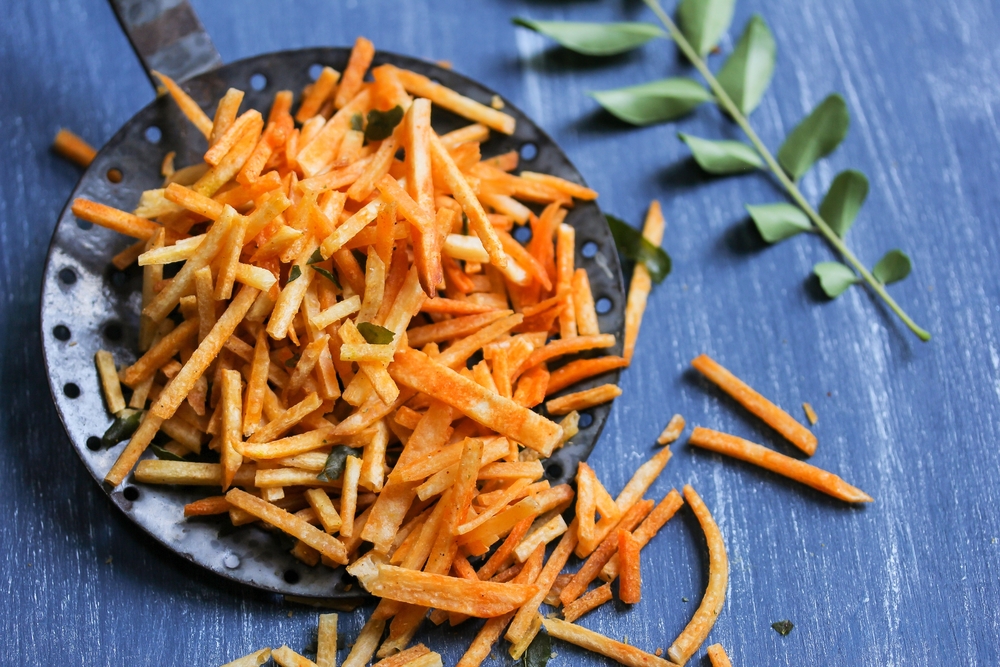 RECIPE: Yuca Fries
Yuca's consistency and sweet, earthy flavor are perfect for hearty, healthy oven fries. Kids will especially love this recipe.
Serves 8
2 medium yuca roots, peeled
2 tablespoons extra-virgin olive oil
Sea salt
Ground black pepper 
Dried or fresh thyme
Preheat oven to 375 degrees F.
Peel the waxy brown skin from the yuca roots and chop each one in half, width-wise at the middle, to make 4 pieces. 
Place yuca in a medium pot or saucepan, cover with water, and bring to a boil with a pinch of sea salt. Cook the yuca until you can pierce it with a fork, about 20–25 minutes.
When cooked, drain the water and place the yuca on a paper towel.
When cool enough, pat the yuca dry and chop the pieces into "French fry" sticks. Place the fries on a baking sheet. Lightly drizzle with olive oil, and season with sea salt, pepper, and thyme to taste. Use as much thyme as needed to dust each fry.
Bake the fries in the oven for 20 minutes, until golden, turning once. Enjoy!
Recipe courtesy of Oldways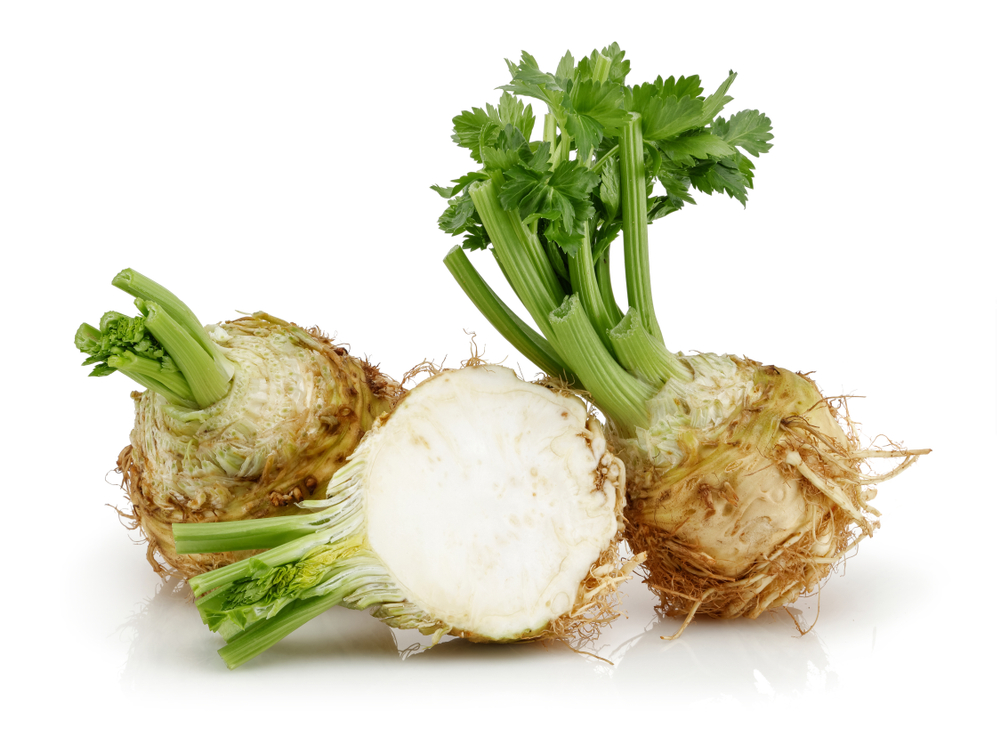 Celeriac
Celeriac, which is sometimes called celery root, is a root vegetable that tastes similar to celery, with hints of parsley and anise. Celery and celeriac technically are from the same plant, but are cultivated for different parts—the stalk versus the root—and are often grown separately to ensure the best possible environment for each. 
Round, knobby, and covered in bumps and lumps, celeriac has thick light brown skin that needs to be removed with a knife. Originally native to the Mediterranean Basin, celeriac tends to be used more commonly in French and English recipes.
The texture of celeriac changes depending on how it is prepared. When it's raw, it has a little crunch, but it isn't stringy like celery. When cooked, it's reminiscent of a cooked potato. 
Once peeled (which is no easy feat!), raw celeriac is a wonderful, tangy addition to salads and slaws. It can also be boiled, roasted, baked, steamed, fried, or pureed into soup. If you're trying it for the first time, try shredding a little onto a salad, or boiling it with a parsnip and a potato and turning it all into a mash.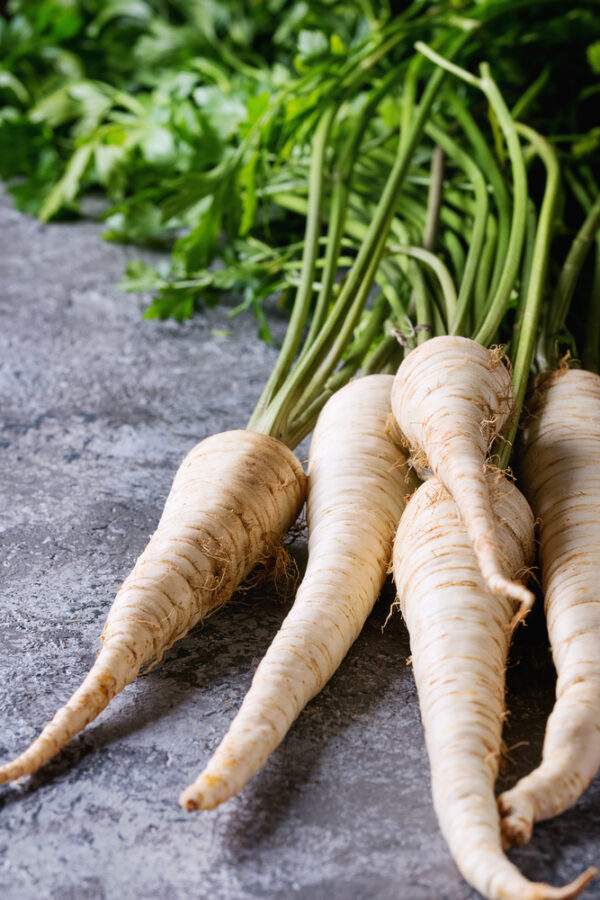 Parsnips
During colonial times in America, parsnips were once more common than potatoes. They were a staple food, able to be stored for long periods of time during the cold season. These days, they are far less popular, but no less delicious. 
Parsnips look like cream-colored carrots, and like carrots, are thin-skinned and can be easily peeled with a vegetable peeler. While parsnips have a similar sweetness to carrots, they are starchier, with additional herby notes reminiscent of parsley, as well as a hint of bitterness. They're rich in fiber, antioxidants, minerals, and vitamins including C, K, and B6.
Parsnips can be used in many ways. They can be eaten raw, but since they're so starchy, are much more likely to be found in dishes where they are boiled, roasted, pureed, steamed, or fried. They add a creamy richness and sweet flavor to soups and stews, and are often eaten alongside roasts. You can even make a sweet wine with them.
We pureed them to create this rich, creamy soup that is both vegetarian and dairy-free. The parsnips are simply cooked right in the broth. For an equally delicious variation, substitute celeriac instead.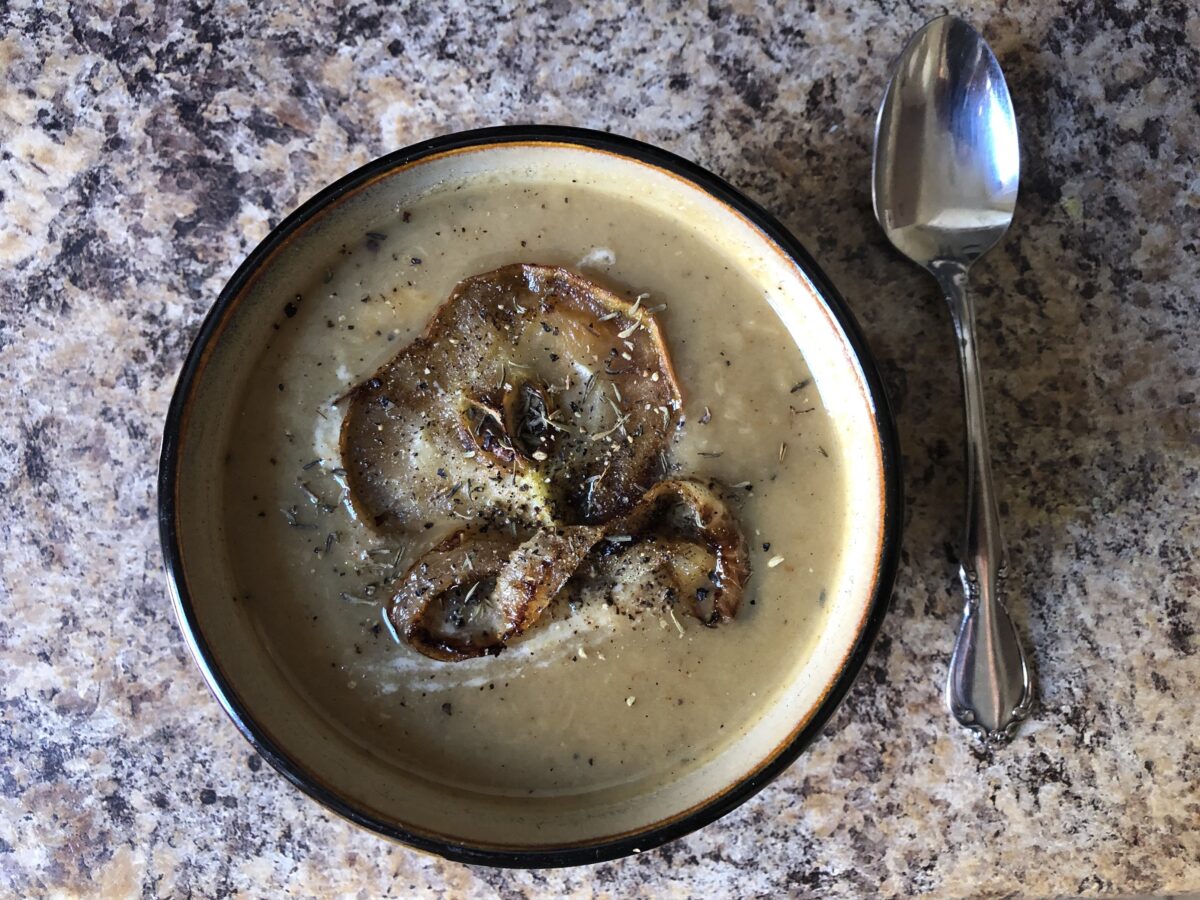 RECIPE: Spiced Parsnip and Apple Soup With Tahini-Honey Swirl
Earthy parsnips, sweet apples, and warm spices make this a healthy, warming dish for fall. Add a dollop of the tahini-honey swirl just before serving, for an extra nutty, slightly sweet flavor.
Serves 7
For the soup:
2 tablespoons extra-virgin olive oil
1/2 yellow onion, diced
2 sweet apples, such as Fuji, peeled and chopped
1 1/2 tablespoons ras el hanout spice blend
1 pound parsnips, peeled and chopped
1 gold potato, peeled and chopped
4 cups low-sodium vegetable broth
3 cups water
2 tablespoons lemon juice
For the tahini-honey swirl:
2 tablespoons tahini
1 tablespoon water
1 tablespoon lemon juice
1 teaspoon honey
To make the soup, heat the olive oil over medium heat in a large stockpot.
Add the onions, apple, and ras el hanout, and sauté until soft and beginning to caramelize, about 15 minutes.
Add the parsnips, potato, broth, and water, and bring to a boil. When boiling, cover, reduce to a simmer, and cook 20 minutes.
Blend the soup in a blender or in the pot with an immersion blender, and stir in the lemon juice before ladling into bowls.
To make the tahini swirl, whisk together the tahini, water, lemon juice, and honey, and swirl a small amount into each bowl of soup before serving. 
Recipe courtesy of Oldways
Oldways is a food and nutrition nonprofit dedicated to improving public health by inspiring individuals and organizations to embrace the healthy, sustainable joys of the "old ways" of eating—heritage­ based diets high in taste, nourishment, sustainability, and joy.