GANGES, British Columbia—The winds are fair and the sun is shining—and I'm not quite sure where I am, or where we're going, or what we're doing, exactly. With Bruce Waygood at the helm—a man I've met just this morning—we tack along, or maybe we jibe, or do something with the jib? I'm not really paying attention as Waygood, a former university professor transplanted from the flat Canadian prairies to remote Pender Island, explains various sailing terms as we skim along these Pacific waters.
It's mostly because I'm distracted. I smile as big, fast ferries rush past, loaded heavy with cars and headed for the steaming streets of Vancouver, or Victoria, or one of the many other islands that surround us. Just to our south sit the San Juan Islands in Washington State, and beyond them, Seattle. But those big cities and their hustle and bustle seem a long way from here, on Bruce's little boat, bobbing here in the Gulf.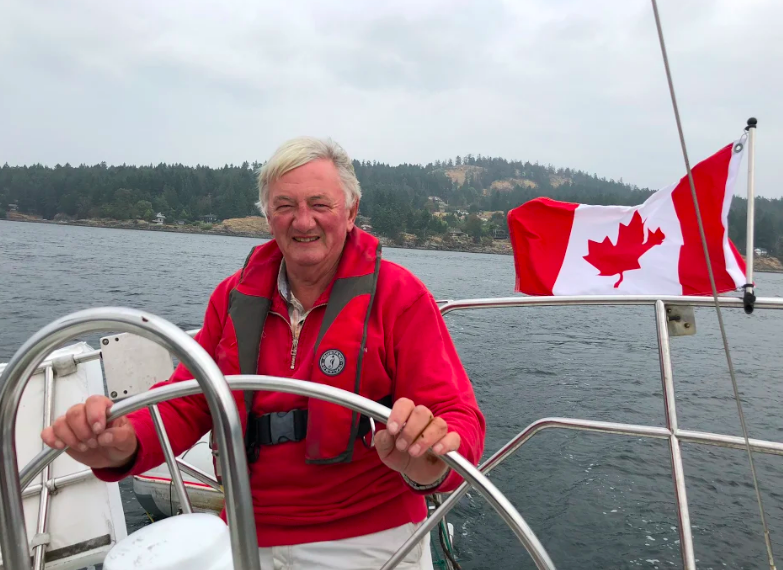 Floating on Canada's wild west coast, British Columbia's Gulf Islands are a natural, almost mystical respite less than an hour by ferry from the heart and heat of downtown Vancouver. I'm here for a few days, driving onto little ferries and shuttling between Salt Spring, Galiano, and Pender, each island with its own personality, each small and charming with a strong hippie culture—and some of the freshest food you can imagine.  
Exploring Galiano on a Moped
My adventure begins on Galiano Island, a long, narrow island (less than four miles wide at its widest) with just over 1,000 permanent residents. Traversed, end-to-end, by just a single road, each side is lined with forest so heavy and thick, it feels like it could swallow a man whole. Still, it seems like the perfect place to explore on the back of the moped. Handing me a hand-drawn map and giving a few tips on the highlights ("if you take this path down to the beach, sometimes you get whales literally just an arm's length from the shore"), the owner of the rental place tells me not to worry about getting the bike back on time. "Just roll it up over there and leave the keys in the ignition," he says, waving me off as I wobble, inexpertly driving my moped out to the main road.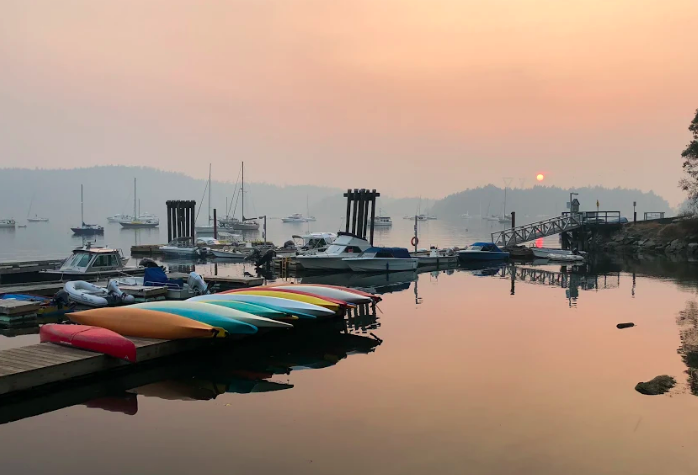 I don't see any whales, but for hours I ride—through the campsites and past the shell beach at Montague Harbour Marine Provincial Park, the shore littered with driftwood and kayaks and a stray guitar, just leaning there, left momentarily by some camper. I then climb up a steep, dirt path to a series of sea cliffs that line one side of the island before descending to browse at some earthy, organic shops and galleries. Priced out of Vancouver, where the average home now costs more than $1 million, many creative types have migrated to places like Galiano, where they can set up studios and live for less than a fortune.  
The Pub Bus
Tommy Transit is one of the island's more eccentric artists. Having returned the moped—keys left in the ignition—I have a hearty dinner, and a few drinks at the Hummingbird Pub, Galliano's favorite gathering place. And then I board the Pub Bus—better known as the "booze bus." Shuttling well-lubricated passengers from the pub back to campsites and sailboats moored at Montague, Transit sings the classics, and plays drums and cymbals, while everyone else—shaking provided shakers and, inhibitions lowered by the festive mood on board—sings along.
Having driven this musical school bus for almost a decade, he thanks us all for helping make his dream of becoming a musician/bus driver come true, before disgorging us at our destination.
A Taste of Salt Spring Island
The next morning, it's time to travel to a new island—Salt Spring. Rolling off the ferry, the change in personality is immediately noticeable. The busiest and most populous of the Gulf Islands, Salt Spring serves as something of a hub. It's also fertile and temperate, producing some of the freshest food on the west coast.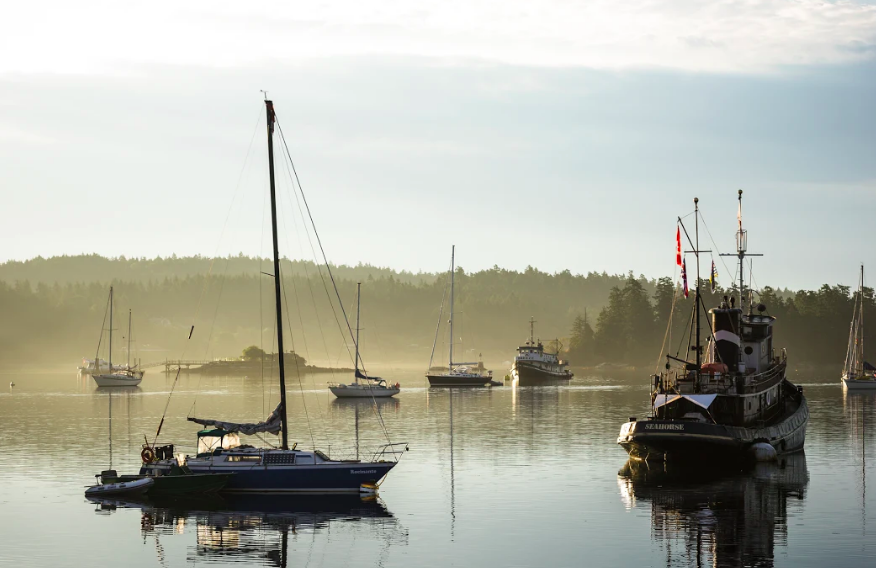 I begin there, on the culinary side of things, visiting places like Salt Spring Island Cheese, which has been producing chèvres and other goat cheeses for almost two decades, sitting down with owner David Wood for a tasting. And then I head off to sample more of the island's produce, in its various forms—wine at Salt Spring Vineyards (where, according to their official policy, "wines are hand-crafted with 100% love") as well as micro-brews and ciders. Later, I meet my friend, fellow writer Jorg Michel, a native German transplanted to Salt Spring, by way of Vancouver.
He explains the charm of this place. "Even for Canadians, these islands have an undiscovered quality," he says, noting that at night, from his hilltop house, he can actually see the lights of Vancouver. "It's only 30 kilometers [19 miles] away, but it feels like 30,000." Close to the cities, the Salt Spring remains largely rural, an early home to the farm-to-table movement. A man who travels often—hopping on a float plane, Michel can be in downtown Vancouver within 25 minutes—he admits that he's always happy to come home. "It really is an island paradise," he says. "Whenever I return, I feel like I can exhale."
Michel then takes me for a personal tour of Salt Spring's main community, Ganges—a funny name for a small town in the Pacific Northwest. Named after the HMS Ganges, a British flagship that brought settlers here in the 19th century, the town has a lovely harbor filled with sailboats, an eclectic array of little shops, as well as a weekly farmers market that sells everything from local honey to handicrafts. I finish the day by dining on local seafood—salmon, lobster—in a manor home overlooking the harbor at Hastings House, a local hotel, restaurant, and institution.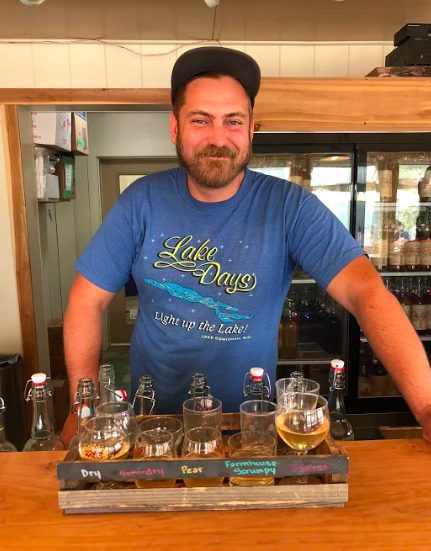 Last Stop: Pender Island
My final ferry takes me to Pender Island, where Bruce Waygood awaits. Retired but very active, maintaining an extensive garden, helping run the Pender Island Junior Sailing Association, plus sailing his own boat, Waygood invites me into his home for a coffee before taking me for a drive across the island. He points out adorable "car-stops," little designated areas where you can feel free to give your neighbor a ride, as well as unattended farm stands—operating on the honor system, each of them simply has a box for you to leave a few dollars after you load up your fresh purchase.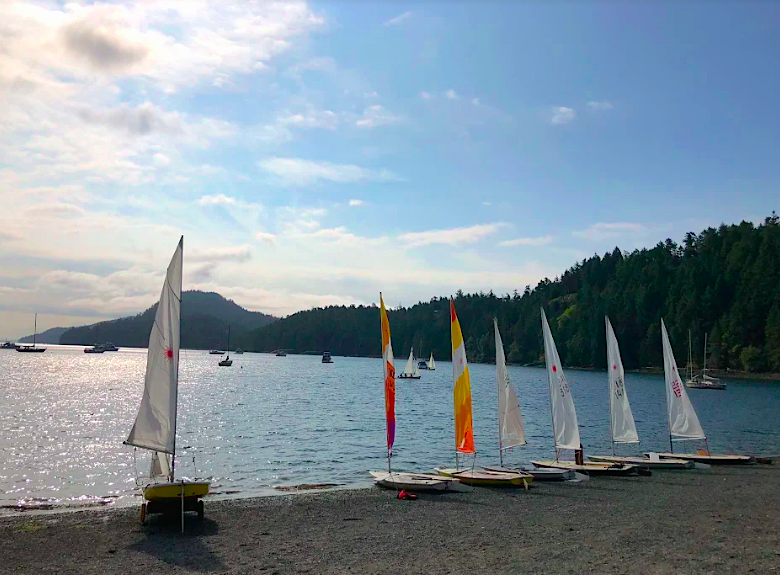 There's more food, and drink, here—I take a tasting at Sea Star Vineyards and Winery, which produces pinot noir, pinot gris, Maréchal Foch, and others, and at Twin Island Cider, too, where a passionate young couple take a break from their apple picking to pour me some excellent samples. Later, I'll sleep in an Airstream trailer, tricked out with its own hot tub, at Woods on Pender, a quirky, cool campground and resort. But for now it's just Bruce, and me, and the sailboat skimming along the calm waters of the Salish Sea, the wind pushing along through these magical islands.
When You Go
Getting there: Regular flights on Air Canada as well as various U.S. carriers service both Vancouver International Airport and Victoria International Airport—from there, BC Ferries offers regular departures to the Gulf Islands.
On Galiano, stay at Bodega Ridge (BodegaRidge.com), a series of log cabins set amongst 22 acres of forest, or at the new Bodega Cove, chic cedar cabins from the 1960s, painstakingly restored with hand-milled furniture, set near the water.
On Salt Spring, stay at The Cottages on Salt Spring (CottagesOnSaltSpring.com), fully contained residences set around a pond near Ganges.
And on Pender, stay at Woods on Pender, a unique glamping resort that features restored Airstream trailers with all the modern conveniences (including TVs equipped with Netflix) and a restaurant that serves truly excellent farm-to-table cuisine (WoodsOnPender.com).
Toronto-based writer Tim Johnson is always traveling, in search of the next great story. Having visited 140 countries across all seven continents, he's tracked lions on foot in Botswana, dug for dinosaur bones in Mongolia, and walked among a half-million penguins on South Georgia Island. He contributes to some of North America's largest publications, including CNN Travel, Bloomberg, and The Globe and Mail.
He was a guest of Tourism Vancouver Island.