A female scuba diver has found prehistoric teeth from extinct underwater species.
Terri Olah, 53, found megalodon teeth—some of which are up to 15 million years old.
The extinct sharks' teeth are a prehistoric treasure that can be found in the sea, but Terri says you need to have a "good eye" to spot them.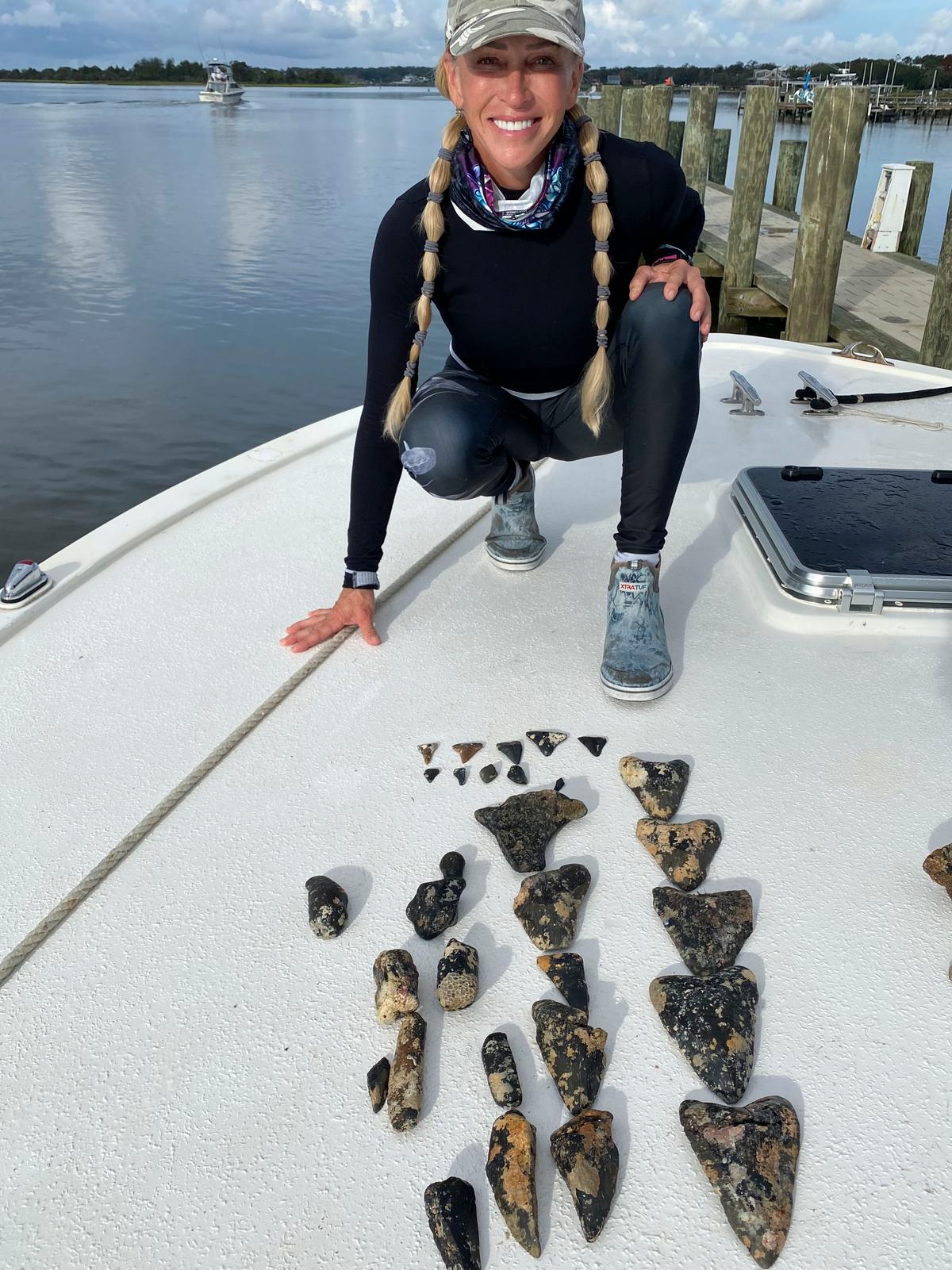 Terri spent 12 hours hunting for the "treasure" in North Carolina.
"Hunting for megalodon teeth takes some patience and a keen eye!" said Terri, from Minnesota, the United States.
"We had to look for little points," she said, "which is the tip of the tooth poking out of the sand and then gently fanning the sand away from the area with your hand without creating a huge silt cloud around you and impairing your visibility."
Terri shared that finding the teeth buried under the sea sand "takes some practice."
"[T]he poor visibility makes it even harder when you have very limited bottom time at that depth," she said.
"But there is nothing more thrilling than finding your first tooth, some of which are five to 15 million years old."
"The largest megalodon tooth I found was just slightly under six inches which is really hard to find ones intact that size!
"It's hard to imagine the size of the megs with a mouth full of teeth, each one being the size of my hand.
"They estimate the Meg's to be anywhere from 30–60 feet long!"
Terri and her co-divers also found whale bones, tusks, and prehistoric great white bones.
"It was my first time hunting for the fossils and I hit the jackpot," Terri said.
"I went down three times and filled my bag every time—they were so heavy—I couldn't even get the bag off the bottom of the ocean."
"After doing two more drops I had a great collection of teeth and bones," she added. "I was beyond ecstatic. All the bones, teeth go into a bucket and soak in a mixture of apple cider vinegar and water."
Terri said that after several days of soaking them, one can "gently scrub away any remaining barnacles and debris" using a soft toothbrush.
"Once they are brushed clean," she said, "I soak them for one more day in freshwater, take them out and allow them to dry, and then apply mineral oil to them to keep them from drying out."
"I'm very happy to say that I have an impressive collection of prehistoric history from sharks!" she added.
We would love to hear your stories! You can share them with us at emg.inspired@epochtimes.nyc