Kuching, in Malaysian Borneo, is such is such a special city to explore and the state of Sarawak is a coastal jungle paradise. There is so much to enjoy on your Kuching trip like boat rides on the Sarawak River, exploring tribal long houses, spotting roaming wildlife, visiting the impressive culture centre and other local Kuching tourist attractions that are super fun – like Top Spot hawker centre on the top of a parking lot in the middle of town. Buy key lapis from women selling it along the backstreets – we live this soft cake – spot cats everywhere and enjoy this beautiful city. Here are our favourite and best places to visit in Kuching.
Before You Go:
Make sure you have your travel insurance – we use 
Cover More
 – and a 
VPN to protect your data
 (and let you access your favourite shows from platforms at home!).
Where is Kuching?
Kuching is the capital of Sarawak, Borneo's northwest state, and home to lush tropical rainforest, stretches of coastline, meandering rivers, mountain ranges suffocated by steamy jungle and abundant and fascinating wildlife – from inquisitive macaques, big-nosed proboscis monkeys, wild boar, fluroescent vipers and everyone's favourite, the orangutans.

You could spend at least a few weeks exploring both Sarawak and Sabah, or three to five days in Kuching and at least a week in Sabah – getting around is easy and affordable

flying with MASwings

. There is just so much to explore in Borneo.
All About Kuching
The city of Kuching has a rich history of rajahs, exotic trade, colonisation and federation and is a vibrant cultural combination of indigenous ethnicities and immigrants. Built on the Sarawak River which carries cooling breezes along the foreshore to counter the steamy humidity, the beauty of the city is will make you pause.
Hues of gold and bronze colour each bank, amplified through the glorious setting sun which bursts off the surrounding buildings and reflects on the water. Each night the riverside comes alive with market stalls selling trinkets and food, buskers' voices floating through the air and boats waiting to take you along the river to watch the setting sun.
Once of the best things about Kuching though is its location. It is a veritable gateway to the rainforest, jungles, beaches and mountains of Sarawak, giving you and your family the chance to experience Borneo's incredible wildlife and natural beauty before returning for a dip in your hotel pool – or use a day pass to the
Hilton's Hotel's rooftop pool and bar
.
Where to Stay?
I'd booked a room at the
Tune Hotel
just a minutes walk from the waterfront and at $25 a night our budget accommodation was an absolute bargain. Our room was clean and tidy with an attached bathroom and toiletries, and the rate included wifi and breakfast packets of chicken, sambal, rice and tea. It was also conveniently located on the Sarawak River, a five minute walk to the centre of town, and even more conveniently opposite the
Hilton Hotel
which, to our absolute delight, offered a $10 day pass to its swimming pools – absolutely necessary in the heavy Kuching heat.
Here are some of the best activities in and around Kuching: For a list of tours in
Kuching and around Sarawak check out Klook here
.
Hang out on the Riverside
The riverside esplanade is perfect for children and Emmie loved watching the boatmen push their wooden sampans along the river as they patiently waited for customers, and hunting out the cat statues and beautiful public artworks that dot the walkway. Kuching is the self-appointed cat capital of the world, and cat statues proudly occupy the riverside and key locations around the city.
Kuching Cat Museum
Children will love spending time at the
Kuching Cat Museum
– a fascinating couple of hours amidst 4,000 pieces of kitsch and absurd memorabilia including ceramic cats, newspaper articles about cats, cats in films, cemeteries, music and stamps, and dedicated Garfield and Hello Kitty galleries!
Stay Top Spot for Dinner
Kuching has a well-deserved reputation for its culinary excellence and delicious laksa, however our favourite dinner was at Top Spot, a fresh seafood hawker market on the top floor of a carpark. You can find it by looking out for the big prawn – or ask locals, everyone knows where Top Spot is.We ate freshly cooked lobster, calamari and fish dishes, washed down with coconut water and sugar cane juice for around $20. We were the only non-locals there and Emmie did her evening journaling while we waited for our food to be cooked.
Semmangoh Rehabilitation Centre
Just a 30 minute drive from Kuching, this well-managed park is home to semi-wild orangutans, and one infamous, dominant male called Richie. If you're lucky you will see them swing down from the jungle to eat bananas, milk and other snacks at the twice-daily feeding sessions. Viewing areas put you only metres from mothers and babies, young playful organutans and if you're lucky, Richie. An incredible opportunity to see these endangered beauties in their natural environment and learn about how we can protect their habitat.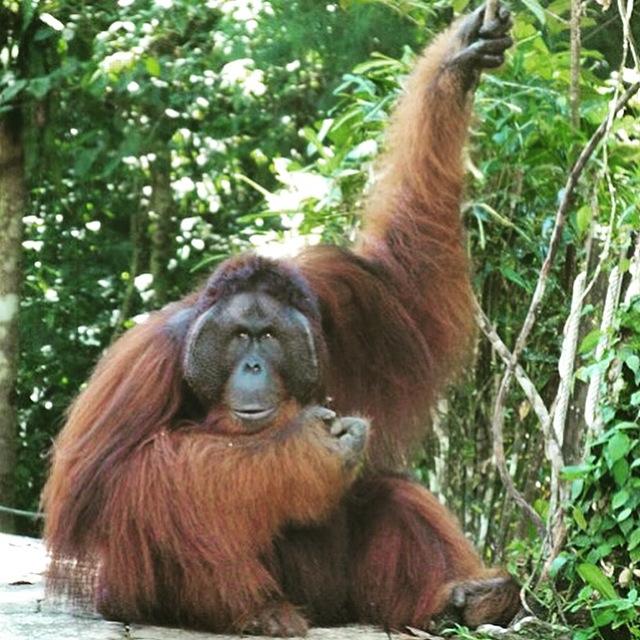 Bako National Park
Another highlight of our visit, Bako is a stunning national park only accessible by boat. Walk steamy jungle trails searching for the fascinating proboscis and spot vipers, wild boar, lemurs and other incredible wildlife, gaze over the wild shoreline and jagged cliff-faces. Look out for the cheeky macaques who will pull your shoelaces and try to steal your food. Read all about
our trip to Bako here
.
Sarawak Cultural Village
A great day out learning about the nine ethnicities that make up the Sarawak culture from descendants of each tribe who live at the Village. See dart blowing and traditional performances, visit longhouses, learn historical dance and try traditional food. Set in beautiful grounds, the Sarawak Cultural Village is a lovely morning or afternoon activity.
You can book your tickets here.
Kuching City + Evening Boat Cruise
Spend a day wandering the city – check out the Chinese History Museum, the Sarawak State Museum and the Cat Museum, take an evening sunset boat cruise along the river and see the city as it lights up, walk along waterfront and enjoy riverside food and performances. You'll find the boat cruises along the riverfront or you can jump into a sampan and explore the local way.
Rafflesia
Unfortunately these giant flowers were not blooming while we were in Kuching but do check in with tour operators/hotel reception in case one flowers while you're there. The rafflesia in Sarawak are found at Gunung Gunung National Park, a 90 minute trip by car/bus from the city.
This tour will get you there and includes a hike past waterfalls.
Eat Kek Lapis
Kek Lapis, a traditional Sarawak multi-coloured layer cake, is sold on most corners and is a delicious treat.This delicious colourful cake is made by locals and sold in shops and on the streets. We just love it – and key lapis is only sold in Sarawak, its a speciality of the state so make sure to stock up if you're heading to Sabah.
Visit Gunung Mulu National Park and stay at the Mulu Marriott
One of our favourite places in the world, the
Gunung Mulu National Park UNESCSO World Heritage Site
is truly incredible and the Mulu Marriot is nestled under the karst mountains in the jungle.
Read all about our stay here
– I recommend this is strongly. It's a fab adventure for all ages for the rainforest, the incredible caves and underground rivers and the most spectacular bat exodus at dusk.
Rainforest Kayaking Adventure
We haven't done this but we will when we return – kayaking through the rainforest and a visit to a local village. You may even spot orangutans. Can't wait!
Find out more here
.
We hope you have an amazing trip! Enjoy!