By Gretchen McKay
From Pittsburgh Post-Gazette
LOUDOUN COUNTY, Va.—Virginia has long been a favorite destination for travelers, thanks to its beautiful beaches, breathtaking mountainous scenery, and storied American history. (It was home to four of the first five U.S. presidents.)
It's also a great place to see spectacular fall foliage and drink a glass of wine, whether you prefer a full-bodied red or a crisp white or simply want a taste of Norton, the United States' oldest native grape.
In the 1980s, the entire state had only six wineries. Today, there are more than 300 wineries and 4,000 acres under vine in eight distinct American Viticultural Areas, according to Anne Boyd, director of the Virginia Wine Marketing Board.
Virginia's $1.73 billion wine industry has created more than 10,000 full-time jobs and has been a boon for tourism, drawing about 2.6 million visitors a year, according to Ms. Boyd.
Loudoun County boasts more than 50 wineries and tasting rooms of varying sizes, styles, and wildly different personalities. Some are situated on mountaintops with sprawling views of the Virginia countryside; others are tucked along country roads with cows and sheep grazing in nearby pastures. In a few, you might even find the winemaker pouring your sample.
There may be no better time of year to sip in the heart of Virginia's wine and horse country than fall, when the canopy of leaves turns from a lush green to spectacular shades of red, orange, and yellow (peaking around Oct. 22). The weather's gorgeous, the mosquitoes are mostly gone and if you time it just right, you might even see the grapes ripening on the vine.
If you haven't visited in a while, it might seem like the wineries have popped up out of nowhere. But it's actually been a long and steady build, Ms. Boyd says.
When the general assembly passed the Virginia Farm Winery Act in 1980, it uncorked would-be winemakers' ability not just to grow grapes but to also make and sell their wines on the same property. The creation of the Virginia Wine Board four years later helped root the industry even deeper by providing the research and education needed to make better wine, along with marketing know-how to sell it. Oenologist Bruce Zoecklein schooled growers about the science and various styles of winemaking, while viticulturist Tony Wolf advised them on how to plant and harvest.
"[Wolf] came to Virginia and started doing research on what grapes grow the best in our soil and climate, and also the pests, which are wildly different that on the West Coast," Ms. Boyd said. And for the next 30 years, he was the industry's biggest cheerleader, devoting his career to advancing Virginia wines before retiring from teaching at Virginia Tech last year.
In the 1970s, Virginia was considered a cold climate region good for Rieslings and Chardonnays, but by the '90s, it had morphed into the warm category thanks to hot and humid summers that routinely reach over 90 degrees. So many winemakers pulled up those vines and started experimenting with warm-weather varietals such as Petit Verdot, Viognier, Cabernet Franc, and Sauvignon Blanc. And when they started to take off? Well, "it was off and running," Ms. Boyd said.
Jennifer Breaux is the second-generation president and general manager of Breaux Vineyards in Purcellville, which has 105 acres under vine. She agrees there wasn't a lot of good local wine when many winemakers started.
"While there are general rules of thumb, there was no East Coast guidebook for such a diverse climate where the only consistency is inconsistency," she says. "It took years of trial and error, of figuring out what will do well in our soils and climate and what to do when."
But learn they did, and today, "we wouldn't be where we are without quality," Breaux says.
Many Virginia wines regularly win awards. One—Stone Tower's 2022 Kristi Chardonnay—was even served at the White House during a state dinner.
"We still battle a bad rap, but people who only drink Napa Cabernet are never going to be drinking Virginia wine anyway," Ms. Boyd said. "But that's OK because it's a big wine world out there."
"It's all about perception," Jenny Travers of Leesburg-based Greenhill Vineyards says. "If someone says you can't get good wine [here] that means they haven't tasted enough of it. You have to look for a quality product."
Wine drinkers also need to understand what they're looking for might not be what the region can provide, adds Travers. "It's all about respecting the region you're in and getting to know it."
With that in mind, here are six wineries in Northern Virginia worth visiting while leaf-peeping. Each has its own distinct personality and signature pour. Some allow children, pets, and outside food for picnics while others are adults-only and have their own menus. All offer guided tastings, along with individual glasses and bottles.
Breaux Vineyards
This popular hillside winery got its start almost by accident. North Carolina real estate broker Paul Breaux and his wife, Alexis, bought the 404-acre former soybean farm in 1994 as a second home and to raise horses and cattle. While clearing the fields one day, they discovered some chardonnay grape vines that had been planted by the former owner as an experiment on three acres.
"And so he started making bathtub wine with a hand press for family and friends," says his daughter, Jennifer.
The wine was so popular that they started making more of it from fruit grown on 35 acres. Breaux Vineyards opened to the public in 1997, and kept growing. Today, it's one of Virginia's largest wineries and grape producers, with 104 acres under vine and more than a dozen varietals. It's still 100 percent family-run.
Nestled at the foothills of the Blue Ridge and Short Hill Mountains, "our site is magnificent for fruit," says Jennifer Breaux, who became general manager in 2005. So much so that they sell about 40% of what they grow to other wineries.
The winery was greatly expanded in 2011 to include landscaped terraces and a patio (you'll think Napa or Tuscany). There's also a lot of wrought iron in the tasting room as a nod to the family's Cajun roots in Louisiana.
"The goal is to take people away," she says. "You can be in Virginia and be surrounded by Virginia-grown fruit but feel like you're somewhere else."
Vibe: Relaxed Tuscan/Napa estate
Tastings: $14–$35 for five wines. Flights (five wines) are $14–$18. Outside food is permitted only in outdoor areas.
Crowd: Family- and pet-friendly; there also is a patio for those 21+ with no dogs
Hours: 11 a.m.–6 p.m. daily through October; closes at 5 p.m. weekdays November through March.
Recommended pour: For those who love reds, the vineyard's signature grape is the full-bodied nebbiolo from Northern Italy's Piedmont region. Also, "our Meritage [blends] are just beautiful," says Jennifer Breaux.
Cana Vineyards
This family-friendly winery on 43 acres was nothing more than an open hay field with sweeping views of the Blue Ridge Mountains until 2012, when the first vines were planted. It opened as a winery in 2015 and the Petty family purchased the spread in 2018.
Today, Cana Vineyards has 7 1/2 acres under vine with cabernet franc, merlot, norton, Petit manseng, and Petit verdot grapes. All are harvested by hand and turned into award-winning wines under the careful hand of Melanie Natoli, the first female winemaker to win the modern Virginia Governor's Cup competition.
Everything about the winery screams "relax," whether you're enjoying the hillside views outside on the deck, hanging on the covered porch or gathering with family and friends in the Harvest Room pavilion, where a wood-burning fireplace and an infra-red heating system warm toes and fingers when the weather gets chilly.
The site also includes picnic tables and fire pits.
"We're a very lazy space where people can spread out," says tasting room manager Don Johanson. "Our front lawn is tremendous."
Vibe: Chill with a view
Tasting fee: $24 for six wines and three-wine flights are $12. Outside food is permitted, but no buffets or large spreads. The winery also offers charcuterie, cheeses, and other light fare.
Crowd: Family- and pet-friendly
Hours: 11 a.m.–6 p.m. Sun.–Mon. and Thurs.–Fri.; 11 a.m.–6 p.m. Sun. Closed Tues.–Wed.
Recommended pour: Winemaker Melanie Natoli's 2019 Unité Reserve, a blend of Petit verdot, cabernet franc, and merlot from the estate, won the 2022 Virginia Governor's Cup. Also, the albariño and le mariage, a signature red blend.
Chrysalis Vineyards at the Ag District
You can't really have the full Virginia wine experience without tasting a wine made with its native American grape, norton. And nobody does it better than Chrysalis Vineyard, which boasts 40 acres of Norton vines at two separate vineyards.
Serial entrepreneur Jenni McCloud worked in the computer industry in the 1970s and '80s before deciding to become a winemaker in 1995 after attending a wine conference on alternative grape varieties, including Norton.
"I just fell in love with the grape," she says.
Norton was renowned in the 1800s but had nearly died out by the 1920s, when Prohibition shut down the American wine industry.
After planting her first vines in 1998, Ms. McCloud built the winery along Rt. 50 in 2000, followed by a small tasting room the year after. Today's windowed tasting room, high on a hill with a large wraparound deck, opened in 2015.
The 70 acres under vine on the 412-acre site also include alberiño, a white grape grown in Spain and Portugal, along with viognier, nebbiolo, tannat, Petit verdot, and Petit manseng. The winery also sells farm products, including a hot sauce made with its vineyard red wine vinegar, Norton jelly, dips and spreads, and artisan cheeses made on-site by Locksley Farmstand Cheese.
Vibe: Modern rustic
Tasting fee: $20 for five wines. Flights (four wines) are $15. No outside food permitted, but pizza, flatbreads, and other hot food menu items are available from its Little River Bakehouse.
Crowd: Family-and pet-friendly (outside only); separate spaces for 21+
Hours: noon–6 p.m. Monday and Thursday.; noon–8 p.m. Friday–Saturday; noon–7 p.m. Sunday. Closed Tues.–Wed.
Recommended pour: Chrysalis's flagship wine is its Locksley Reserve Norton, but it's a "big wine" that probably offers the biggest reward after being cellared for a few years, says owner Ms. McCloud. For everyday drinking, she suggests the more approachable Barrel Select Norton, which is aged in Virginia oak and is "big and round in the mouth." If you prefer whites, the albariño is delightfully refreshing.
Greenhill Vineyards
Originally known as Swedenburg Winery, this elegant boutique, adults-only winery on 128 acres was first planted with 11 acres dedicated to Vitis vinifera grapes in 1985. After being sold in 2013, it reopened as Greenhill Vineyards and since has expanded to 17 acres under vine.
It's a working farm, with beef cattle and horses in fields opposite the grapes, and it also has apiaries. The setting at the foot of the Blue Ridge Mountains is spectacular, and guests are encouraged to enjoy it from the many Adirondack chairs on the lawn. There also are umbrella-topped picnic tables for small picnics.
The emphasis here is on getting to know the grapes. The winery prides itself on a well-trained staff that's versed in explaining the specific nuances of the wines served—or what assistant general manager Jenny Travers calls "the Greenhill experience."
The winery went to 21 and over in 2017, but they still allow pets outside.
"It's about creating an environment and experience that is all about the wine," she says.
What also sets Greenhill apart is its carefully curated cheese and charcuterie boards. "And we're continually rolling out new wines on our tasting menu," says Ms. Travers.
Winemaker Ben Comstack works with 20 experimental varietals and can pick from chardonnay, riesling, sauvignon blanc, and viognier along with merlot, cab franc, Petit verdot, and a small amount of chamboursin, one of the world's most popular hybrid grapes.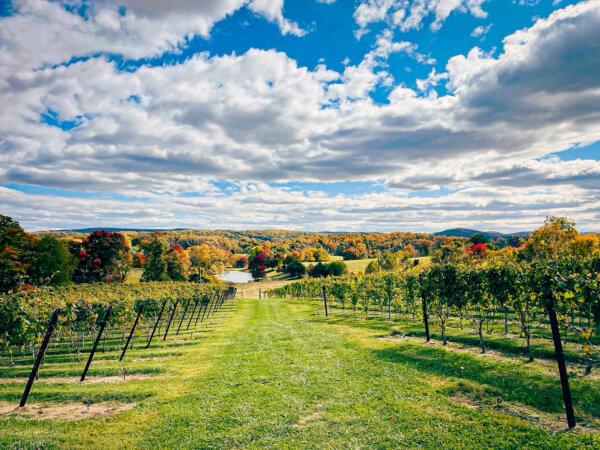 Vibe: Understated elegance
Tasting fee: $20 for six wines. Outside food is allowed only for outdoor seating.
Children/pets: age 21 and up; pets allowed outside.
Hours: noon–6 p.m. daily
Recommended pour: cabernet franc
Stone Tower Winery
Lacey Huber's family bought this 400-acre, windswept cattle farm atop Hogback Mountain in the early 2000s because it was beautiful, and her parents—who own Belfort Furniture—wanted to "do something in agriculture." After engaging soil scientists and viticulturists, they decided the land was perfect for grapes.
They planted their first vines in 2009, starting making wine two years later and in 2013 opened the vineyard to the public. It quickly snowballed into "quite the project," says Ms. Huber, with 95 acres now under vine.
"My dad likes to joke that he failed at retirement," she says with a chuckle.
Much of the focus is on chardonnay, one of the most-planted varietals in the world. "It's a classic for a reason," notes Huber. "It takes on the character of the terroir and also of the winemaking styles."
They also grow sauvignon blanc and several red grape varietals such as nebbiolo, cabernet franc, and Pinot noir to the tune of around 17,000 cases a year.
The original Harvest Barn tasting room has a rustic and casual farm vibe that spills out onto a patio and is great for families. There's also a more upscale adults-only Tower tasting room geared to those looking for a Napa-style experience "but never thought they'd find anything like that in Virginia," says Huber.
The view is such that on a really busy day, the winery can host upwards of 1,000 guests. "But even when it's really busy you can find a spot. That's the beauty of a big, spacious property."
They don't offer flights, but they are passionate about their tastings and special tours, which include a behind-the-scenes tour of the cellar.
"It's really about sharing our story and the passion that goes into making a bottle of wine."
Vibe: Family-oriented, with incredible views
Flights: A signature tasting costs $25. Outside food not permitted.
Crowd: Family-and pet-friendly
Hours: 11 a.m–6 p.m. Thursday–Monday. Closed Tues.–Wed.
Recommended pour: Wind Swept Hill, a Bordeaux blend with notes of chocolate, black cherry, plum, and blackberry, is a customer favorite. If you prefer white, "we're really excited about our 2022 Kristi Chardonnay," says Ms. Huber. It was served at a White House state dinner this summer in honor of Indian Prime Minister Narendra Modi.
Zephaniah Farm Vineyard
19381 Dunlop Mill Road, Leesburg (
ZephWine.com
)
Bill Hatch and his wife, Bonnie Archer, were dairy farmers looking to reinvent themselves when they decided to became winemakers in the early 2000s.
On a trip to visit their daughter Emily during a semester abroad in the Italian Alps in 2001, they enjoyed a bottle of wine so much they wondered aloud if they could grow something similar in Virginia. Knowing their background as farmers, one of her professors exclaimed, "Just plant the damn grapes!"
"And so we did" the following year, says Mr. Hatch, to the tune of 1,000 vines. A successful harvest two years later led to some equally successful experimental winemaking, and a tasting room in their 1819 brick manor house a few years after.
They sold their first bottles of cabernet franc and merlot in 2008 and in 2015, with the business growing, "borrowed three wheelbarrows of money" to expand the tasting room into a new barn with exposed beams, high ceilings and a covered deck.
In addition to reds, the winery offers chardonnay and viognier along with muscat ottonel and chamboursin. Every one of the 14 acres of grapes under vine are hand picked, sorted, and crushed before pressing.
"There are vineyards in California that are planted and harvested mechanically and have never seen a human hand," Mr. Hatch says. At Zephaniah, every acre requires at least 250 hours of handwork per season.
"We're farmers, and this is what we do."
Now in its third generation, the property is still a working farm, with sheep and Black and Red Angus and Holstein steers grazing nearby. The winery is just as peaceful, with just a whisper of music in the background.
"We want to put people at ease," Mr. Hatch says.
Vibe: Relaxed country farm
Tastings: $20 per person, includes four wines. Flights (outside only) are $20; a glass $15. Small picnics permitted.
Crowd: 21 and up, no pets allowed
Hours: 11 a.m.–5:30 p.m. Friday-Sunday
Recommended pour: Adeline, a delightfully floral white blend of mostly muscat ottonel, is a crowd favorite. It has less than 2% residual sugar "and the aroma on this grape is heavenly," says winemaker Bill Hatch.
Gretchen McKay: [email protected], 412-263-1419 or on Twitter @gtmckay. Copyright 2023 the Pittsburgh Post-Gazette. Visit the Pittsburgh Post-Gazette at www.post-gazette.com Distributed by Tribune Content Agency, LLC.