NR | 1 h 33 min | Drama, Western | 1957
Millie Parker (Mary Webster) cares for the young, idealistic sheriff, Ben Owens (Anthony Perkins) but not for his tin star. To her, that shiny badge stands for only one thing: death. If she's going to spend the rest of her life with him, he must quit as sheriff. Her father, who'd been sheriff for 20 years, has just been killed on duty. She doesn't mind someone keeping the peace, as long as it's someone else: "I'm going to be a wife, not a widow!"
Greenhorn Owens is only temporary, until a more seasoned sheriff is selected. But, in a toss-up between townsfolk who play it safe and those who play it dirty, he can't allow anyone else to wear the badge. Wise old Dr. Joseph McCord (John McIntire) agrees. Still, Owens worries. Is he up to the task? Enter older drifter, ex-sheriff, and bounty hunter Morgan Hickman (Henry Fonda) who's worn a badge "a lot longer" than Owens has. Owens figures Hickman can handle himself and seeks out his guidance. Waiting to collect a bounty he's due, a reluctant Hickman obliges.
Townsfolk, who publicly decry lawlessness, ostracize Hickman; they feel he represents that very lawlessness. So, at the town border, he holes up with pretty widow Nona Mayfield (Betsy Palmer) and her little son Kip (Michel Ray), outcasts of a sort themselves (Mayfield's husband was an American Indian). Hickman warms to them. He'd turned his back on being a lawman after his family was killed while he was away doing his job. Now he spies a second shot at family life. But baddies, Bart Bogardus (Neville Brand) and Ed McGaffey (Lee Van Cleef) have other plans.
A Rare Western
Rare for a Western, this film secured an Oscar nomination for Best Screenplay. Screenwriter Dudley Nichols delivers memorable characters and compelling characterization.

Both Fonda and Perkins are atypical leading men in a Western. Except for their height and Perkins's ridiculously broad shoulders, they're soft-spoken and far from physically imposing. Yet their steely bearing brooks no ambiguity about their moral resolve.
Nona places her trust in a man she doesn't know, and Millie learns to trust a man she does know; both women are swayed more by their men's values than their gallantry with guns.
After delivering the town's babies for decades, McCord
is more interested in ushering in life than dealing with death. He's seen the townsmen when they were just boys, and the townswomen when they were mere girls. That gives him compassionate sight not just of who they were, but a faith in who they can be.
Director Anthony Mann gets as much out of his crafted silences as he does out of Elmer Bernstein's score. Yes, the film has its share of noisy action, but its silences speak far louder, for instance when Hickman is watching Owens pacing about, he's wordlessly willing the young man to be all he can be.
Sensitive Screenplay
Admirably unhurried and in step with his theme of keeping the peace, Nichols shows Hickman's choices as reflexes, flowing from his values: loyalty, humility, courage, restraint, and a life centered around family. Slowly, even ploddingly, you see Owens living those values even as they're tested by local bullies. Starting out, Owens is no different from a grown-up version of little Kip; practicing a stylish draw of his guns the way Kip playacts sheriff on his pony. Then he wises up.
Hickman teaches Owens to fire his pistol, to confidently challenge an outlaw, to study men, to remember that a mob is only as tough as its leader, to lead from the front, and not to sweat the small stuff. Owens's dependence on Hickman makes him stronger, not weaker.
Nichols's point? Keeping the peace has a price, and someone must pay it. Ordinary citizens, even without badges (lawyers, doctors, traders, homemakers), must back the law, with or without guns. In one scene, an outnumbered Owens confronts a belligerent Bogardus and his mob. Hickman upends that dynamic quietly, by stepping up from behind, and standing alongside Owens; guns holstered, he just smiles.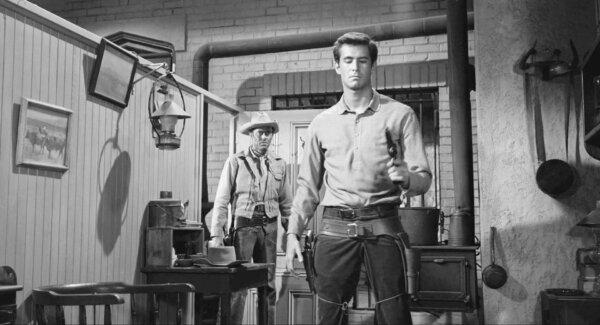 When the town's influential men desert Hickman and Owens because they can't stand the heat of an impending climactic confrontation with hoodlums, one of the men feebly begs Owen to understand why he too is turning tail: "Don't get hurt, we need you."
Owens is silent, but you can almost hear him snap: What do you need me for? What's left if no one gets hurt, and everyone plays safe? What's left to protect or defend?
You can watch "The Tin Star" on Apple TV, Amazon Prime Video, and Vudu.
'The Tin Star' Director: Anthony Mann Starring: Anthony Perkins, Henry Fonda, Betsy Palmer Not Rated Running Time: 1 hour, 33 minutes Release Date: Oct. 23, 1957 Rated: 4 stars out of 5
Would you like to see other kinds of arts and culture articles? Please email us your story ideas or feedback at [email protected]