Every few minutes, Kahlil Arnold loudly greets a patron walking into his family's restaurant—usually a familiar face he already knows by name. One summer afternoon in 2021, he spotted his sister's high school music teacher, WC, sitting at the counter, chatting with said sister. "WC has been coming here since my dad was running the place," he said.
Kahlil's father, Jack Arnold, opened Arnold's Country Kitchen in 1982, after buying the place from a local restaurateur. Since then, it has become a Nashville institution, drawing in blue-collar workers, business types, and country music stars alike. In a television segment (that never made it to air), Dolly Parton herself picked Arnold's as her favorite place to eat in Nashville.
Arnold's is a "meat-and-three" restaurant, once a common presence throughout the South. They have faded away in recent decades, but somehow, they still survive in Nashville, Tennessee. Music City is a place where locals and visitors alike are unabashed in expressing their love, not only for a fully-invented-in-America genre of music—country music—but also for a good meat-and-three platter at places where community still holds strong.
A Community
Ben Swank, co-founder of the independent music label Third Man Records, is one of the many regular customers at Arnold's. He was born and raised in Ohio and said that Arnold's was the first place he ever had a genuine, home-cooked Southern meal. After that, he just kept coming back. "I gained 25 pounds in a year," he joked.
Kahlil recognized a group seated at another table. "You guys need some more food?" he asked merrily. Kahlil hadn't seen them since the onset of the pandemic and began chatting with them about the latest goings-on.
Meat-and-three restaurants emerged during the early 20th century. Farmers were shifting from working in the fields to working in urban centers, like Nashville, on manual labor jobs. They needed a meal that would sustain them throughout the day. Their choice was a protein with three vegetable sides—made in the way dishes were commonly prepared on Southern farms, with whatever was growing on the land.
As the Southern economy shifted away from manufacturing, these restaurants fell out of favor. But not in Nashville.
Elliston Place Soda Shop is a pharmacy that opened in 1939, serving syrupy concoctions at a soda fountain counter to make the medicine go down easier. Later, it also started offering a diner menu featuring meat-and-three platters.
Elliston Place was about to go out of business in 2019 because the owners could no longer afford the rising rent. When a local developer (who was a regular there) heard this news, he purchased the restaurant and pledged to refurbish it to its original style. It reopened in May 2021 to great excitement.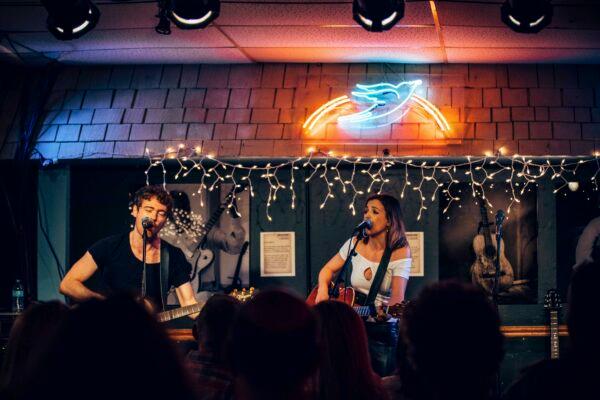 Back in 1982, a customer had similarly helped Jack Arnold buy his family restaurant. Jack did not have the required $13,000 for the deal to go through. "My dad would whistle every morning cooking breakfast for everybody," Kahlil recounted. One day, a regular customer, a local entrepreneur named Lawrence Mashburn, noticed that Jack wasn't whistling. "Lawrence said, 'Hey Jack, something wrong?'" Kahlil's father told him about the dilemma. "Lawrence Mashburn came the next day with the check for $13,000 and gave it to my dad, without him even asking."
Meat-and-threes have persisted in this region of the South "by the grace of God," said Jim Myers, who handles marketing at Elliston Place and calls himself the restaurant's "minister of culture." Elliston Place has generations of regulars, including one family whose great-grandfather's first job was working behind the soda fountain, and a couple who had their first date there and recently celebrated their 48th anniversary.
Patients who visit the nearby hospital regularly come to Elliston Place for comfort food before getting their treatment. People convene there, whether to celebrate a good report card or to wallow after a bad breakup. "Restaurants are not just about food; they are also places to commiserate," Jim noted.
The Food
Many of the meat-and-three recipes served at these restaurants were passed down within families. Kahlil explained that there are no special cooking techniques at Arnold's. "Mostly, it's meat and vegetables, cooked low and slow. We almost overcook the flavoring into the vegetables," he said.
The food of the South is heavily influenced by its early slave culture. Slaves did much of the cooking during the South's early days. Because they were often left with just the off-cuts of meat, they had to cook it for long periods of time, "until the food had enough flavor or was tender enough to chew," Kahlil explained.
At Elliston Place, recipes have also been passed down from chefs—again, primarily African Americans who worked in the kitchen. Patrons also love the pies, which are family recipes from Linda Melton, who managed the restaurant for 28 years. She still comes in every morning to check on the pies.
Meanwhile, at Arnold's, Kahlil is updating the menu by adding new fun food items—like a fried brisket taco. He places leftover chopped-up brisket into a crunchy taco shell that shatters with the first bite.
Puckett's Grocery is yet another well-known Nashville eatery that started out as a country store in rural Tennessee but has since expanded to several restaurants around the state. Meat-and-three platters are served there alongside other dishes with a Southern flair—such as pimento cheese balls laced with honey inside and served with a chili jam. The Nashville location features a stage and regularly hosts live music sessions, popular with families and groups of young diners alike.
Meat-and-threes seem destined to stay—at least in Nashville. Swank, the music producer, is already training his 8-year-old daughter to be "the next generation of Arnold's connoisseurs," as he put it. He first brought her to the restaurant when she was just a toddler, and the restaurant staff brought her banana pudding. "It really feels like family," he said.
This article was originally published in American Essence magazine.