Not drinking? No problem. As more drinkers are skipping the alcohol or limiting their intake, exciting non-alcoholic spirits, wines, and beers, and even entire bars and bottle shops devoted to them, are on the rise. We asked three experts to recommend their favorite American-made bottles to bring home.
For the Wine Lover
Sovi Reserve Red 
Napa, Calif.
$38 for a 25-ounce bottle, DrinkSovi.com
If not done well, the de-alcoholizing process can compromise the structure, tannins, and finish of red wines. Sovi solved these challenges like no other red I've tried, with their new oak barrel-aged Petite Sirah.
—Douglas Watters, founder, Spirited Away
For the Beer Head
Al's Classic American Pilsner
New York, N.Y.
$14.99 for a 6-pack, DrinkAls.com
Al's is an easy-drinking, everyday beer. It's great for occasions like a beach day when you want to drink several beers over the course of the day. If you like PBR and Budweiser, you'll love Al's. —Douglas Watters
Editor's Note: Al's is less than 0.5 percent ABV (alcohol by volume).
For the Home Mixologist
Bonbuz
Los Angeles, Calif.
$39.95 for a 25.3-ounce bottle, Bonbuz.com
Bonbuz is the future the non-alcoholic space is headed in. It's packed full of adaptogens like GABA [gamma-aminobutyric acid, which has a calming effect], 5-HTP [a precursor to serotonin], and L-theanine [promotes relaxation]. I've been enjoying Bonbuz with Cut Above Zero Proof Mezcal and making a margarita out of it.
—Joshua James, founder, Ocean Beach Cafe
Wilderton is the brand to start with to understand what's possible with sans-alcohol drinks. It has three expressions: a Bittersweet Aperitivo, Lustre, and my favorite, Earthen. All three are so complex that adding just a splash of tonic or seltzer creates a great no- or low-sugar cocktail.
—Chris Marshall, founder, Sans Bar
Ghia Apéritif
Los Angeles, Calif.
$38 for a 16.9-ounce bottle, DrinkGhia.com
I'm making Ghia daiquiris for me and my bartender friends. Ghia is intensely bitter, in the best way, with grapefruit pith and lemon balm and rhubarb. They're also made in a ready-to-drink format [Le Spritz] and are a nice treat that really scratches that itch. —Joshua James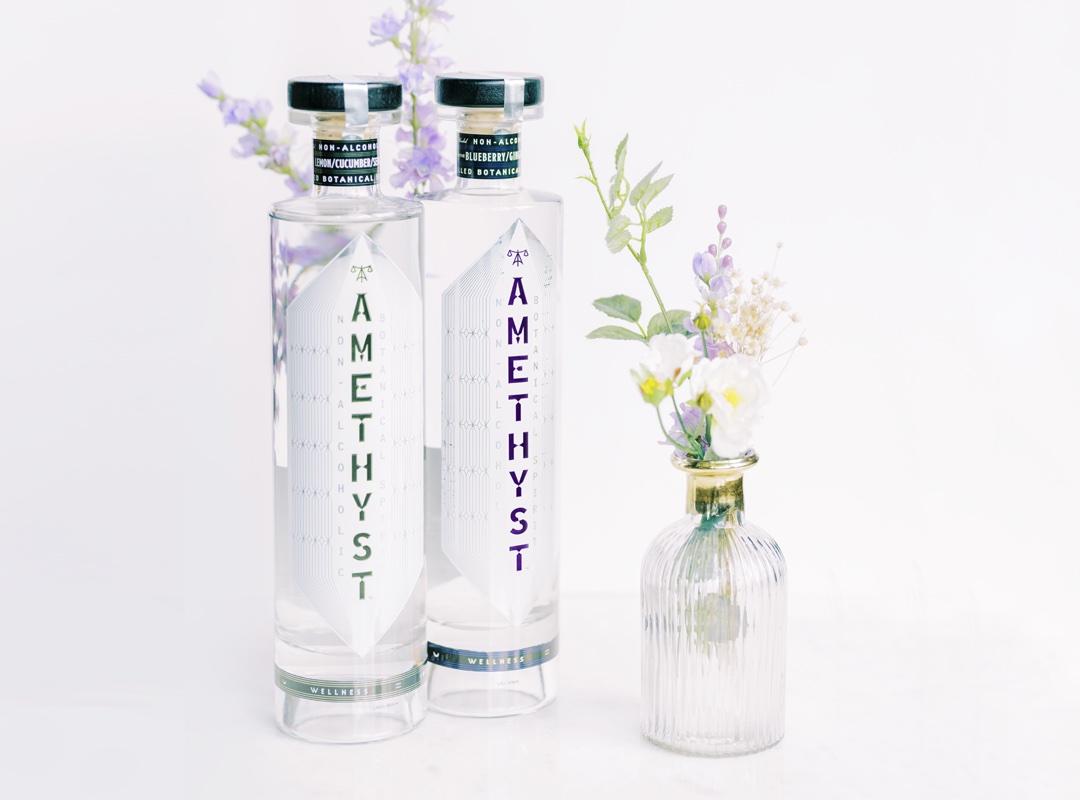 I think of Amethyst as my gin or vodka stand-in for classic cocktails. It's for those who seek herbaceous and floral offerings that bring to mind some of the legacy gin and botanical spirits—a must-have if you're building a home zero-proof bar cart. —Chris Marshall
Tenneyson 
Austin, Texas
$39 for a 25.4-ounce bottle, Tenneyson.com
Tenneyson is my after-work drink. Bitter and subtly sweet, brimming with notes of orange and ginger, it's so good with a strong ginger beer and a squeeze of lime. I've also added a few ounces to an alcohol-free whiskey to create a strong and sultry take on an old-fashioned. —Chris Marshall
Meet the Experts
"I opened Spirited Away, America's first booze-free bottle shop, in November 2020. I want it to be fun and easy to keep the ritual, keep the socializing, keep the revelry, and just lose the booze. It's exciting to see [people's] faces light up when they first walk in and discover how many great options are now available."
"I'm a career bartender and beer brewer who has operated San Francisco's only non-alcoholic bar, with an emphasis on curating the best of the best non-alcoholic products to come out in the last three years. All 16 hours of every day are dedicated to educating folks on these products."
Chris Marshall
Founder, Sans Bar
Austin, Texas
"I started Sans Bar because I believed that we need spaces to make authentic connections sans alcohol. We want to show people that you can make really complex and interesting cocktails without the negative effects of consuming alcohol."