A woman in Newcastle, England, has gone viral after posting hilarious photos of her dog wearing an impossibly tiny outfit that she had initially ordered to wear herself on vacation.
Callie Conway had ordered an outfit from the website Depop for her vacation to Ibiza. But when it arrived in the mail, it was so tiny that it barely fit even when stretched on. It was uncomfortable to have on for any length of time, so Conway decided not to let the $40 she'd spent on the outfit go to waste—and passed it to her dog, Charlotte.
"So I bought a UK SIZE 8 outfit for Ibiza and this arrived … fits my dog better than me,"
she shared on Twitter
, posting a hilarious set of photos of first the outfit then the dog. "Fancy a hol Charlotte??"
Commenters pointed out that the outfit looked like a minuscule knockoff of D. Bleu Dazzled, a clothing line that specializes in crystal-covered tights and other hosiery-inspired items. But while the D. Bleu Dazzled official Twitter account responded that "it stretches ALOT, fishnet always looks like that off the body," Conway joked that this one was especially small.
"I ordered an outfit and when it arrived we were so shocked at how tiny it was," she said in
an interview with The Daily Mail
. "I measured it up against my dog and it looked as if it would fit so I thought why not."
She had found the outfit while looking for "funky" pieces to bring with her on her summer vacation to the sun-baked Spanish island.
"I ordered this online and it was so tiny it arrived in an envelope. My family were laughing and joking and sizing it against my Bedlington Terrier, Charlotte so of course I tried it on her," she continued. "I couldn't believe it fits my dog better than me!"
When the video went viral, Conway quickly added a few extra points to assure viewers that there was nothing untoward happening to her adorable dog.
"Before anymore petty comments, 1.the dogs not in pain/fear... she loves getting dressed up however always looks miserable! 2.this is not animal cruelty ... pet shops sell clothing/accessories for dogs. 3.yes I named her Charlotte," wrote 
Conway
.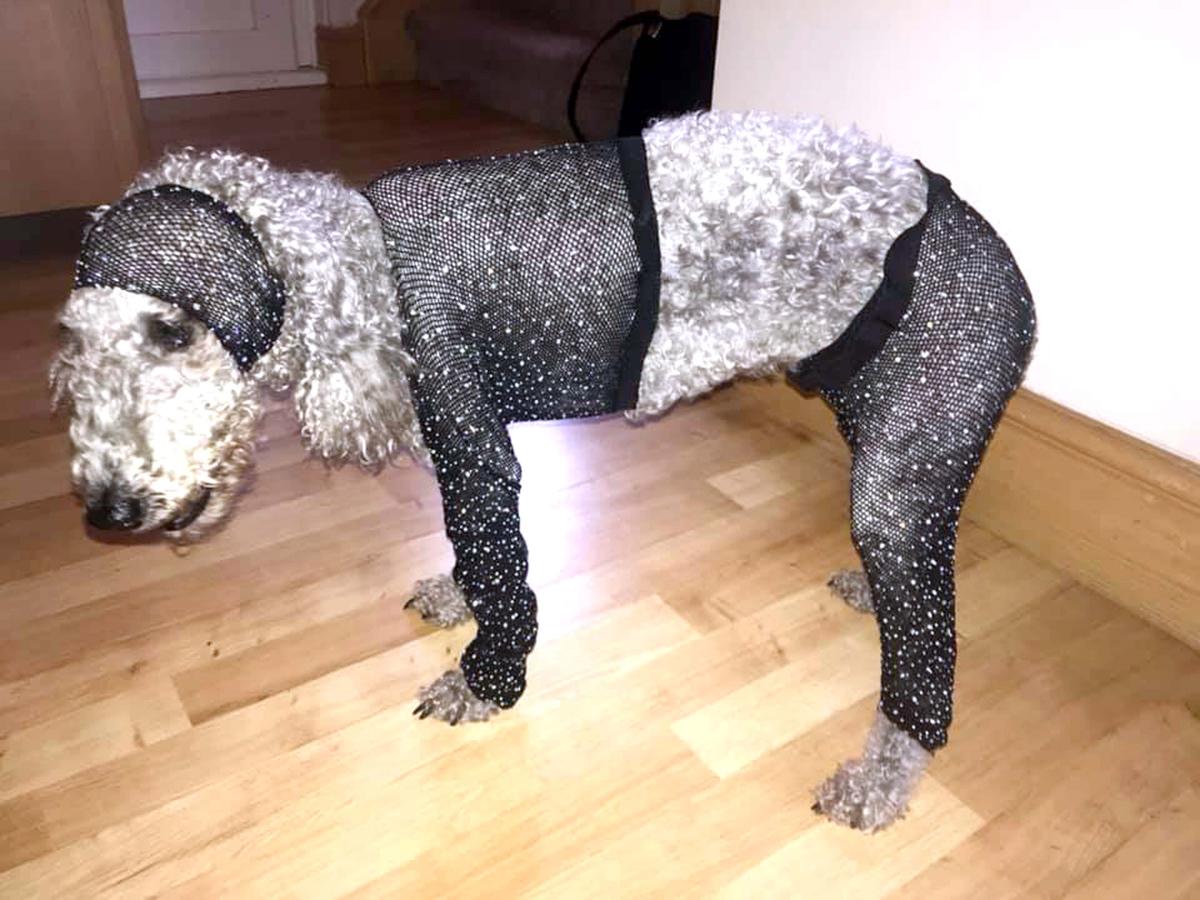 In an interview with Caters News, Conway said that the outfit was relegated to Charlotte's costume wardrobe, where it will stay for the four-legged friend and sadly not accompany the 19-year-old Conway on her trip to the Mediterranean destination. Along with the hilarious fishnet attire, Charlotte has a whole collection of "clothes, birthday dresses and accessories," Conway shared, making her one seriously well-dressed pup.
"Seems like Charlotte is ready to embrace her disco dancer vibe—we've even got her a hat and sunglasses ready for Ibiza," she joked.