The Palais Garnier's f
açade
acts as a stupendous billboard for the streets of Paris. Its marble friezes, columns, and statues introduce and pay homage to the arts. 
Ancient Greek figures such as Apollo and Pegasus are cast in bronze; Harmony and Poetry

are also in bronze but gilded. Allegorical sculptures of Painting, Sculpture, Industry, and A

rchitecture 

are seen in low relief; and different categories of music and theater, also allegorically depicted, are seen in high relief.

And many astounding personalities in the arts are also featured, composers such as Mozart and librettists such as

Eugène Scribe

.
The sumptuous interior i

s both highly decorative and functional. For instance, a grand white marble staircase with a red and green marble balustrade leads audience members up to a grand foyer with a 59-foot-high painted ceiling featuring the history of music. And alcoves and landings allow audience members to easily socialize.
Charles Garnier designed the Palais Garnier for the Paris Opera between 1861 and 1875 at the request of Napoleon's nephew, Napoleon III. 
Garnier chose the eclectic style of architecture—the 

Napoleon III style—that flourished under the emperor's reign. The style combines 

elements of historical architecture while incorporating new innovations. Garnier incorporated Baroque, Palladian, and French Renaissance architecture into the Palais Garnier along with the modern invention of iron framework.
The Napoleon III style influenced 19th-century European and American decoration and architecture. The Palais Garnier, as the epitome of Napoleon III architecture, directly inspired many buildings, including the Thomas Jefferson Building in Washington.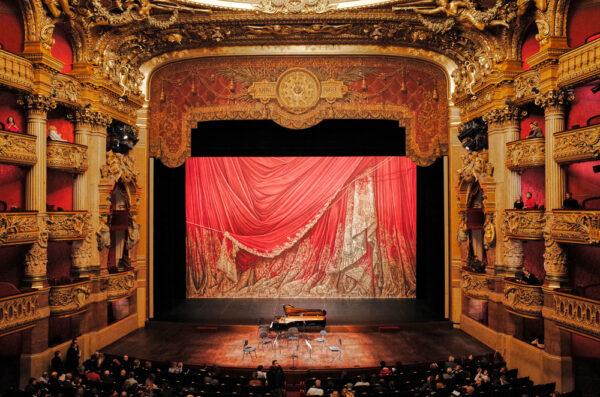 An earlier version of this article incorrectly stated the relationship between Napoleon and Napoleon III. Napoleon III was Napoleon's nephew. The Epoch Times regrets the error.