One of Britain's most premature babies has defied the survival odds and doctor's expectations after being born at just 22 weeks and one day, weighing less than 1 pound.
Charvi Matthews weighed just 14 ounces (approx. 0.39 kg)—less than a loaf of bread—when she was born more than three months early.
Proud parents Millisa Matthews and Daniel Golding, both 39, from Greenwich, London, were told there was little chance their daughter would survive.
The little fighter was even smaller than her mother's hand. She resembled a tiny doll as doctors tucked her into an incubator, with her skin so translucent they could see "every vein." But following months of specialist care, countless operations, and more than 35 blood transfusions, little Charvi fought back from the brink.
Charvi is now defying all expectations to breathe on her own, drink from a bottle—and she doesn't miss giving her proud mom an occasional tiny smile.
Millisa, a mom-of-four, hopes to bring their little "miracle baby" home by her first birthday.
"When Charvi was first born she could fit in one hand and you could see every vein in her body—it was scary how small she was," Millisa said.
"We were told she had about a 10 percent chance of survival—but I was adamant we'd give her that chance."
Millisa, a former retail worker, said her baby daughter "really had to fight for her life."
"There were times where we were very worried, but now she's getting stronger every day and has exceeded doctors' expectations," she said.
"There was no way I was going to give up on her, no matter how much the odds were stacked against her. I want people to never give up on 22-weekers. Charvi has shown how much is possible if you give them a chance."
Millisa and Daniel were expecting their fourth child to arrive on Feb. 24, 2021. In October last year at the 20-week pregnancy scan, the parents, as well as their three children—Tayla, 15, Logan, 8, and Kaine, 4—found out the newest baby was a girl.
However, just weeks later on Oct. 26, Millisa was rushed into St. Thomas Hospital with severe stomach pains. Doctors said Millisa had sepsis, which had sent her into early labor. Millisa said that doctors told her that "this baby has to come out, like, right this second."
After an emergency C-section the same day, tiny Charvi was born.
"When I saw my baby girl, I was scared by how small she was," Millisa said. "When doctors told me her weight, I remember thinking she weighed less than the tub of butter sat in the fridge at home."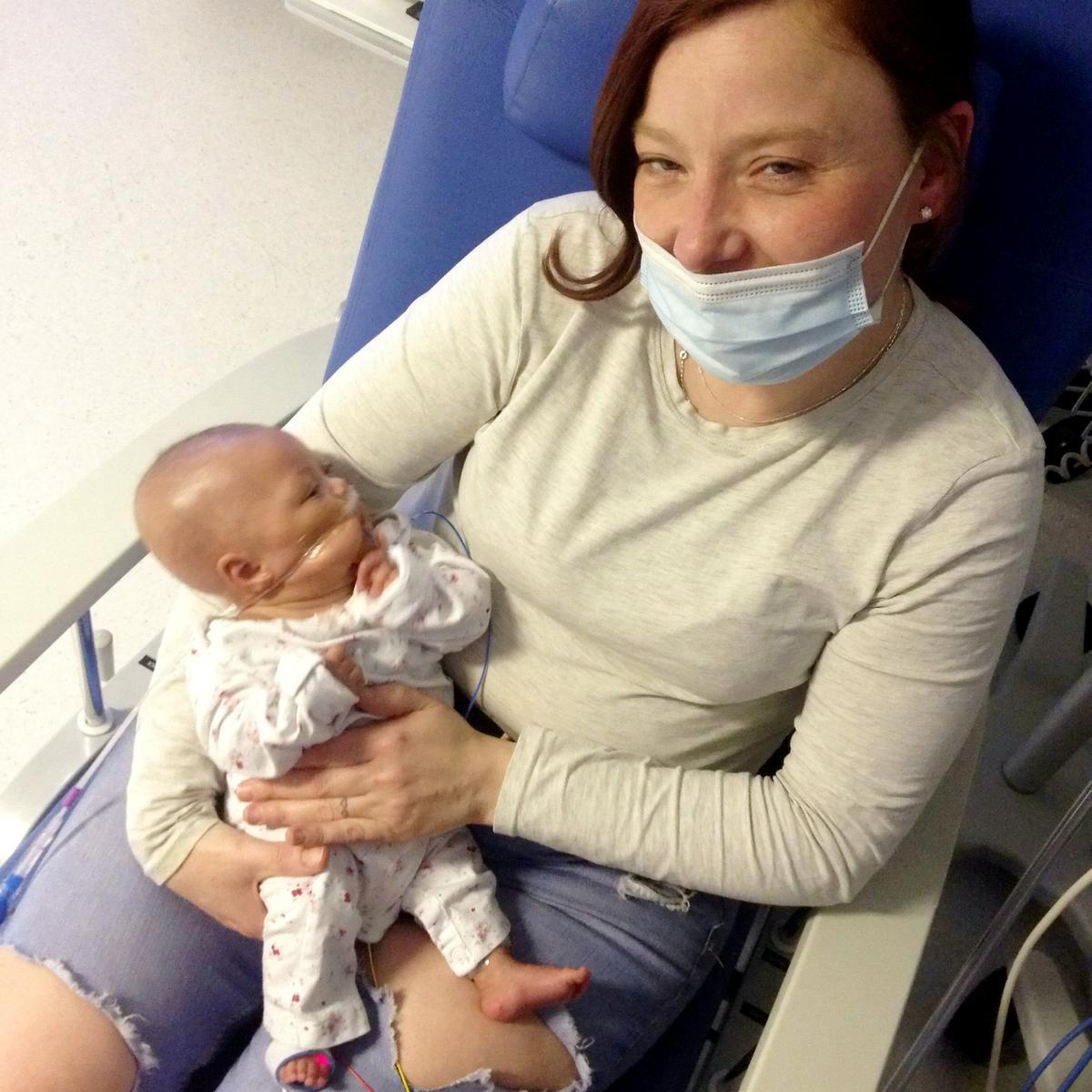 Charvi needed to be resuscitated before being whisked off to the NICU to be put on a ventilator because her lungs had not fully formed. The family said they were told there was a 90 percent chance Charvi would die. But hopeful Millisa said she "was adamant Charvi would survive."
Over the coming months, Charvi had two major surgeries, more than 35 blood transfusions, and countless rounds of antibiotics.
"It was a terrifying time—every time I'd get a phone call from the hospital, my heart would stop and I'd have tears in my eyes because I was expecting the worst," Millisa said.
"At one point doctors told me I was 'prolonging the inevitable.' But as bad as things got, we knew we'd never give up on her."
Millisa and Daniel would take it in turns to visit Charvi in the NICU every day, and two months after she was born, they were allowed to hold their daughter for the first time.
Earlier this month, Charvi was finally transferred to the neonatal high dependency unit. Now it's been over five months since she was born, but her three siblings still have yet to meet her. However, Millisa hopes this will soon change as Charvi grows stronger.
The once palm-sized baby now weighs more than 6.5 pounds (approx. 2.9 kg), which is more than seven times her birth weight. The little warrior is now also able to breathe unassisted for up to three hours a day.
"Doctors have told me she has exceeded all of their expectations, they didn't think she'd survive the first 48 hours," Millisa said.
"She is the first surviving 22-weeker at St. Thomas' Hospital—but it shows that it is possible," she added.
Millisa now wants to "spread hope" for other babies born at 22 weeks.
Millisa said: "There were times where I doubted our decisions to keep up Charvi's treatment. I would question if I was doing the right thing to continue putting her through pain.
"Our whole world has been completely turned upside down since Charvi was born, and it was terrifying whenever her condition would deteriorate.
"But deep down, I always knew she'd make it ... and I want to share that message of hope to other families.
"I think people aren't hopeful for 22-weekers, and many of them sadly do pass away, but you should always give them the chance.
"I want other mothers to know that 22-weekers can survive, so don't give up hope. Miracles can and do happen—Charvi has proven that."
Epoch Times staff contributed to this report.