Like so many cities set on ancient coastlines, Split has many multiple identities—all of them fascinating. Once the capital of the Roman Empire, the many centuries formed layers and layers. Which makes this Adriatic jewel a wonder to wander.
Turn left, and you're in Byzantium. Right, and maybe some remnants of Venice. I was looking forward to getting lost—in all the best ways. But first? A little time in the nearby countryside to taste the robust flavors of this corner of Croatia.
Visiting from a ship, I had only a day to experience the best of the Dalmatian Coast, which stretches from Split all the way down to Dubrovnik. One of Croatia's four historical regions, its name derives from an Illyrian tribe, the Dalmatae, who inhabited these lands as far back as the fourth century B.C. Various regional powers exerted their influence—the Romans, the Kingdom of Bosnia, the Kingdom of Croatia, but none more than the Empire of Venice. That last power controlled Dalmatia from 1420 to 1797, and traces remain to this day. Dalmatians once even had their own language, which is now extinct. And, yes, those famous spotted dogs did originate here.
As we rumbled up from the port in a big coach, our guide gave us a Croatian overview. It's a country about the size of West Virginia, with 3.8 million people. More than 1,000 islands sit among sapphire waters, but fewer than 50 of them are inhabited because of a lack of fresh water.
"We're headed for the mountains," our guide said, pointing out the "typical Dalmatian landscape"—arid hills backed by the Dinaric Alps, highlands descending directly to the sea, little buildings with bright terracotta roofs clinging to the steep incline. Lots of olive groves. In a land where people once feared the Ottomans—an empire that marched all the way to Vienna—we passed a clifftop fortress built especially to defend against the Turks.
The Harvest Is Plentiful
Higher and higher, we wound along roads that seemed far too small to support our big bus, passing through villages that looked as if they hadn't changed one bit since the 18th century. When we arrived at a charming cluster of stone buildings, once a farm and now mostly a winery, our guide gave us a crash course in olive oil.

"The whole Mediterranean diet is based on olive oil," she said. But in Roman times, it was even more important, serving as a vital source of fuel and literally lighting lamps. The small but impressive museum on site has a few examples of real artifacts.

The harvest, she explained, was very difficult. Workers had to climb up ladders and hand-pick the olives. The extraction of oil was also laborious, requiring crushing by hand with a stone or stomping olives by foot. Extra-virgin olive oil (EVOO)—the best of the best—needs to be harvested early, when the olives are still green and full of antioxidants. After trying a few different types of olive oil, we were given tasting notes and instructed that good EVOO should have a fruity scent, a slightly bitter taste, and an overall feel of pungency.

And then, the wine. A sommelier explained that all of the country's wine areas combined form an area similar in size to the Napa Valley. They have some 130 indigenous grape varietals, including the famous Zinfandel. Wine production here dates back to the sixth century B.C., brought by the Greeks, Illyrians, and Romans.

"I hope by the end of our tasting, you will fall in love with Croatian wine," she said. And I did. Provided a spread of local cheese and bread (and, of course, olives), we made our way through a series of glasses: sparkling, then whites, then reds. Sitting there in a shaded, breezy courtyard, it was a lovely way to spend an afternoon.
Traveling City Streets
But the day wasn't over—not by a long shot. Now properly fueled, we descended back down to Split, Croatia's second-largest city and the capital of Dalmatia. A guide led us along the city's broad, palm-lined promenade, the heat of the summer afternoon only slightly cooled by a salty sea breeze.

In a city where so many empires left their mark, its Diocletian moment, albeit brief, was perhaps the proudest. "It was built huge, and it's still really huge," the guide said as we entered Diocletian's Palace. A local boy born to a family without standing or status here in Dalmatia, Diocletian proved an effective soldier and quickly rose to the rank of cavalry commander. His troops proclaimed him Roman emperor after the deaths, in battle, of Emperor Carus and his son, Numerian.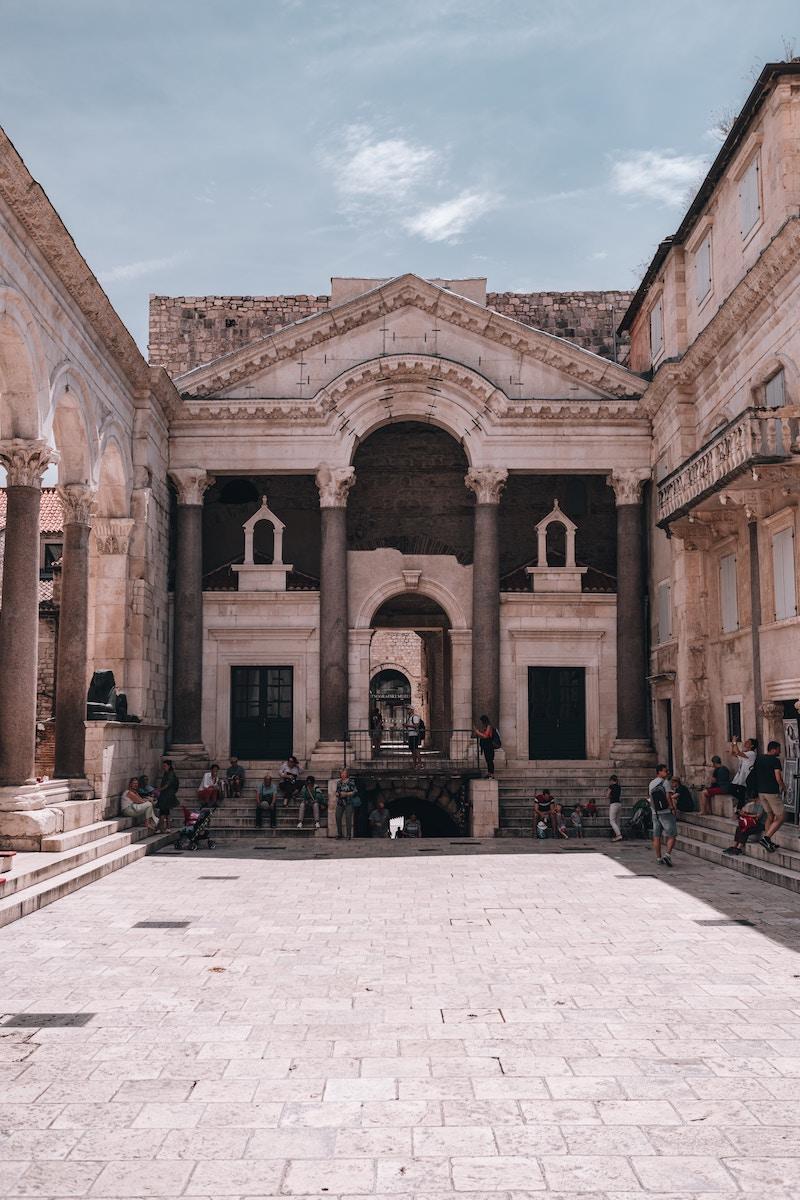 He ruled from 284 to 305. While he remains a controversial figure—he was a voracious persecutor of non-Roman religions—he did leave behind a rather impressive palace. Now part of a UNESCO World Heritage Site, it was built not just for the emperor's personal use but also to house a garrison of soldiers. Although much of it was destroyed by Christians and dismantled by locals who used the materials to build their own homes, what remains still makes up about half of Split's old town.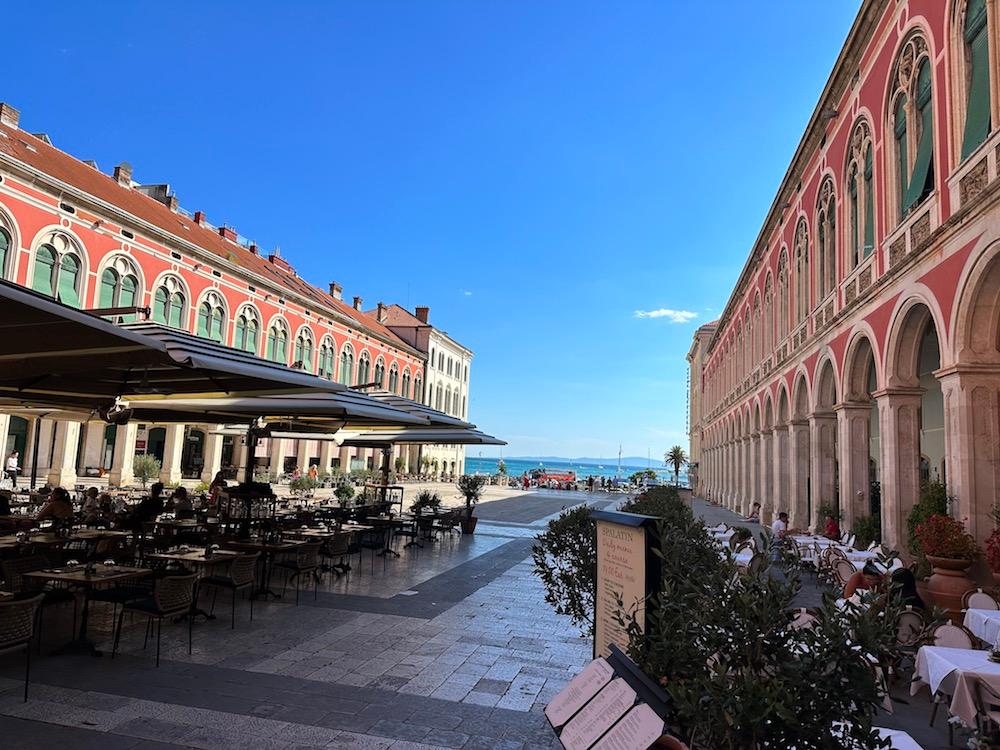 The guide led us past huge limestone blocks and granite columns, originally from Egypt. We saw the late emperor's mausoleum, which is now one of the oldest cathedrals in Europe. And after a lunch of local sea bass, she turned us loose to ramble, wander, and explore. To find Dalmatia and so much more, all in this ancient city.
If You Go
Fly:
While many people see this city and the surrounding Dalmatian Coast as part of a cruise,
Split Airport
(SPU) receives mostly seasonal flights from a number of European flag carriers. It also serves as a hub for Croatia Airlines, connecting the city with London, Rome, Copenhagen, and other capitals.
Getting Around: Split itself is a fairly compact city, with the old town easily walkable and a reliable public transit system to take you to points beyond. Should you want to visit the countryside wineries, a rental car or guided tour is essential.
Stay:
The
Radisson Blu Resort and Spa
is close enough to easily explore Split's ancient wonders but offers the perfect escape from an often-busy city, set right on a perfect, emerald-blue stretch of the Adriatic Sea.
Take Note:
Although Croatia has been a member of the European Union for a decade, they just joined the borderless
Schengen Zone
, which comprises 27 countries—which means that driving or flying into the country from another Schengen nation is essentially a domestic journey.