When a neglected 10-year-old goldfish was surrendered to a pet store, sick and dying, a young lady named Lacey Scott decided she wasn't going to let him languish.
And so she took the goldfish home.
Miraculously, she was able to nurse him back to health; she named him "Monstro" (after the whale in Pinocchio), and the fish made a spectacular recovery.
But that's not all that happened. Lacey recorded his transformation and posted it online, where it went viral on TikTok.
"I couldn't stand the thought of such an old fish wasting away the last of his days alone," she told
Bored Panda
.
Eventually, the video of Monstro's transformation went viral, garnering nearly 6 million views and 1.5 million likes.
She hoped her story would inspire some happiness during these troubling times. "The world is scary right now," she said. "I thought maybe his story could make people smile."
In the video, she explained that Monstro had many different health problems. His scales had turned to almost black, and it seemed he didn't have many days left.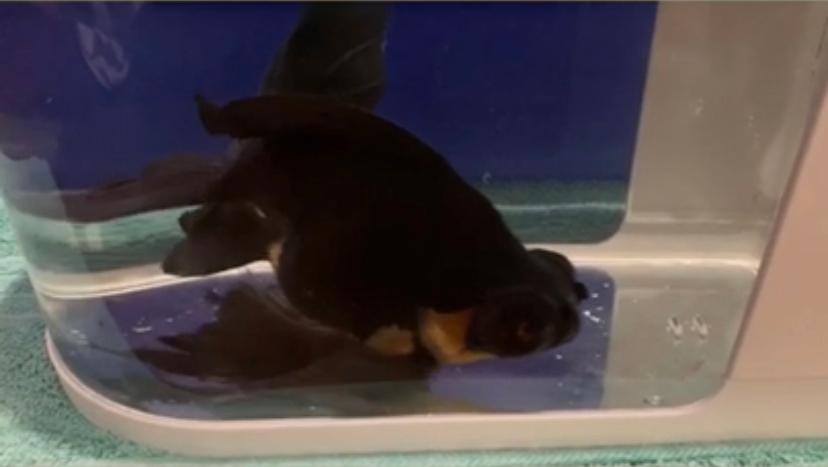 "On April 29th 2019," the video says, "I brought home a 10 year old, sick and dying fish who was surrendered to a pet store.
"Because he could no longer swim, he had lesions on his belly from laying in the substrate. I set up a shallow hospital tank with aquarium salt, and began daily water changes.
"Slowly, he began to eat, and swim for short periods of time."
Lacey said the biggest challenge in caring for the fish was not knowing what was wrong with him. Adding the aquarium salt was able to help speed up healing, she says, and reduce risk of infection.
She stressed that daily water changes were of paramount importance. "I don't think people realize just how much good clean water can help a fish," she shared.
And once Monstro started eating, she treated him with a round of medication to be safe.
"But it was touch and go in the beginning. I honestly didn't think he was going to make it," Lacey continued. "I thought at least I can give him a home and make him comfortable in his last days, so of course, I was over the moon when he started improving!"
With her dedicated care, Monstro's color eventually changed, with spots of orange appearing at first, then turning incredibly vibrant over time.
Meanwhile, his personality also began to shine.
"On the one hand, he's like a goofy oversized puppy," said Lacey. "He'll come to the glass and beg for attention, especially when he wants to be fed (which is always).
"Due to their shape, fancy goldfish aren't the best swimmers, and Monstro is no exception."
The flamboyant fish is full of energy, bouncing off objects (and other fish) like a "bumper car," she said.
It's not uncommon for goldfish like Monstro to change color over time, Lacey adds. That often has to do with age, diet, stress, and environment. But having a black fish doesn't necessarily mean they are unhealthy or sad.
Recently, Lacey went in and relocated Monstro to a larger, more luxurious tank (see the video below!), which is more suitable long-term and will allow him to continue living his best life.
"I don't know how long he has left, but he'll spend the rest of his days happy and loved," she said.