Arizona boasts such varied topography that one could literally get lost looking for someplace that isn't a national park. The choices are infinite, whether you want to camp, hike, ski, or go rafting. However, if you want something a little more cosmopolitan—if you're a foodie, for example—once you leave Maricopa County it is pretty much a desert out there.
That's why you have to thank John Sharpe.
The well-known chef, who ran such Southern California restaurants as Bistro 201 in Laguna Beach, decamped from the hustle and bustle of The OC and ended up in the small town of Winslow, taking over the Turquoise Room at the historic La Posada hotel.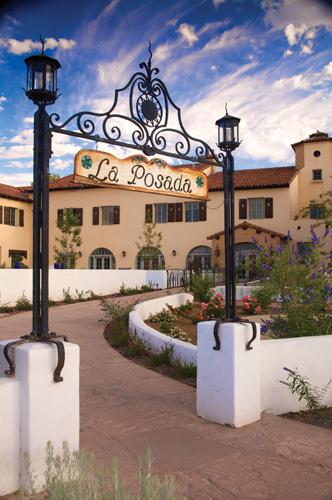 Since opening the Turquoise Room Restaurant and Martini Lounge in 2000, Sharpe was a James Beard finalist twice, which after a lifetime in the restaurant business he finds ironic.
"I don't even know how they found me," he told me when I visited him at the Turquoise Room years ago on my first stay-over at the La Posada.
One could hip-hop across the Phoenix metro, from Gilbert to Glendale from Mesa to Scottsdale, and not eat as well as you would at the Turquoise Room, where Sharpe introduced a contemporary Southwest cuisine using local and regional foods as much as possible. The first two nights I stayed at the La Posada Resort, the "week's specials" on the Turquoise Room menu included Colorado elk medallions with black currant sauce and grilled churro (locally raised) lamb salad, which my wife chose. I went off the special with the grilled chicken breast with sweet corn tamale. Both were exceptional.
On my most recent visit, I chose bison ribs while my wife went with lamb once again. But it's not just the dinners that are tasty. I looked forward with equal anticipation to the breakfasts with its famous homemade muffins.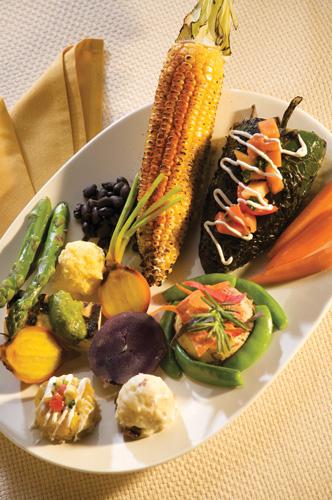 I suppose when you drop out of Southern California and look for a special place to ply your trade as a chef, you probably can't do much better than La Posada. Sharpe recently retired, but the cuisine he was responsible for establishing maintains.
The storied hotel on the east-west rail lines of northern Arizona was the last famous railroad hotel to be built in North America. It opened in 1930. Designed by the great Southwest architect Mary Colter for the Fred Harvey Co., the beautiful and grand property missed the heyday of rail travel and suffered a financially troubled history. At one point it was slated to be torn down before being rescued by Allan Affeldt, who has worked hard to restore the hotel to its former grandeur.
Despite its troubled history, the hotel has attracted the rich, famous, and powerful to its rooms—and still does. Famous diners have included Presidents Franklin Roosevelt and Harry Truman; aviators Charles Lindbergh and Amelia Earhart; Frank Sinatra; actors such as Douglas Fairbanks, John Wayne, and Diane Keaton; Albert Einstein; and artists and designers including Ed Ruscha and Tom Ford.
A notable has stayed in almost every room. On my first visit, my room, No. 204, was once the temporary accommodation of Mary Pickford. On my most recent visit I stayed in the Paul Sorvino room, No. 121.
Four people who didn't seem to stay at the La Posada while passing through Winslow were Glenn Frey, Don Henley, Bernie Leadon, and Randy Meisner. The names might be familiar to rock fans as the original lineup of the Eagles. In 1972 the band had their first big hit record, "Take It Easy," with these famous lyrics: "Well, I'm standin' on a corner / in Winslow, Arizona / Such a fine sight to see / it's a girl, my lord, in a flat-bed Ford / slowin' down to take a look at me."
You can still stand on a corner in Winslow. About a block from La Posada is one of the most photographed sites in Arizona, the statue of young man with a guitar before a post that reads "Standin' on the corner." Behind the statue is a big "Winslow, Arizona," sign and parked on the street is a red flat-bed Ford. Some people say the statue is of Jackson Browne, who co-wrote the song with Glenn Frey, but who knows?
In any case, it doesn't stop the tourists from getting their picture taken while standin' on a corner alongside it. I have to admit, I've taken that picture many times. It never gets old.
When You Go
From Phoenix, the easiest route is Interstate 17 north to Flagstaff, then I-40 east to Winslow. A more picturesque route is State Route 87, which runs through Payson to Winslow.
La Posada: LaPosada.org
The Turquoise Room Restaurant at La Posada: TheTurquoiseRoom.net.
Steve Bergsman is a freelance writer. To read features by other Creators Syndicate writers and cartoonists, visit the Creators Syndicate website at Creators.com. Copyright 2020 Creators.com