Since 1924, the Macy's Thanksgiving Day Parade has been an annual New York event, beginning holiday shopping and introducing Santa Claus to the public. It has taken place every year, except when it was canceled for three years (1942–1944) because the balloons' rubber and helium were needed for the war effort. This year, due to the pandemic,
the 94th Annual Macy's Thanksgiving Day Parade
will be much smaller, partially pre-recorded, and only viewable on television. If you're yearning for the traditional parade, you can see it in two Christmas movies: "Miracle on 34th Street" from 1947 and the 1994 remake.
The story is simple yet charming. When a department store parade's Santa Claus gets drunk, a white-bearded man in the crowd is hired to replace him. His employers don't realize that he is perfect as Kris Kringle because he believes he really is Santa Claus!
When the divorcée who hired him, Mrs. Walker, discovers his "delusion," she can't discharge him because he's started a very successful goodwill policy of sending customers to other stores to find what they want. Meanwhile, Kris is determined to convince Mrs. Walker and her young daughter to believe in Santa Claus, other people, and a particularly nice young lawyer.
Is he just a "nice old man with whiskers," or did a miracle really occur on 34th Street?
The first "Miracle on 34th Street," released shortly after World War II, was a huge success, becoming one of the most iconic holiday films of all time. The remake, released 47 years later, pleased some but failed to equal the original's success. By comparing the two films' stories, characters, and content, it is easy to see why only one is an enduring classic.
Remaking a Classic
Both films begin with a Thanksgiving Day department store parade in New York City. The 1947 film received permission to use the Macy's name and flagship store. That film's parade footage is real, since Kris Kringle (Edmund Gwenn)
played Santa Claus in the 1946 Macy's Thanksgiving Day Parade
 so that it could be filmed.
An integral subplot in the 1947 film is the famous rivalry between the Macy's and Gimbels department stores. In the 1994 film, Cole's competes with the fictional Shopper's Express, owned by Victor Landberg (Joss Ackland).
Competitive businessman Gimbel (Herbert Heyes) is saintly compared with the nefariously greedy Landberg, the Grinch of retail. Landberg and his minions (James Remar and Jane Leeves) will do anything to bankrupt Cole's. The drunken parade Santa's character is expanded, replacing 1947's comical drunk (Percy Helton) with belligerent Tony Falacchi (Jack McGee), whom Shopper's Express hires to harass Kris Kringle (Richard Attenborough).
In the 1947 story, Kris battles the store's charlatan psychoanalyst, Mr. Sawyer (Porter Hall), who says Kris's "delusion for good" is dangerous.
While the 1947 version, with competitor Gimbel and antagonist Sawyer, features believable opponents with realistic agendas and motivations, the 1994 villains are all connected to Landberg's unrealistically diabolical scheme.
One major change in the 1994 film is the portrayal of the lead female characters, Dorey Walker (Elizabeth Perkins) and her daughter, Susan (Mara Wilson). In the earlier version, Maureen O'Hara's Doris Walker, although a single mother and store executive, is gentle, kind, and loving; the modern character lacks these traditional feminine virtues. As a result, Dorey is a cold, abrupt sweetheart to Bryan Bedford (Dylan McDermott), rudely calling him "a fool" in response to his marriage proposal.
Her daughter reflects her cynical, depressed outlook. Unlike Natalie Wood's precocious, sweet, curious character, Wilson's Susan is cheeky, surprisingly sad, and sometimes bratty. She smugly contradicts her mother and, as Bryan says, "talks like she's 64."
Doris, of 1947, is confused and practical yet feminine, but Dorey is hardened, bitter, and unfeminine; their daughters reflect these demeanors.
Another difference is the character of Santa Claus himself. Edmund Gwenn's Kris Kringle, complete with a short, stout stature, long beard, and kind face, is the personification of a "jolly old elf." He is indefatigably hopeful and merry, angered only by commercialism and Sawyer's diagnosing his 17-year-old friend, Alfred (Alvin Greenman), with ridiculous neuroses.
However, Richard Attenborough's Kris Kringle has a shorter beard and temper. Granted, he faces more sinister opponents. When the crude, drunken Tony nearly disgraces the parade and later taunts him in Cole's, Kris grasps his cane, considering weaponizing it.
In the original, Kris quickly raps Sawyer on the forehead with his cane because of his treatment of Alfred. He later, dejected, purposely fails his mental exam for sanity, which he could easily pass despite believing he's Santa Claus, because he thinks Doris tricked him. But he quickly regains confidence after Fred Gailey (John Payne) reassures him.
In the second film, Kris strikes Tony with his cane after Tony harasses him on the street. Then Kris purposely fails his mental exam, believing he should disappear so that Santa Claus's good name is saved, since he disgraced himself. Perhaps this deepens the character, but if Santa Claus can't even believe in himself, how can others?
An Ethical Difference
The biggest difference between these films is that they were made in vastly different Hollywood eras. In 1947, the Production Code Administration (PCA) enforced the Motion Picture Production Code, a set of guidelines to ensure decent film content.

Between 1934 and 1954, no film could be distributed in America without a PCA Seal of Approval, so filmmakers sought the guidance of PCA head Joseph I. Breen and his staff throughout production. The result was movies like 1947's "Miracle on 34th Street," which is thoroughly entertaining for all ages without containing any objectionable or offensive content.

Unfortunately, the PCA was replaced with the Classification and Rating Administration in 1968, so there were no guidelines by 1994. "Miracle on 34th Street" (1994) was

rated PG

for "some mild language." Although considered a family film, this movie contains significant inappropriate content. Aside from actual profanity, there are many crude moments. When I watched this film growing up, my parents skipped the scene when Tony loses his pants and when he harasses Kris by implying that he has perverted interest in children. We still skip these scenes, but the other vulgar elements make this film less enjoyable for us.

The 1,500 viewers

who accepted 20th Century Fox's offer to refund unsatisfied patrons may have felt the same.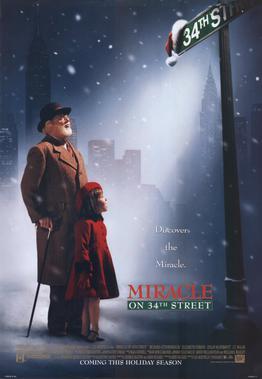 Most surprising is the two films' approach to religion. Christianity was more prevalent in America in the 1940s than the 1990s, yet there are religious elements in the second film but not the first. When Bryan has Thanksgiving dinner with Dorey and Susan, he asks whether they say grace and proceeds to pray, making Dorey uncomfortable. When Kris Kringle is sworn in at the 1994 court case about his mental competency, he asks the bailiff, "Don't I put my hand on a Bible?" The bailiff says no.
Interestingly, the 1947 court case features no Bible for swearing in, either, but it isn't highlighted. Kris Kringle wins the 1994 case when Bryan, his lawyer, reminds the judge (Robert Prosky) of the words on American currency: "In God We Trust." As Bryan intended, Judge Harper decides that if the U.S. government believes in God, there must be a Santa Claus!
While these religious inclusions might seem like they would have pleased the Christian-based PCA, 1940s audiences would have been offended by comparing the existence of Santa Claus to that of God. Although the remake's point about religious belief disappearing was valid, its solution undermines the Christian theme.
The Bottom Line
Success is measured many ways. Earning $2.7 million domestically, the 1947 film garnered more than four times its budget. Although the 1994 film domestically earned $17.3 million, it falls over $600,000 short when
adjusted for inflation
. The first film was critically acclaimed, receiving mostly favorable reviews. It was nominated for four Academy Awards, including Best Picture, and won three; Edmund Gwenn won Best Supporting Actor at the Academy Awards and the Golden Globes for his performance.
The second film received mixed reviews and earned no awards. On Rotten Tomatoes, the 1947 film has a
96 percent Tomatometer score
, while the 1994 film has only a
60 percent score
. The enduringly beloved original also achieved the
top ten
of
two
American Film Institute Film Lists.
The 1994 "Miracle on 34th Street" tried to match the original's success by adding things. However, the changes made the story contrived and confusing instead of sincere and genuinely emotional. By connecting all the antagonists in one conspiracy, Cole's competitors became cartoonishly evil. By making Kris Kringle more emotional and human, the character lost some whimsical charm.
On the other hand, added fantasy regarding his character, such as his addressing zoo reindeer as Prancer and Dancer, mentioning the Tooth Fairy and Easter Bunny, and referring to ripping his pants on someone's television antennae, challenge believability. Religious references, intended to highlight disbelief, further confuse the message by mixing Christmas's Christian and secular elements: If one believes in God, it follows that one must believe in Santa?
Ultimately, film superiority depends on opinion. I'm sure many younger viewers would prefer the remake's color over the original's black-and-white cinematography. The sweeping Bruce Broughton score, sometimes moving dialogue and moments, and beautiful visuals in Cole's Toy Department undoubtedly evoke strong emotions in less critical viewers.
However, the 1994 film pales in comparison to the 1947 one because the former, among other failings, relies on offensive crudeness instead of the Code's decency for all.