La Paz
 is the capital city of Mexico's Baja California Sur. It's a small town bursting with fantastic food, endless outdoor adventure for thrill-seekers, posh boutique hotels, and it's safe. From whale watching during annual whale migrations and world-class sport fishing to being surrounded by striking landscapes where the desert meets the sea, your family will adore La Paz.
Why Families Will Love La Paz
La Paz is a small, colonial city with breathtaking white sand beaches, and the tranquil, marine-rich waters of the Gulf of California. The La Paz region also includes the areas of Todos Santos, Espíritu Santo Island, and the Sea of Cortez known to many as "the world's aquarium" by Jacques Cousteau because of its pristine nature. La Paz offers an array of gastronomic attractions ranging from rustic ranch to table to fashionable Instagram-worthy spots.
13 Things to do in La Paz
La Paz features miles of white sand beaches and endless opportunities for outdoor adventure including paddle boarding, kite surfing, kayaking, SCUBA diving, whale watching, swimming with whale sharks, sportfishing, hiking, mountain biking, and much more. If you want your kids off their devices and outside doing stuff you will love it here.
Swim with Whale Sharks
It's not really a whale it's a shark, regardless the whale shark is the largest fish in the sea. Despite their massive length of up to 33 feet, they are fairly gentle giants, so you can swim near them. Swimming with them is truly a bucket list adventure.
Baja Adventure Company
can take you out for an epic day. That's who I went out with and not only did we swim with whale sharks but sea lions as well. Then we went out to a beautiful private beach where we enjoyed lunch. Then on the way back, we saw a mom and baby whale. Whale shark season is October to March.
Go Whale Watching
During their annual migration, gray whales come to give birth in the small warm bays along the coast. Various outfits like MAAR Experiences can take you out where you can get up close in small pangas but protection is key to La Paz. Keep in mind that there is no touching these friendly creatures who come right up to the boat. The whale watching season is from November to April. A local told me the water is much clearer in October and November, so that's definitely worth factoring in.
Hang Out at a Beach
There are many incredible beaches in La Paz and one of them happens to be one of the top in the world. That's the one we will start with.
Balandra Bay: Often voted the most beautiful beach in Mexico, Balandra is right outside the city 17 miles north and is breathtakingly beautiful. To get here you can drive over and park in the free parking lot. You can also take a 40-minute bus ride from the terminal turística (the tourist terminal). I had no idea when I was headed here that they have a beach that is of this quality. It is somewhat dependent on when you visit, but at the right times, this looks a whole lot like Whitehaven Beach in Australia which we considered one of the most amazing places we've ever seen. There are just not that many places where you can see so many hues of blue in one spot. This is one of them and well worth the visit.
El Tecolote Beach: Found in an isolated beach community located 15.5 miles from the city of La Paz, past Puerto Balandra, on State Highway 11. It is one of the most extensive beaches in the area with white soft sand, gentle waves, and little undertow. You can find water skiing and jet skiing are here as well as a boat that goes to Isla Espíritu Santo, a UNESCO Biosphere Reserve.
El Coromuel: We drove past this area a few times and when I saw some waterslides I had to find out what beach this was. Turns out this beach is great. There's free parking which allows for easy access. Also here is are restrooms, a bar, beach chairs, umbrellas, and a pier. There are two water slides that go into the ocean here, but I couldn't determine if they were free.
Pichilingue Beach: A family-friendly beach, 12 miles north of La Paz's ferry terminal. This sheltered bay has no shade, but with fewer waves, white sand, and turquoise water it's an ideal place to swim and kayak.
Tesoro Beach: This beach is a good alternative if there are too many people at Balandra beach.
El Caimancito: This beach is only 2 miles from La Paz and a popular spot for locals. With white sand, lots of parking, and no vendors it's a peaceful spot.
Take a Walking Tour
La Paz is a vibrant city with colorful murals around almost every corner. One of the best ways to see the city and learn its rich history is going on a walking tour. We went on tour with
RED Travel
. Saed was our tour guide and it was quite educational.
Spend the day at a Beach Club
El Faro Beach Club: Over in Todos Santos is an incredibly chill beach club. It's a unique place to relax along a pristine beach located just 2 miles from the historic center of Todos Santos and a short walk from the Tropic of Cancer. The beach club features an infinity pool, a poolside seafood grill & bar, spa treatments. It's an ideal place to spend a relaxing day in the sun. The club is open Wednesday – Monday, from 11:00 AM -7 PM. Located at Camino al Faro 1 Carretera Todos Santos.
Isla Los Islotes
Isla Los Islotes is a UNESCO World Heritage Site island. There are tons of sea lions that live here and you can swim with them if you like. If you go out to swim with whale sharks it is likely that they will take you by here as well. Personally, I wouldn't go out here unless it's included with something else you are doing or you have an overwhelming desire to swim with sea lions. Sea lions smell horrible.
Take Advantage of the Malecon
One of the most iconic parts of La Paz is the Malecon. This walking trail runs 3 miles along the beach and includes a bike path. Along the way, there are statues, a BMX bicycle park, a skate park, playgrounds, beach volleyball courts, and more. I regretted not bringing my rollerblades. La Paz is an ideal city for rollerblading.
Kiteboarding
The wind is insane a little less than an hour south of La Paz over in La Ventana. The higher the wind gets the more people you will see out on the water kiteboarding. I recommend taking a class at
ChiloChill Glamping Resort
if you are new to the sport. They offer multiple-day lessons like a 7-hour course spread out over 3 days (3 hours the first day, 2 hours the second day, and 2 hours the third day). The instructor I had was incredibly patient with me because, to put it mildly, I'm not that good at this particular activity!
Off-Road
Sadly, I didn't get to do any off-roading while here, but I saw many others doing it. There seemed to be an abundance of offroading trails to enjoy.
Sandboarding
On Board Baja
can teach you to sandboard. They will take you out to a sandhill and provide all the equipment and instruction needed. I cannot snowboard so I always ski, so I was unsure if I could do this. Turns out sandboarding (at least on the smaller hills) is a lot slower than on a ski mountain. And when you do fall the sand doesn't hurt. If I can do it, you can definitely do it too.
Hiking
One of the things I hadn't expected was such great hiking. I love to hike, so this was a welcomed surprise. Here are some trails worth checking out:
Cerro de La Calavera
Punta Gorda
Arroyo Santa María
Cerro Atravesado
For more ideas check out All-Trails.
Go Fishing
This area boasts some of the top sports fishing. When you visit will determine what you are allowed to catch so be sure to factor that in if you are wanting to fish for a specific type of fish. Although you can fish year-round, the fish you can catch are seasonal. Some of the potential fish you could catch include marlin, tuna, cabrilla, wahoo, and dorado.
Surf
Go surfing in Todos Santos. If you do not know how to surf sign up for lessons at one of the surf schools.
Hotels in La Paz
There are many places to stay in La Paz. It's full of adorable boutique hotels, glamping, and
VRBOs
.
Baja Club Hotel
Staying at Baja Club Hotel in La Paz was so lovely. It's a boutique hotel right along the Malecon with sweeping views of the city and water. The hotel is a restored colonial-style villa, dating from the early 20th century combined with a newly built four-story extension, containing 32 guest rooms, a spa, and a rooftop sunset bar with a wonderful view of the bay. For families that need two beds be sure and book a balcony double room.
I had a very peaceful stay here. With a popular bar next door, I thought I might hear it at night but it turned out to be a silly concern. The rooms are very quiet. I appreciated having a Bluetooth speaker so I could play my white noise app and I was happy to have drinkable water placed in my room. The bathroom layout is a little odd but I could see the benefit if there were two people traveling together. The bed was comfy, and their restaurant had pretty good Greek food. Breakfast was slow, so be sure to get there at least 30 minutes earlier than you originally planned for.
Rancho Cacachilas
One word: GLAMPING! Truthfully, that one word doesn't really do justice to all
Rancho Cacahilas
has to offer. It's an all-inclusive adventure camp experience, surrounded by endemic nature, adventure activities, and the best private trails in Mexico. They have more than 60 kilometers of private routes through beautiful landscapes. Here you also have the chance to learn about their sustainable honey production and the circular economy of their cheese making. It is an extremely educational experience. On top of that, you also get to enjoy delicious organic food from the ranch to your table created by Chef Ivan Pimienta.
You can stay in a canvas tent or a bunk room in a cabin if that's more your speed. The tents are well equipped with solar power, vanity, hammock, patio table and chairs, and more. The bathrooms are communal and you will be taking a bucket shower. All of this makes for an immersive experience, to say the least.
For those that do not want to commit to fancy camping, they have one-day experiences. You can choose between an assortment of activities. They have a mild mule ride through the mountains and streams (they might be empty) that will allow you to enjoy incredible landscapes many of which look out over the Sea of Cortez or navigate a mountain bike over the boulders and landscapes with those same great views.
Best Restaurants in La Paz
I didn't expect La Paz to be a foodie city but it is.

Origen
Enjoy creative flavorful cuisine locally sourced and designed by Chef Hector Palacios. They also have unique cocktails and intriguing desserts. What I enjoyed here the most is the atmosphere. The setting on the patio is so lovely. It is located at Agustin Arriola M. 25 B, Zona Central, 23000 La Paz.
La Pergola Local ingredients, sustainable fishing, and leanings toward Greek cuisine have inspired the menu that changes often to reflect seasonal offerings. The Saganaki is a must, it's fried graviera cheese with honey & lemon. Sit outside under the Pergola to enjoy a nice relaxing night. Located inside the Baja Club Hotel.
Hambrusia
Hambrusia is a taco lover's dream come true. (I have the authority to declare that since tacos are my favorite food.) Dining here you can expect great ingredients and innovative combinations. I don't recall the names of anything I ate, but it included a lot of pork and it was so freaking good. Located at Belisario Domínguez 1245 23000 La Paz..
Claros Fish Jr.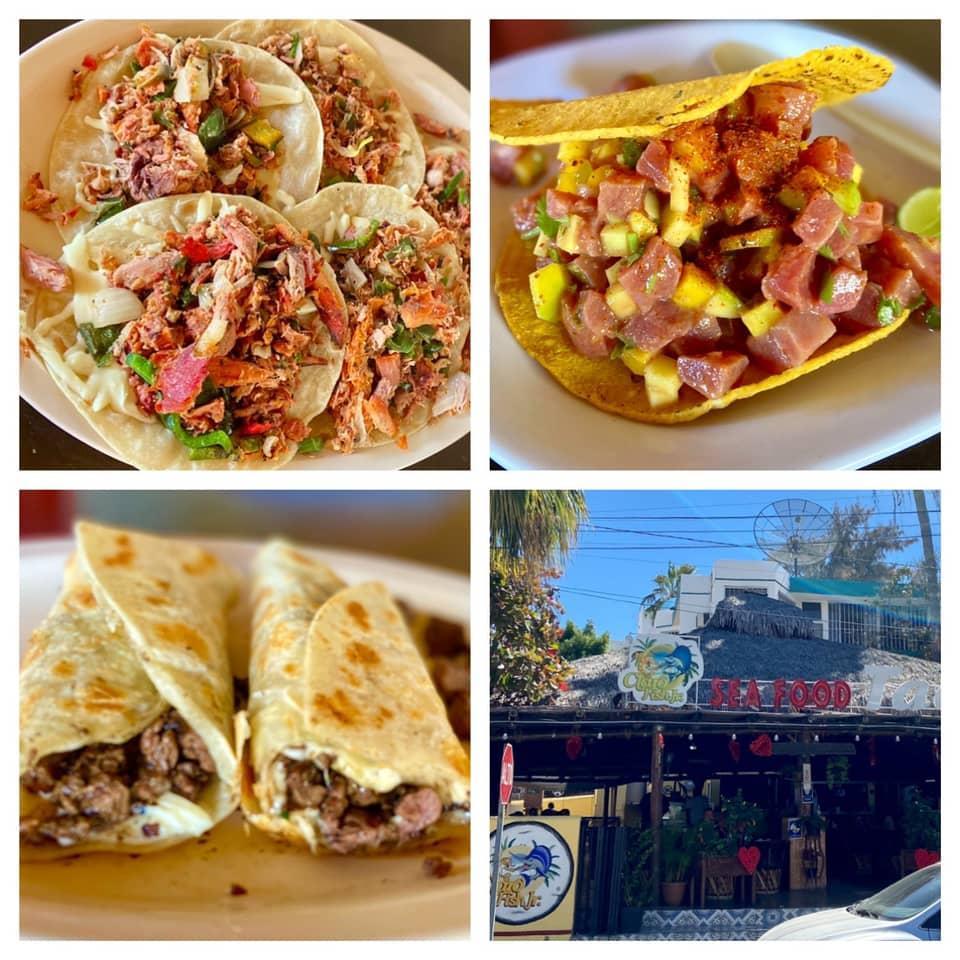 Claros Fish Jr. serves authentic Mexican tacos at super affordable prices! They have an awesome salsa bar with tons of choices, ice-cold beers, and excellent margaritas! The atmosphere is great with a chill vibe and the service is rock solid. Menu highlights include the paceno taco made with shrimp, melted cheese wrapped with bacon, the cameron a la coco aka coconut shrimp, and the pulpo quesadilla made with soft octopus pieces. Located at Nicolás Bravo 33 Col. Centro 23006 La Paz.
El Mirador by Hotel Guaycura
A beautiful meal in an even more beautiful setting. It's really magical during sunset. I had some sort of beet salad that was delicious and a steak that was simply perfect. They also have an interesting signature drink that's kind of like a margarita. There was a live band on hand that was so good I thought it was just a recording until I saw the clarinet player.
If you happen to be flying in and out of Cabo this is a perfect stop along the way to grab some food. Located at Camino a El Mirador Restaurant, Rafael Pedrajo 1, 23300 Todos Santos. The road is a bit bumpy.
How to Get to La Paz
American Airlines offers seasonal flights from Dallas Fort Worth directly to La Paz's airport Manuel Márquez de León (LAP). They have flights that will run on Saturdays round trip from December to April and then again from June through September to La Paz. You could also fly into Loreto 4 hours away or Cabo San Lucas 2 hours away. American also has direct flights to La Paz from Phoenix Sky Harbor Airport.

La Paz is the perfect destination for families wanting to visit a safe city in Mexico with all the expected perks. This is especially true for families traveling with tweens and teens since there is an abundance of fun outdoor activities that should keep them happy.

Special thanks to La Paz for hosting me on this trip and a special shoutout to our charming, good-looking, smart, well-informed, skilled driver, tour manager Ivan.