Whether you're going for a few days or a week or more, we think that Kirkland, Washington is a great family destination. We had the opportunity to go there in April for three glorious days and we loved. In fact we loved it so much and discovered that there were a ton of things to see and do that I can't possibly tell you all about it in one article so we're doing a fun series. Our first one is to introduce you to Kirkland, Washington and to give you a peek of the fun things we did and discovered about this great destination.
Travelling has always been one of my passions. There's just something incredible about leaving your home behind and embarking on an adventure to someplace new. As much as I loved travelling abroad to see the place that I'd always dreamed of seeing, I also love travelling closer to home. Destinations where we can hop in our car and get there within a few hours are perfect for weekends or better yet a long weekend. Since we live in the Metro Vancouver area we quite frequently cross the Washington state border and go go Blaine, Bellingham and downtown Seattle. In fact downtown Seattle is a frequent destination as my father-in-law lives there and it only takes us about three hours to get there. However, I don't know how after so many countless trips to Seattle that we have never checked out Kirkland. It's only 15 minutes east of Seattle and it's a lakefront paradise for family fun, great good, small town feel and so much more.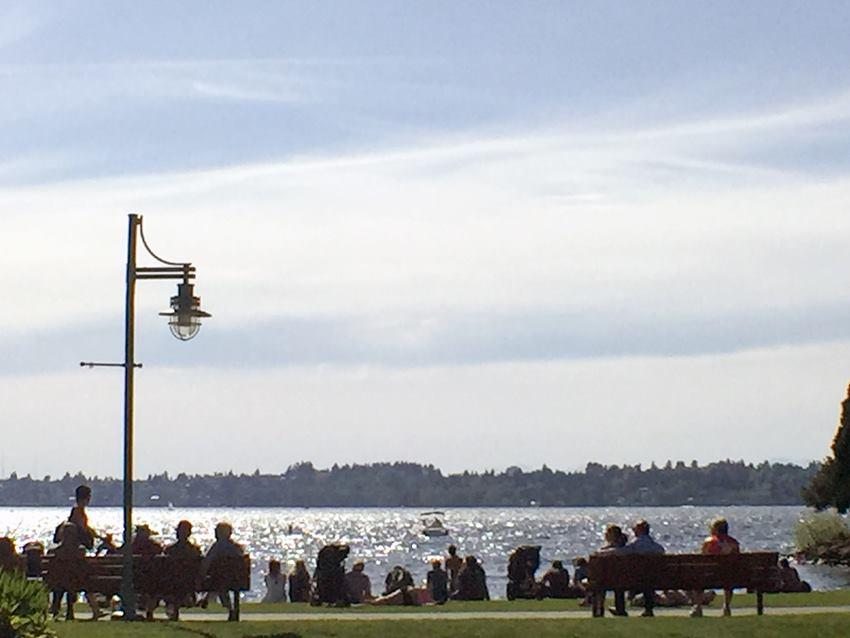 It is a beautiful suburb and is located in King county, Washington, Kirkland is located on Lake Washington and offers a beautiful view to visitors and residents alike. Today the population currently sits at 85,763, offering travelers and residents an endless supply of things to do and see during their stay. It was definitely a city worth making the trip too and totally fed my thirst for adventure while we were visiting. It was also the ideal setting for a family trip, something that we also consider closely when deciding on whether we're going to book a trip or not.
With their assortment of restaurants and water activities there wasn't a dull moment during the entire trip. One of the things I enjoyed most was the feel of Kirkland itself. Although it boasts the title of being the 12th biggest city in Washington, the hometown feeling it gave reflected just the opposite feeling. Instead of feeling like a the big city it actually is, Kirkland seemed for all the world like a small town which was something that counted big for me. I can survive in a city setting but I just adore the ambiance of a small town.
During our stay my family and I were able to indulge in some of the finest experiences that Kirkland had to offer its guests. Some of key opportunities that we took advantage of during our stay are listed below. I'm not going to go into great detail on each one as they will be talked about in full in our future articles as part of this series.
We stayed at the Heathman Hotel our first night. It's conveniently on Kirkland Avenue, walking distance to "downtown" Kirkland's shops, restaurants and more. Walking in town was where you really had the small town feel with the unique shops (no big box stores in sight), tons of restaurants and when it was sunny everyone and their dog was out walking, literally. There were families everywhere those with strollers, little ones walking with the, walking their dogs and more. Trellis, a restaurant located in the Heathman hotel, was a delectable trip for the entire family. Keep in mind that the Heathman is kind of a big deal in Kirkland, quite the fancy establishment.
Here's a preview of what the Trellis Restaurant has to offer. These Crinkle Cookies with a chocolate dipping sauce were nothing short of decadent! I still dream of their deliciousness.
Woodmark Hotel in Kirkland, is the only hotel on the picturesque shores of Lake Washington. It is not "downtown" but as I said it's on the the shores of Lake Washington and the views are amazing. it's a great area for walking around and just enjoying the lake, or go for a sail and more. We spent two nights at this hotel and our first night there was a wedding but even though our balcony looks down at the tent below when our windows were closed we did not hear a thing.
Northwest Cellars. While visiting my husband and I were able to participate in a wine tasting, something that we both enjoy a lot. A good glass of wine, that is. While we were there we chatted with the owner, Bob, who was friendly and surprisingly enough a former resident of our hometown, Vancouver. I thought that was a pretty neat twist to our visit. It's always fun to bump into someone from the same town as you while adventuring in a new place.
CANVAS! Paint and Sip Studio was a family outing that we enjoyed taking part in. I would definitely recommend this kind of experience with your family. As this was a family session it was all paint and fun and no sipping
Isarn Soul Kitchen. If you're ever in the area, this restaurant is the place to go if you're a Thai lover. Everything smelled so yummy but unfortunately we couldn't possibly sample everything they had to offer. Everything we tried was yummy, especially the dessert!
Washington State is one of the most beautiful places that we've had the pleasure of visiting in the US. Kirkland itself was lovely and there wasn't a dull moment in the entire trip. I can't recommend Kirkland enough especially to my fellow Vancouvervites, it's not far to go and yet you truly feel like your on vacation and somewhere new when you go to Kirkland. From the restaurants to the water activities right down to the multiple hiking trails, there were so many things to do during our stay. Unfortunately we weren't able to see and do everything but there's always next time!