It was a match made in Heaven.
Patrick Acton loved working with his hands—and matchsticks were cheap to come by. These two were paired together thanks to long winters in Iowa during the 1970s; and what began as a hobby crafting old country barns and churches out of matchsticks launched Acton to worldwide fame. His matchstick milieu was thrown into the spotlight, garnering him his dream job with Ripley's Believe It or Not! and even his own museum—
Matchstick Marvels
.
Now 70, Acton still works in the same old basement workshop he started in 40 years ago, but instead of building tiny replica barns, he's making an entire fantasy world filled with wonders: a life-size flying locomotive made of a million matchsticks, a scaled-down Millennium Falcon, a two-headed dragon with matchsticks scales, castles galore, and the U.S. Capitol building. All these were crafted down to the last detail out of tiny, insignificant sticks of wood.
"The first thing I ever made was a little country church out of about 500 matchsticks and that just took, as I recall, a few days to make," Acton told The Epoch Times. "I cut the tips off the sticks for 10 years … which was very tedious, and I probably would have given the hobby up."
When Acton's wife suggested he order the sticks plain, without sulfur heads, and buy them by the caseload, that was a game changer.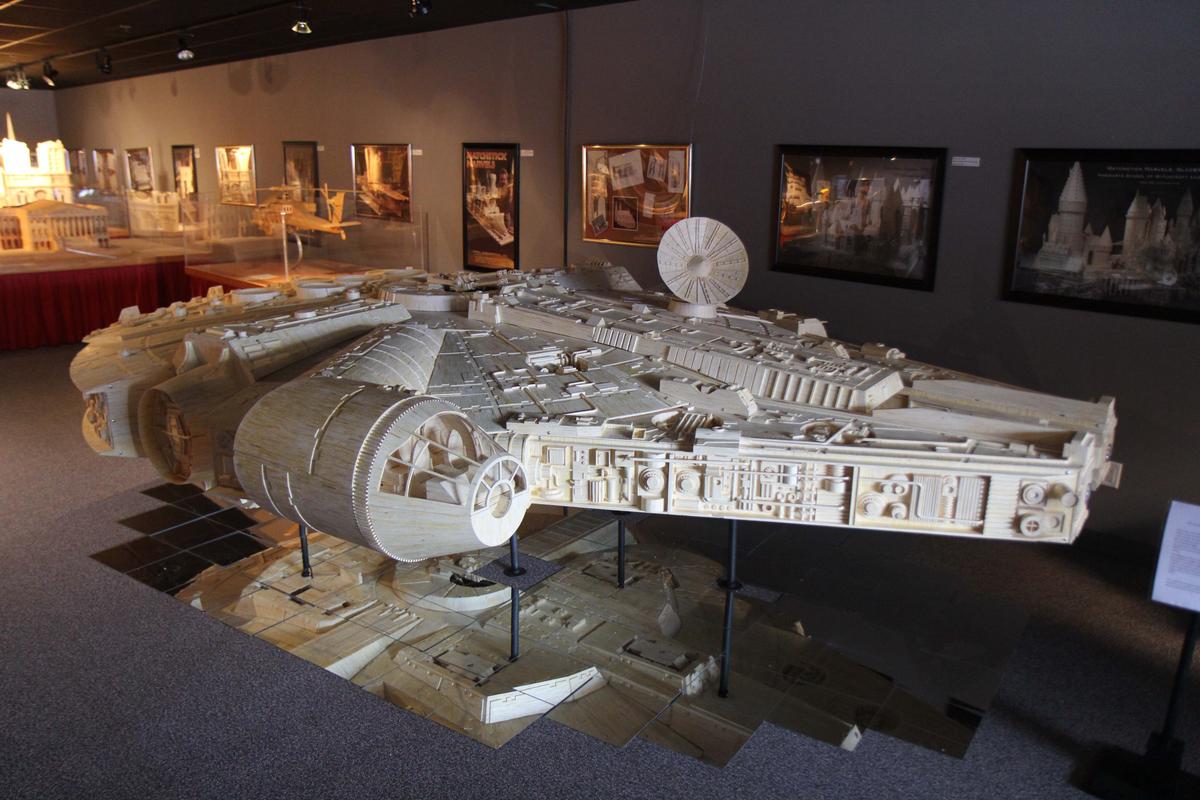 "They're not going to sell sticks to some whack job in the cornfields of Iowa to model," he thought.
"She finally convinced me. I did write them a letter and it was just a matter of a few days; I got a letter back with quantities and prices," he said. "All of a sudden, the dimensions of the things I was making them [went from a] few hundred or thousand sticks … to literally tens of thousands of sticks."
It was the ultimate jigsaw puzzle. Acton was enthralled by the planning and preparation. Using tiny models as reference, he found the challenge of building up matchstick mockups a rewarding pastime. The wood was bonded with regular glue and through techniques he developed, such as sanding, he could create almost anything. Then reading James A. Michener's "Chesapeake," Acton was inspired by the highly-detailed descriptions of the stages of shipbuilding.
Acton launched his own maritime matchstick foray. It started with Old Ironsides—the historic USS Constitution—Acton being a huge United States history buff. His ships progressed with increasingly larger models of USS Iowa, accurate down to the tiniest detail—every gun turret, lifeboat, rigging, and radar dish.
"My wife used to say, 'Why do you feel this need to make him so big?'" Acton said. "Well, the bigger they are, the more accurate I can get and the more detail I can put in."
So they got bigger. And still bigger. And the details multiplied.
Both the scale and realism of Acton's creations were taken to the next level through innovation. Around 1985 his child asked him to make a Pinocchio out of matchsticks. He thought, "There's no way that I can make Pinocchio because there's too many shapes and curves." But where there's a will, there's a way; Acton realized he could simply crimp the wooden sticks using needle-nose pliers to create curves to form just about any shape you can imagine.
This sent him in the direction of constructing his own portrayal of Paul Revere, a brontosaurus dinosaur, and eventually, a massive dragon for Ripley's Believe It or Not!, complete with stretched wings and twisting tail.
Another innovation came as his ambitions grew industrial in scale. "I learned that I could build sheets out of matchsticks [by gluing] them directly to a sheet of plexiglass or acrylic," he said. Thus, Acton now had his own matchstick plywood stockpile ready to tackle any project, no matter how huge.
He and Ripley's had teamed up by then. The collaboration began with their seeing him in a magazine around 1990 and buying a few of his matchstick pieces. His models were such a hit that they eventually hired him full-time, which led to the creation of his largest model, a life-size "flying" locomotive.
"We came to an agreement in 2012 and I took an early retirement from the college and I started building for them," Acton said. "They wanted a steampunk locomotive."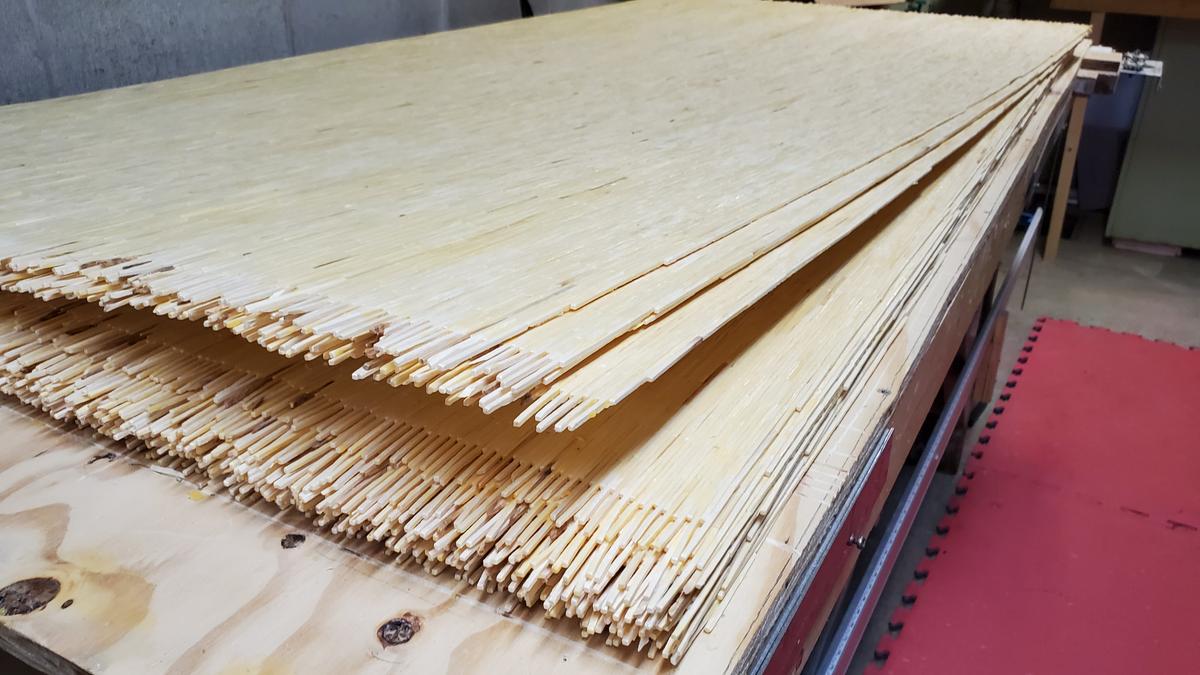 The steam engine would stretch some 23 feet in length and incorporate Michelangelo-inspired wings into its design. As the full-size project neared completion, Ripley's made another request: "You're coming close to a million sticks," they told him. "It would be a boon for us if we could … say this made out of a million matchsticks."
Fourteen months later, they had their mega-matchstick, full-scale flying choo-choo.
To date, Acton has used around 7.5 million matchsticks in his creations.
Besides promo works, Star Wars and such—not to be diminished in their impressiveness—Acton is particularly proud of his historical architecture. And no wonder. He's built not only the supremely imposing U.S. Capitol building down to the last entablature, pediment, and Corinthian colonnade out of matchsticks, but also a replica of Notre Dame cathedral—façade, flying buttresses, and all—in all its matchstick glory.
It was around 2000 when he announced to his wife the Capitol building was "the most majestic building" and threw his efforts into modeling it. With the advent of the internet, designing would be far easier than previously. Yet he worried. By the 2000s, you could find almost anything on the web, and Acton was on the Capitol website all the time. "I was waiting for the FBI to show up and arrest me!" he said. "Wow, look at all these floor plans." The majestic model stretches 12 feet in length.
Working for Ripley's is one thing. Having your own exclusive museum to support your hobby is something else. For Acton, it was a dream come true; the razing of an old hardware store in his hometown of Gladbrook saw the realization of Matchstick Marvels. With basically just "two addresses on main street," the rural town was on the brink of death and needed a tourism boost. In return, Acton got a "beautiful space" where around 17 of his creations are always on display. "It was kind of a win-win," he said.