NEW YORK—Carlos Madrid's insatiable curiosity leads him to explore the beauty of nature and life. He's been on a long journey of expressing the gifts life has offered him, and the mysteries that have unfolded before him. You can see it in his paintings. They are packed with meaning while exuding a deliberate sense of calm containment. Some are allegorical, others are meditative or even sentimental, but every one of them is harmonious.
"I have always been asking questions about the universe: what are we doing here, where are we going, what is the real purpose of life? Through my work, I try to piece together little symbols that kind of connect me to that big question," he said in his cool, well-insulated apartment and studio, on a sweltering summer day in Manhattan.
He revealed the meaning of his visual lexicon, some reoccurring symbols in his paintings: "Pearls symbolize the ocean and life. … There's no life without water," he emphasized. "Rubies are about the beautiful things in life—the jewels that we have all over the place, like the plants, the flowers, the birds, the sunsets, the full moons. Rose petals are about the most delicate part of life. They are so fragile; they symbolize love, kindness, softness. The skulls remind us of our mortality; the eggs represent birth or beginnings," he said.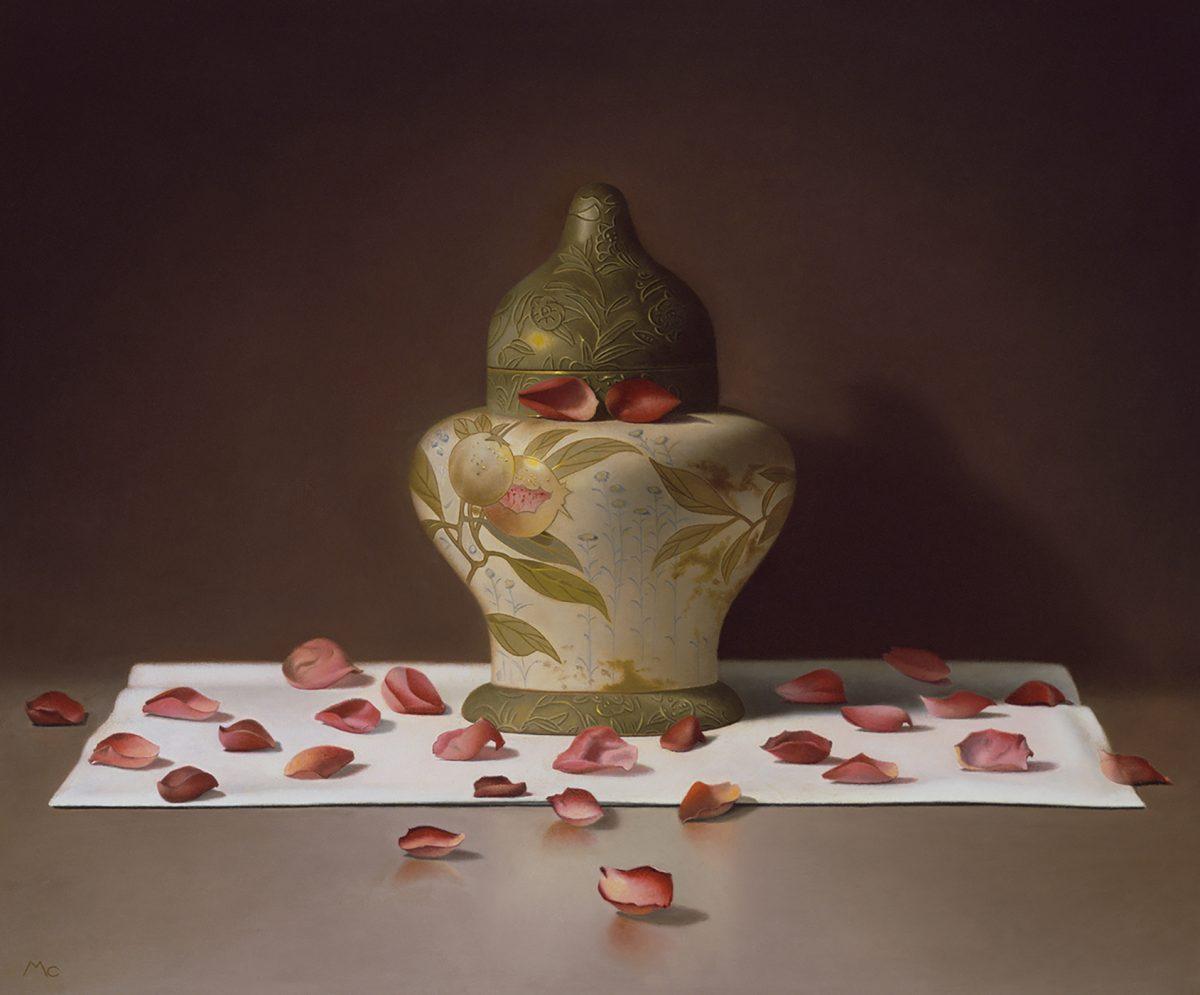 Madrid also portrays the beauty of simple objects that most people don't pay much attention to, like bricks and stones. In his still life paintings, they "represent harmonies and balance," he said.
He also draws and paints the human figure and described what he finds fascinating about the body: "The forms, the sensuality, the differences between human bodies, in every aspect—noses, ears, eyes, mouths, and fingers, different shapes and sizes, tall, medium, small, and tiny. There is an incredible array in the diversity. I watch people and think it is a miracle that we are born, that we can talk and notice these things and, of course, nature," Madrid said.
His drawing "Falling Star" is an image of his late wife that came to him when he was living in Norway. It depicts her standing in a cocoon. She is wearing a cap and looking up at the universe and a shooting star. 
He doesn't paint landscapes but he needs to be in nature frequently, so he walks or runs in Central Park or by the Hudson River almost every day.
While he searches for the meaning of life, he doesn't search for particular subjects to depict. Images just come to him. "I see images in my head, and I do tiny sketches that turn into paintings. I don't even know exactly what they mean, but it's always something about silence, harmony, and its simplicity," he said. 
A rare exception was a bird that he painted. "The bird flew into the window, into the kitchen, and broke its neck. I grabbed it right then and started painting it," he said. He titled that painting "Twilight." It was "the twilight of a life," he said.
Now his paintings are even more focused on simplicity. About his creative process, he thinks, "How can I make it as simple and as direct as possible, so that when the viewer sees it, it is just there," he said.
He works on several paintings at a time, switching between them. Some are sold right off the easel in his apartment in the Hell's Kitchen district of Manhattan, where he has been living on and off since 1979.
On his west-facing brick-exposed wall, he has on display his more personal paintings, which are not for sale: a memorial for his mother and a memorial for his wife, as well as a copy he made of a painting by the renown Norwegian figurative painter Odd Nerdrum. On a small desk, an easel holds a drawing he has been working on, a copy of a portrait by Leonardo da Vinci. His east-facing wall is covered with shelves stretching from the floor to the ceiling and across the entire living room. They hold books on art, photographs of his wife and family, and objects he has gathered from his journeys. 
On one of his three easels, his painting of a pregnant woman looked finished, but Madrid had yet to paint three identical elements. As he pointed at the belly of the figure, at the fetus, and at the egg, he said "red, red, red." A week later, he painted three ruby red drops on those spots to show the connection between them. The painting also has a skull as a memento mori.
"Basically, it is about the process we go through in life. We are born, we grow, and we disappear," he said about the painting. "I like that the fetus is muted [blurred] because it is still in the other world. It is still inside her, so it couldn't be as sharp as the pregnant woman," he added. 
Madrid had started on that painting over a year ago, but the hours he put into it could be compressed into about two months. He paints every day at his own pace, and only paints what he loves to express.
That wasn't always the case for Madrid. He became a professional painter late in his life. "The biggest challenge I have had was to believe in myself," he said.
A Worldly Man
Madrid's spontaneous sense for adventure has taken him from Peru, where he was born, to living in eight other countries—for at least six months in Argentina to over 32 years now in the United States, and for various amounts of time in between in Israel, Austria, Germany, Italy, France, and Norway.
The name of the small town of Jauja, where he was born in 1950, derives from a Spanish expression that figuratively means "land of milk and honey." From 11,200 feet above sea level, he descended to lower altitudes on this planet Earth, where he literally descended to a near brush with death in his late 20s, to dedicating himself to a spiritual path and a healthy lifestyle, to eventually fully answering his life's calling in his mid-40s.
He was prompted to move to other countries, in several cases, to study with a master painter. "I was searching for people who could teach me what I wanted to learn, which I knew I could not get in colleges, especially at that time," he said.
He has studied with some of the very best, including Michael Aviano at the New York Academy of Art; Ted Seth Jacobs at L'Ecole Albert Defois in France; the artist and founder of Grand Central Atelier, Jacob Collins in New York; the Norwegian painter Odd Nerdrum; and with the founder of The Florence Academy of Art, Daniel Graves.
Madrid's face is also readily recognizable among other realist artists and collectors because he has sat for portraits made by his teachers and other top artists of our time, such as Travis Schlaht, the sculptor Cody Swanson, and most recently, Jordan Sokol, among others.
Deep down, Madrid knew he also wanted to be a fine artist himself, but he was preoccupied with the idea of making a living in what he considered to be more practical careers. In Israel, he studied environmental architectural design and worked making playgrounds. In New York, after finishing his degree at Parsons School of Design, he worked as a freelance graphic designer doing typography, layout, and advertising for magazines like Vogue, People, and Time magazine for three years.
"I respect people who enjoy it, but I knew it wasn't for me. I didn't care about the projects or the products—like cigarettes, or packaged food that I knew was terrible," he said. "I realized … my soul wanted to be an artist, a free spirit."
One day, he saw a poster in an art supply store advertising a tempera painting workshop, with the heading "Egg Tempera Technique by Austrian Painter." He took the workshop given by one of the students of the Austrian artist Ernst Fuchs. When Madrid first saw images of Fuchs's allegorical work in 1977, he was struck: "That was the first time I thought that maybe I can paint. That's how my symbolism started."
Soon after, Madrid wrote a letter to Fuchs requesting to be his apprentice. Fuchs accepted.
"I went to Austria with long hair. I wore a poncho, and I took this [mahl] stick with me, and when Ernst Fuchs saw me, he said, 'You remind me of myself!'" Madrid recalled. He stayed in Fuchs's Jugendstil villa (Otto-Wagner-Villa) in Vienna, learning the egg tempera technique and preparing Fuchs's canvases.
However, he stayed in Vienna for only nine months because his health was faltering badly. Prior to arriving in Vienna, he was introduced to cocaine during a short vacation in Peru. Within four months of being addicted to a pure form of the drug, he overdosed. "I was 28. Perhaps I knew deep inside that you can harm yourself that way, but I was stupid and unhappy with my reality," he said. "I almost died. It was scary—very scary."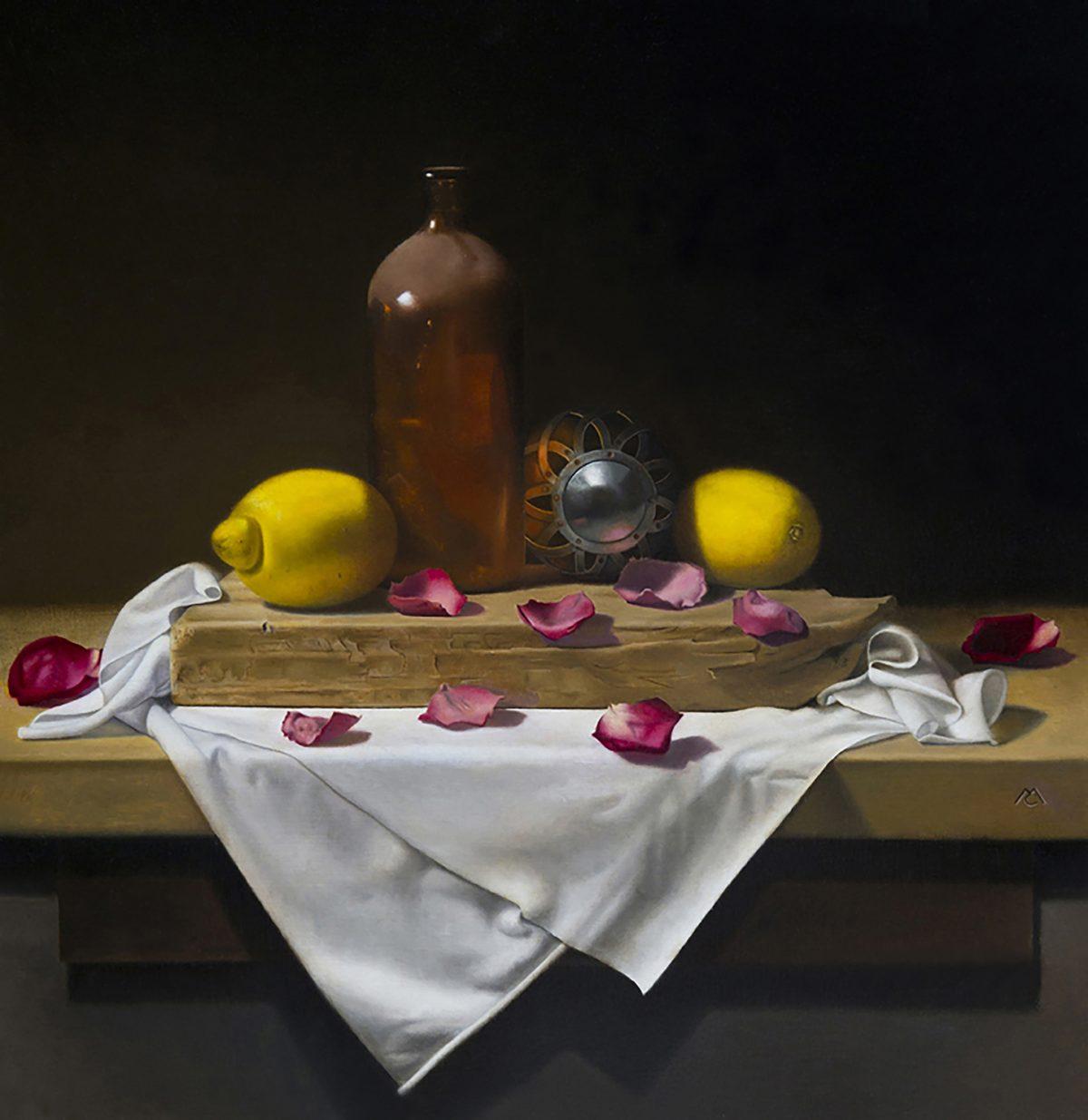 He decided to go to his sister in Peru to heal. Later he lived in Munich, Germany, eventually moved back to New York where he worked as a graphic designer again, and became very interested in yoga and meditation. Occasionally, he would take evening or weekend drawing classes at
The Art Students League
.
Although he had been Fuchs's apprentice and had been drawing and painting sporadically for years, it wasn't until he met his wife, Elizabeth Roberts, in 1987 that he would start to really believe in himself. He described the day he met her as one of the biggest joys in his life.
"I saw this woman, my wife, and I thought I need to know her. I really loved her smile, her energy … It was almost like an illumination—this smile that she had, her beautiful eyes," he said.
Throughout the 25 years they were together, Madrid would be steadily encouraged by his wife to pursue his career as a fine artist. Roberts persuaded him to have his first one-man show in 1989, she supported him as he studied abroad with Ted Seth Jacobs in France in 2000, with Odd Nerdrum in Norway for three years (2001–03), as well as at The Florence Academy of Art for another three years (2005–08).
"We would visit each other. She would come to Norway for a few weeks, and I would go back to New York for a few months. That's how amazing she was. She gave me the full go-ahead, because she knew I had a very limited amount of time to achieve a certain level of technical ability. In those years, I began selling my work in Norway like crazy," Madrid said.
By the time Madrid returned to New York in 2008 to stay, his work had been exhibited in three solo shows, and over 40 group shows. 
Curiously, when Madrid was in his 20s, a psychic woman in Peru predicted that in the span of 10 years, he would accomplish something that would normally take a lifetime for most people to achieve. The woman did not specify what or when that something would come to pass, but it turns out her prediction came true.
"Basically within 10 or 11 years, I went from studying painting to becoming a professional painter, selling my work in Norway," Madrid said. "It's peculiar, because it is not usual for someone to start so late and to become so successful." More than 50 of his paintings are in Norwegian homes, and he continues to sell paintings regularly through the gallery that represents him, Quidley & Company in Naples, Florida.
The director of Quidley, Joe Panarelli, discovered Madrid through The Florence Academy of Art website. Panarelli happened to leave a voice message on Madrid's phone the day Madrid had to take his wife to the hospital. She had been diagnosed with cancer about a month before, in June 2011. "When Elizabeth became ill, I told her, 'I'm stopping painting. You are my priority right now,' and she said, 'Carlos, please call him.' I remember that day very clearly," Madrid recalled.
Elizabeth Roberts passed away on Nov. 10, 2012.
Madrid keeps a quote from his wife that encourages him to continue painting: "I have had a wonderful life, every single day, every moment has been amazing. Even one day of this life, even a single day would have been enough, more than enough." 
"Every single piece I do now is for her. I
sign 
CM and in the middle L for Liz, but we used to call each other "Lovey." (When she would call me Carlos, I knew she was pissed off with me.) So the L is for Liz and for Lovey," he said.
When his work is displayed, seen, and sold, he said that it feels like a triumph for both of them.
"The only purpose of any art form is communication: our desire to explain the world, to explain life. My aim is to find peace in my work because I am trying to find peace in my life also—harmony," Madrid said. 
His top advice for artists of all ages, especially to the ones who are good, he said, "Don't become arrogant. It's ugly. Be humble. Have humility, basically, yeah."