NEW YORK—The finals of New Tang Dynasty (NTD) Television's 8th International Chinese Vocal Competition were held on Oct. 2 at the Merkin Hall of the Kaufman Music Center in New York. Eleven contestants were awarded silver, bronze, and honorable mention awards. There was no gold award winner.
The International Chinese Vocal Competition promotes traditional bel canto vocal arts, through which to express pure authenticity, pure goodness, and pure beauty. The competition also aims to provide a global arena for all Chinese vocalists to showcase their talents. Contestants were required to sing two songs with at least one song in Chinese.
'Strong Energy Connecting With Audience' From Chinese Lyrics
The male division silver award went to tenor The Tung Lam from Vietnam. His repertoire included "The Cold Little Hand" from Puccini's opera "La Bohème" and "The Song in My Heart" in Chinese.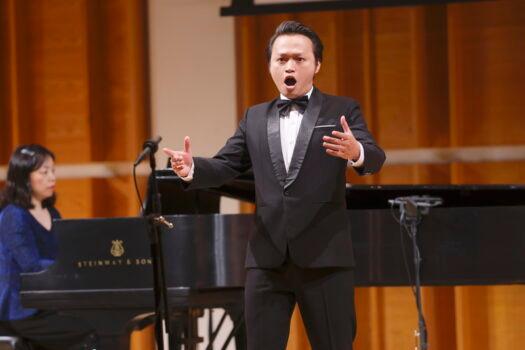 Lam said that he had to overcome quite a lot of obstacles to travel to New York and participate in the competition. He was very grateful to get to know many fellow artists and to improve his singing.
He enjoyed singing the Chinese song and was moved by the lyrics, from which he could feel a very strong energy and with which he was able to connect to the audience. "I felt the energy connecting to the audience. I felt no pressure, but a wonderful connection with the audience." Lam said.
'Classical Music Connects Us All'
The female division silver award went to mezzo-soprano Jingjing Xu from Canada. She sang "No More Sitting Alone by the Fireside and Grieving" in Cinderella and an ancient Chinese poetry song "You Lan Cao."

Xu said that this competition is an important milestone in her career. "It's an acknowledgment of all my hard work over the years. I am happy," she said.

Chris Knopp was Xu's piano accompanist. He also enjoyed the competition and enjoyed the Chinese songs. "It's two art forms at once, music and poetry. I learned a lot about music in general, also improved my own piano playing," Knopp said. "Through playing classical music, whether it's composed by a German, an Italian, or a Chinese, I could feel the human connection. That is the same, especially across time periods. There is something that connects us all, it's beautiful."
The male division bronze award went to Wade Park from New York. The female division bronze awards went to Rachael Bastick from New York and Hsinju Lo from Taiwan.
Judge: Contestants Singing With Their Hearts
Vocalists from the world-renowned Shen Yun Performing Arts served on the panel of judges. Soprano Min Jiang was the head judge, along with sopranos Haolan Geng and Tian Li, and tenors Gu Yun and Gao Liang.

Tenor Gu Yun said: "The overall level of the contestants is very high, not only in terms of singing techniques, but also their interpretation of the songs. They sing with their hearts, letting you feel their emotions."

Gu Yun also liked the format of singing bel canto style in Chinese. "To sing in our own language about our own culture is the way to revive the culture.

Soprano Tian Li praised the contestants for having "superb control" of their repertoire, and the "very fitting interpretation" of the deeper meaning of the Chinese songs. "I am very glad that NTD provides a platform for Chinese vocalists to shine on a world stage."

Many audience members praised the high-caliber performances and the soothing music. Violinist Kornela Rad said that she has benefited from listening to the artists. "For me, sitting in the audience, I can see what I can do better as a musician by observing other people. It's very educational for me as well."