PG | 1h 51min | Comedy, Family | 2022
As I've stated in the past, whether reviewing Christian dramas or comedies (or dramedies for that matter), faith-based films can get a little lost in translation sometimes when conveying their values to larger audiences. Typically, they come off as either too preachy or too sappy and sentimental.
But the new family comedy "Family Camp" doesn't fall into either of those undesirable categories. It delivers good, clean, family fun with plenty of laugh-out-loud bits. Indeed, two of the main actors are comedians Tommy Woodard and Eddie James (also known as the Skit Guys).
The Ackerman family, headed by Tommy (Woodard), is struggling. Tommy is the type of man who believes that his sole purpose is to fulfill his financial obligations to his family in order to keep them happy. As a result, his overworking causes him to neglect his wife Grace (Leigh-Allyn Baker).
So, when their pastor suggests that the entire congregation go off to attend a church-sponsored family camp, Grace insists they go. Tommy reluctantly acquiesces. While the Ackermans assume that the camp is going to be a relaxing, kickback experience, it's anything but.
The Ackermans are immediately thrown into a shared-living space with their polar opposites; the Sanders family, led by eccentric patriarch Eddie (James). Eddie is much more flamboyant than Tommy and frequently engages in public displays of piety, whereas Tommy is active with his church but doesn't go around talking about it all the time. Eddie and his wife Victoria (Gigi  Orsillo) sing songs together and he even plays the harmonica while they shake their booties with the kids. Conversely, the Ackermans are much more reserved.
The Ackermans soon discover that there is a series of competitive events held at the camp, with the prize being a coveted trophy cup. And guess who has won that prize for several years in a row? Yep, the Sanders.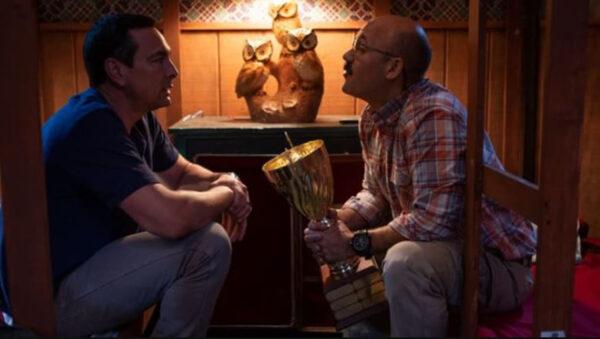 This sets the two dads up on a collision course as they try to one-up one other to prove their worthiness to their respective wives. And later, when the two men get cut off from the rest of the camp and begin bungling around in the woods, the real laughs begin.
One of the things that makes this film great is that you don't have to be a Christian to get the film's positive message: step back and take an honest assessment of one's family and friends before re-engaging them with love and understanding. Although there is plenty of slapstick humor on hand to elicit laughs, there are also some heartfelt serious moments, along with a dollop of suspense.
However, there are some things that Christians, in particular, will be able to recognize and chuckle about, such as the preoccupation with "Bible diets" and Chick-fil-A fast food establishments. It's all light-hearted fun,, though and never feels mean-spirited or overly contrived.
This type of widespread appeal—simultaneously being able to cater to a smaller audience while also appealing to the mainstream, is part of the film's ingeniousness. The film is also bolstered by slick production values (on a relatively small budget) and some solid performances by its main cast.
The bottom line here is that "Family Camp" is a surprisingly wholesome family comedy in a sea of lewd and subversive Hollywood flicks that are couched as being "family-oriented entertainment."
The film wears its heart on its sleeve. By the time the ending credits roll, one of my younger brothers (the one who is supposedly tough) admitted that his "eyes were sweaty." Enjoy.
'Family Camp' Director: Brian Cates Starring: Tommy Woodard, Eddie James, Leigh-Allyn Baker MPAA Rating: PG Running Time: 1 hour, 51 minutes Release Date: May 13, 2022 Rated: 4.5 stars out of 5