A light, first frost came early to the Berkshires this year, prompting home gardeners to cover and protect more delicate crops for the night.
I remember thinking, with a smile, as I made my way down to the garden the following morning, that a bird flying high over the still-quiet neighborhoods and town-outskirts at dawn, looking down, would have puzzled at the strange sight: an odd array of so many sheets, blankets, and tarps spread out like a scattered, mismatched patchwork-quilt of sorts, in all the backyards below!  
I was happy to see that the tomatoes and lettuces had survived alongside the beans and chard, beneath the sheets. But it was time to harvest most of what was left—except for the winter squash. The hearty fruit could survive a lighter frost and was best left to fully mature on the vine until the hard frost came. Then, once harvested, it would nourish and carry us through the cold months ahead.
A Cold Weather Staple
Winter squash is native to North America and is known to be one of the first foods cultivated by Central American Indians 8,000 years ago. Over time, it became a staple winter food for tribes in the Northeast, who valued its ability to store well for long periods of time, especially through the long, cold season. 
Because of its thick rind, winter squash is not prone to bruising, and could therefore be stored whole for several months and later roasted whole in the coals of a fire. The flesh could also be boiled and preserved in syrup, or sliced and dried in the sun and later rehydrated as needed. Seeds, leaves, and shoots were also consumed, and the rind dried, to be repurposed as a tool or container.
The first New England settlers were initially not enamored with the taste of squash, but soon enough grew to see its worth. Slathering it with honey, maple syrup, or animal fat, they found ways to make it a tasty staple with which to survive the long, harsh New England winters. The 1796 cookbook "American Cooke" by Amelia Simmons contains a recipe for "Winter Squash Pudding," which calls for mixing the boiled flesh of "a good squash" with stewed apples, eggs, milk or cream, rosewater, wine, and nutmeg, to be baked in the squash's hollowed shell.
Today, a world of readily available ingredients has opened up new realms of possibility to the home cook. Where winter squash was once a staple for survival, now it graces our fall and winter menus, which would hardly be complete without them, in myriad creative forms. We've come a long way!
Here, I will share one of my favorite ways to prepare this hearty, late-fall fruit: stuffed, baked acorn squash.
Breaking It Down
From pumpkin to kabocha, each variety of winter squash has its own predominant flavor; some are sweeter, others are nuttier, and still others are more on the buttery side. Whatever the variety, it is best roasted—whether sliced, cubed, or whole—so that your seasoning of choice is well absorbed into the dense, firm flesh, which turns sweet and creamy in the oven. From there, it can be enjoyed as is, or incorporated into creamy soups, casseroles, or pasta dishes.
For this recipe, I chose to use acorn squash for a couple of reasons. First, acorn squash has an overall mild taste, with a softer balance of those flavor qualities—sweet, nutty, buttery—so that it plays a perfect supporting role to all kinds of fillings.
Second, its size and shape make it a natural edible vessel. The cavity left after the seeds are cleaned out is a bit larger than some other varieties, making it ideal for stuffing, but a good amount of flesh also remains. When baked, the shell keeps its shape, which helps to contain the filling, but is tender enough to eat, and has a wonderful flavor.
When choosing your squash, be sure to select one that has some coloring but is predominantly green, and is not too shiny. The more color it has, the more mature and drier the flesh will be. On the other hand, overly shiny skin indicates that it may not be quite ripe enough.
My goal was to create a hearty, well-rounded vegetarian meal, so I opted to use einkorn as the main ingredient for the filling. Full of protein, antioxidant nutrients, and fiber, this ancient grain—often called the "Mother Wheat"—has a lovely nut-like flavor, and a pleasantly chewy texture when cooked. 
I mixed the wheat berries with a handful of walnuts (rich in essential fatty acids) and a smattering of currants and apple bits for some added sweetness; nestled the mixture into acorn squash halves; and after baking, topped it all with a spoonful of cool, whole-milk yogurt sauce, for a colorful, nourishing, seasonal dish.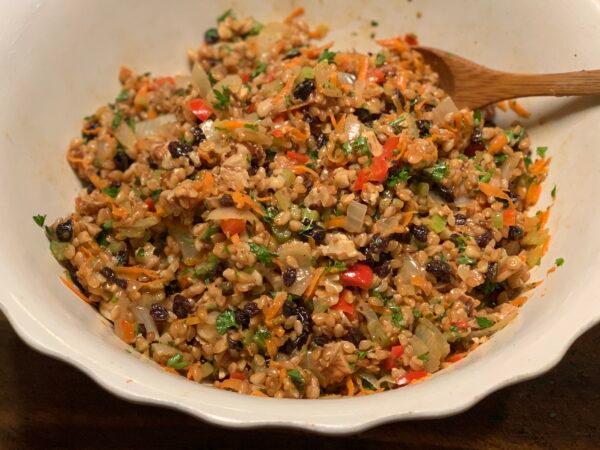 Stuffed Acorn Squash With Einkorn
Save the squash seeds to coat with maple syrup and toast into a crisp, caramelized topping. This garnish is optional, but adds a delicious and attractive touch to the finished meal.
Prep Time: 45 minutes
Total Time: 1 hour 30 minutes
Serves 4
2 medium (about 1 1/2 pounds each) acorn squash 

2 tablespoons olive oil

Salt to taste
For the Filling
3 cups water 

1 cup einkorn

1/2 medium apple (somewhat tart variety preferable, e.g., Granny Smith, McIntosh, Empire) 

1/2 cup walnuts 

1/3 cup chopped fresh parsley

1/2 cup dried currants 

1 small yellow onion 

1/2 red bell pepper

1 large carrot

1 large celery stalk 

2 tablespoons olive, safflower, or canola oil, for sautéing

Juice from 1/2 lemon

1/4 teaspoon dried thyme 

1/2 teaspoon dried basil 

1/4 teaspoon dried oregano 

1/4 teaspoon black pepper

1/4 teaspoon coriander 

1/2 teaspoon cumin 

6 tablespoons maple syrup 

3/4 teaspoon salt, or to taste

2 eggs  
For the Yogurt Sauce
3/4 cup whole-milk plain yogurt

Juice from 1/2 lemon

Salt and fresh cracked black pepper, to taste
For the Squash Seed Garnish (optional)
About 1/4 cup squash seeds, cleaned and dried 

2 tablespoons maple syrup

1 teaspoon olive oil

Salt, to taste

Pinch of chipotle powder (optional, for heat)
Prepare the Squash
Preheat the oven to 400 degrees F and line a large rectangular baking dish with parchment paper.
Using a large knife with a heavy blade, slice the acorn squash in half vertically. Scoop out the seeds and stringy flesh with a metal spoon until the cavities are entirely clean. Set the seeds aside in a small bowl.
Use your fingers to generously coat the squash halves with the olive oil, including the outside skin. Arrange the halves in the baking dish, skin-side up. Sprinkle the skin evenly with salt. 
Bake for 20 to 25 minutes, or until just cooked and still somewhat firm. Remove from the oven, and using a spatula, flip the halves so they are flesh-side up in the pan. 
If making the garnish: Pull the seeds clean of stringy squash flesh and rinse in a small strainer under running water. Spread the seeds on a paper towel to dry while you prepare the filling.
Prepare the Filling
In a medium, heavy-bottomed pot, add the water and einkorn and bring to a boil. Reduce heat to low, cover, and simmer until water is absorbed and einkorn is cooked, about 25 minutes. Einkorn will be pleasantly chewy, not soft, when done.
Meanwhile, prepare the other filling ingredients. Dice the apple into 1/4-inch cubes, roughly chop the walnuts, and roughly chop the fresh parsley. Combine the apple, walnuts, parsley, and currants in a large bowl. 
Dice the onion, red pepper, carrot, and celery. Heat a small amount of oil in a heavy-bottom skillet over high heat, and briefly sauté the vegetables, about 3 minutes. Allow to cool for a moment, then add to the fruit and nut mixture in the bowl.
When the einkorn is cooked, use a sieve to drain off any excess water and add the einkorn to the bowl. Add the lemon juice, dried herbs and spices, maple syrup, and salt to taste and toss together lightly. Add the eggs, and combine gently but thoroughly with a wooden spoon.
Assemble and Bake
Reduce the oven temperature to 350 degrees F.
Stuff the cavities of the acorn squash halves with the filling. When the cavities are filled to the top, press the filling down and continue to add more on top, making a small mound.
Bake for 15 to 20 minutes, or until the tops of the fillings are browned and crunchy. 
While the squash is baking, prepare the sauce and optional garnish. 
To make the sauce, combine the yogurt, lemon juice, salt, and pepper in a small bowl and whisk well. Keep chilled in the refrigerator until ready to use.
To make the garnish, combine the cleaned and dried squash seeds, maple syrup, olive oil, salt, and chipotle powder (if using) in a small bowl. Stir to coat completely. Heat a small skillet and toast the seeds over medium heat, stirring often, until they are evenly browned and lightly caramelized, about 5 minutes. Remove from the pan immediately and allow to cool on a small plate. When cool, use your fingers to break up any clumps. 
Serve
Spoon two generous dollops of yogurt sauce over the top of each stuffed acorn squash. Scatter roasted squash seeds over the yogurt, if using.
Serve with green beans, Brussels sprouts, kale, or other green vegetable of choice.
Substitutions
If you are short on time, try substituting pearled farro for einkorn. Farro cooks a little faster, and though it has less nutritional value, it is also delicious. 
Due to a slightly thinner flesh layer, delicata squash cooks faster than acorn, and is also sweeter. Follow the same roasting procedure for acorn squash, but reduce the amount of maple syrup in the filling to 4 tablespoons, and the initial roasting time to 15 minutes.
Cardinale Montano is a freelance writer living in West Stockbridge, Mass. She shares her creativity with good friends, family, and eager learners, and celebrates daily the blessings of nature in the beautiful Berkshires. She is the founder and designer at LineflaxAndRoving.com