By Katie Laughridge From Tribune News Service
As the air turns crisp (for this week at least) and the leaves hint at a transformation into a riot of fiery hues, I welcome fall with open arms. It's a time for cozy gatherings, warm cider by the fire and the artful transformation of our living spaces.
I've found that one of the most captivating ways to usher in the season's beauty is through the design of our mantels. Often the focal points of our homes, these architectural gems provide the perfect canvas for infusing the warmth and charm of autumn.
I invite you on a journey through three distinct fall mantel designs, each nestled within its own unique room. From opulent and curated to symmetrical and minimalist, these designs offer a glimpse into the rich tapestry of possibilities for your fall decorating.
Muted Browns and Brass Brilliance
This fall mantel design exudes an air of sophistication, which lends itself well to the spirit of the room. The asymmetrical arrangement, which can be designed to fit both large and small mantels, offers a sense of balance and curated charm to the space.

On one side, we've introduced height with elegant candlesticks and a vertical floral arrangement, while on the other, flowers gracefully cascade over the edge, creating a sense of natural abundance. This approach lends the mantel a vintage quality, with layers of textures that draw the eye. The overall design captures an organic, earthy essence that's quintessential to this time of year.

The color palette we've chosen is predominantly composed of muted browns, creating a warm and inviting atmosphere. To add a touch of brightness and contrast, we've incorporated white pumpkins that beautifully accentuate the brass elements found throughout the arrangement and room.
Inspired Symmetry
This mantel design harmonizes beautifully with the room's central focal point, a stunning Moroccan tile-inspired mirror. Symmetry takes center stage here, with two carefully assembled arrangements flanking the mirror, allowing its bold beauty to shine and reflect light throughout the space. The color palette we've chosen features an elegant blend of creams, greens and tasteful pops of pinky-red, creating a warm and inviting atmosphere.
What's particularly wonderful about this design is its versatility. The arrangements can be easily updated or adapted to different color schemes, making it a timeless decor addition. By keeping the mirror open and unobstructed, we harness its reflective magic to add depth and visual intrigue to the entire room, ensuring that it remains a captivating space year-round.
A Minimalist Fall Mantel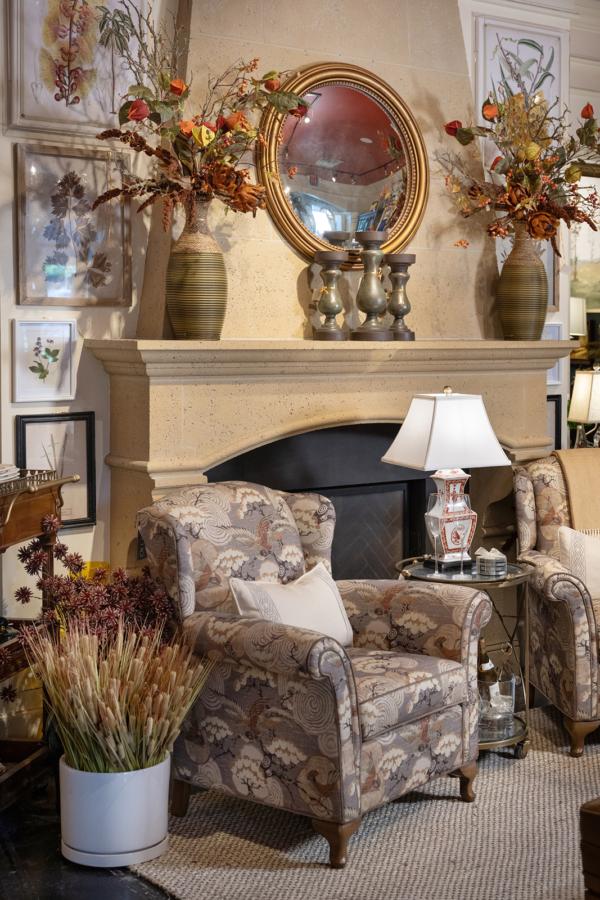 This fall mantel design speaks to the hearts of understated minimalists (who still prefer some decor) who like to let their furniture take center stage. This design masterfully harnesses the power of symmetry, with two large and impeccably balanced floral bouquets flanking a captivating gold circular mirror. As your gaze is drawn to the center, three pewter-esque candlesticks gracefully punctuate the composition, creating a sense of harmony and balance.
The floral arrangements atop the mantelpiece mirror the artistic display on the ottoman below, featuring generous swathes of twiggy sprays that cascade from the vase, while rich reds, oranges and yellows create an autumnal bouquet. Two elegant chairs take their place in front of the mantel, adorned in a formal fabric that boasts a swirling cloud motif in deep, opulent hues.
In the world of interior design, the mantel serves as a canvas for creative expression, especially during the enchanting season of fall. As the leaves change and the air grows crisper, take inspiration from these designs to craft your own mantel masterpiece that captures the essence of the season in a way that's uniquely yours.
Adapted from nellhills.com. Katie Laughridge is the owner of Kansas City interior design destination Nell Hill's. For more information, contact Katie at [email protected]. Copyright 2023 Tribune Content Agency, LLC.