The small city of Clearwater (and its Gulf-front extension of screensaver-worthy shorefront known as Clearwater Beach) flies under the radar of the average Florida tourist's itinerary, yet it's packed with sunshine-fueled activities in nature, as well as beaches galore. Such activities are inherently socially distant and are available all year long in the warm tropical climate of Florida—in other words, Clearwater is an ideal Florida vacation spot while travel remains complicated and the pandemic continues to hold the world in its grip.
Visitors love the beaches of Florida's West Coast for their stunning sunsets (the East Coast is equally beautiful, but you have to get up early to enjoy, because the splendor there happens at sunrise). Clearwater, with its three-mile stretch of bright-white beach, is located on a barrier island on the West Coast and has hotels, restaurants, and cultural institutions to round out its outdoorsy appeal. If you're a sports fan, you can even catch the Phillies spring training at Spectrum Field in February and March.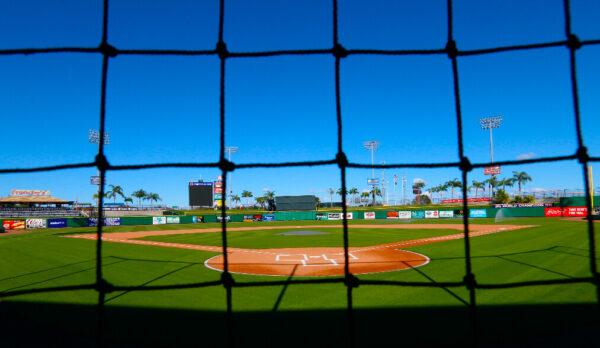 Below, find more ways to enjoy the great outdoors in Clearwater.
Honeymoon Island State Park
Clearwater is best loved for its picturesque and secluded beaches, and
Honeymoon Island State Park
is arguably home to its best. Filled with wildlife, forest area, and four miles of unspoiled sandy beach, Honeymoon Island is a major draw of Clearwater. Visitors can swim, fish, hike, bike, or—perhaps most popular of all—go shelling.
The island—which used to be linked to nearby Caladesi Island, until the Hurricane of 1921 passed through and split the island in half—was so named because when a businessman purchased the island in the late 1930s, he remarked to an editor of Life magazine that the island would make for a great honeymoon destination. It's been known as Honeymoon Island ever since. In fact, 50 honeymoon cottages were constructed along the island and welcomed the first honeymooners in 1940; however, the cottages fell into disrepair after World War II and over the years, the island became state park land rather than a site intended for further development.
Today, Honeymoon Island also serves as the ferry terminal for those seeking quick and easy access to Caladesi Island.
Caladesi Island
Caladesi Island State Park
is an unspoiled barrier island located about two miles north of Clearwater, populated primarily by mangrove forests and picture-perfect white-sand beaches. Located near Honeymoon Island, Caladesi Island offers a stunning setting to explore some of the wild (but still beachy) side of Florida.
The most popular way to get to Caladesi Island is by boat, but it's also possible to hike there from Clearwater Beach (it's about 2.5 miles, so prepare accordingly and stay hydrated!). If you do choose to walk, keep an eye out for shell trees, where shells have been tied onto trees with seaweed, and tiki huts, both built by the hands of the many beach hikers who have walked the path before you. Those who aren't up for the adventure of reaching the island by foot can take the Caladesi Island Ferry from Honeymoon Island or rent a kayak and paddle over.
Upon arrival, visitors can enjoy hiking trails as well as swimming, snorkeling, boating, fishing, and plenty of paddle opportunities. There's also a picnic area and playground for the kids.
Moccasin Lake Nature Park
Moccasin Lake Nature Park, a 51-acre nature preserve, is another spot where Florida's beauty shines. One of the park's main draws is its network of trails and elevated wooden boardwalks, which snake through shady canopies of mature oaks and mangroves, making for a pleasant way to get outdoors even on Florida's hottest and sunniest days.
At the park, you'll find ponds, creeks, Moccasin Lake, a butterfly garden, a bat house, and even a sanctuary housing injured birds of prey that are no longer able to survive in the wild on their own. Various classes and programs are frequently on offer in case you want to broaden your knowledge during your visit.
Hike or Bike the Pinellas Trail
Bikers, hikers, in-line skaters, and runners will delight in exploring the Pinellas Trail, a 42-mile rail trail that stretches from Tarpon Springs to St. Petersburg, passing through Palm Harbor, Dunedin, Clearwater, and various other towns along the way. The trail was constructed along a portion of abandoned railroad tracks, so it's linear and easy to explore. Whether you tackle its full length or just a small portion, you can expect protected greenspace where you can enjoy getting active in a pedestrian-friendly area. Note that the trail is only open during daylight hours.
Clearwater Marine Aquarium
You may recognize
Clearwater Marine Aquarium
from its big-screen debut: it's home to marine movie stars Winter and Hope from the "Dolphin Tale" movies, and you can see both dolphins while visiting. The nonprofit organization rescues, rehabilitates, and releases sick and injured marine animals, including dolphins, sea turtles, otters, pelicans, and more, and is dedicated to furthering public education, conservation, and research for the sake of our oceans and the sea life that calls it home.
Most of the aquarium is open-air, so you don't have to spend much time indoors during a visit, and the aquarium recently expanded, so there's now five times more space for guests as well as new pools for the rescued animals. In addition to walking around the aquarium and learning about the animals being rehabilitated, you can also enjoy experiences such as a hands-on animal-care encounter or a boat tour around Clearwater Bay on your visit.
Day Trip to Dunedin
Up for a little day trip on your visit to Clearwater? Pop over to the funky, tiny town of Dunedin, a short 12-minute drive north of Clearwater.

Visitors love Dunedin for its rich Scottish history and long legacy in the citrus industry—which is celebrated each summer at the annual

Dunedin Orange Festival

, as well as in the brightly colored oranges painted on buildings around town. Dunedin is also home to the oldest microbrewery in Florida,

Dunedin Brewery

, and Hammock Park, where you can spot wildlife and enjoy a butterfly garden.

With the elegant new

Fenway Hotel

, a Marriott Autograph Collection property, recently opened in Dunedin, the town is especially worthy of exploring, perhaps even overnight.

Skye Sherman is a freelance travel writer based in West Palm Beach, Fla. She covers news, transit, and international destinations for a variety of outlets. You can follow her adventures on Instagram and Twitter @skyesherman