There's a story behind how a Scotsman learned how and when not to fear wild elephants. Remarkable footage taken by Andrew Macdonald, 38, shows the moment a lumbering female African elephant got too close for comfort as a safari group toured in 2021.
"In safari, it is thought that wildlife sees one solid shape and don't always see individual people," Mr. Macdonald told The Epoch Times. More so if those people are in a vehicle as the group was that evening.
As the large trunked mammal closed, she appeared to loom larger as their comfort zones shrank. The sky dimmed as her huge head hovered over them. Wet secretions were seen running down her temples.
Those are from her temporal glands, Mr. Macdonald said. They're completely natural.
Though she made no obvious sounds of aggression—no bellowing or heavy breathing that stood out—it was nerve-racking.
Still, she came closer, slowly, unrelenting.
Then, mid-step, she suddenly changed her behavior as Mr. Macdonald made his subtle move—something the Scotsman had learned over his years as a wildlife guide.
He knew to not fear her.
As he was raised in Scotland, the guide grew up watching David Attenborough on the BBC. This had thoroughly kindled his passion to become a wildlife photographer and Mr. Macdonald wound up in Cape Town, South Africa, which became his base as he traveled Africa, teaching himself to photograph animals.
By 2015, he was training to become a safari guide but photography soon took center stage and became his main profession. Encountering herds like this one was a regular thing.
This particular herd in 2021 was just north of the Zambezi River, in Zambia, in the Lower Zambezi National Park. Mr. Macdonald worked there as a guide for an outfit called Time and Tide.
In the evenings, herds like this one go down to the Zambezi River to drink, Mr. Macdonald said. That day, the tour drove to where safari-goers and guides often see herds returning from the river heading toward the mountains for the night.
Parked some 300 feet (100 meters) away, the visitors watched the lumbering procession. The guide fully expected them to pass by but one of the elephants, a female, did not.
"I have had many close encounters with wildlife," Mr. Macdonald said. "It is common for lions, hyenas, elephants, etc. to walk right by the vehicle as they go about their days.
"For people not used to safari this can sound strange but it quickly becomes quite normal."
The herd crossed their line of sight and then stopped. From the lineup of elephants—adults, juveniles, and calves—the cow stepped forward and approached them, perhaps curious what these odd shapes were.
But she got too close. So Mr. Macdonald slowly raised his hand at her—so she saw him—as elephants don't always spot the humans inside their vehicles.
Her response? It was totally unexpected. Normally seeing this signal most elephants give their head a shake and walk away, the guide said.
But, spontaneously, in mid-step, she set her enormous knees onto the dirt road and, quite impressively, buried both of her powerful tusks into the packed, hard ground, her behemoth weight driving them deep.
In short, she took a bow.
"It was a reaction I have never seen before," Mr. Macdonald said, adding that elephants are very honest in their body language. It reveals many things.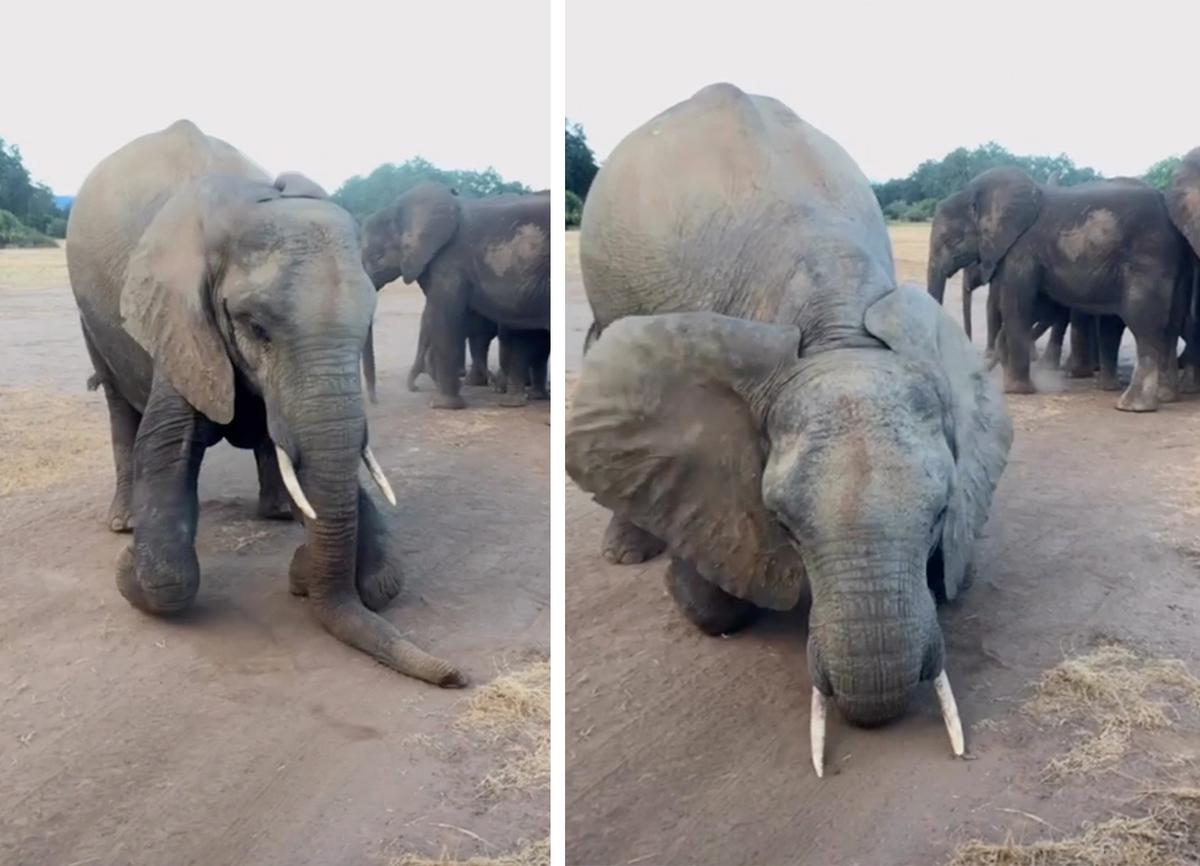 The behavior was believed an act of dominance, Mr. MacDonald said. But the highly inquisitive cow seemed only curious. She stood up and the herd moved on.
"From what I have researched, this behavior was one of the warning signs that elephants give," the guide told the newspaper. "It's not so much a show of aggression but just a peaceful show of strength by digging the tusks into the hard soil."
The footage he captured shows the cow appearing to bow on cue. After he posted it on social media, it got mostly positive replies, he said, though some said she was tamed by humans and he should "leave these poor animals alone."
Video footage shows guide Andrew Macdonald warding off a female elephant who got too close to a safari group in Zambia. (Courtesy of Andrew Macdonald)
People in the safari industry understand how wild Africa really is and "know how ridiculous those comments are," Mr. Macdonald said. The safari community found the video "very interesting."
It was "very special," he said. "I had never seen this before. It's always great to witness new things in the bush."