Placing her own life on the line, a Florida State Trooper in her SUV positioned herself between a speeding suspected DUI motorist and throngs of unsuspecting runners participating in the
Skyway 10K
on Sunday.
Ignoring road detours, Sarasota woman Kristen Kay Watts, 52, in a BMW 335i reportedly sped through several checkpoints, weaving through cones, barricades, and officers. Watts then headed northbound on Highway I-275 toward the race, where nearly 7,000 participants and scores of support staff presided on Sunshine Skyway bridge at around 8:45 a.m. for the yearly event.
The last barrier between Watts and the runners, Florida Highway Patrol Officer Toni Schuck, 47, responding southbound on the highway, turned her SUV directly into the path of the oncoming car, resulting in a collision that ended the incident.
Dramatic dashcam
footage
from the Trooper's Chevy Tahoe was posted on the Florida Highway Patrol's Facebook page, showing the car closing at a high rate of speed on a two-lane highway, the officer's direct interposition, and subsequent thunderous head-on crash of the two vehicles.
Both Schuck and Watts were taken to an area hospital with serious injuries, FHP stated. Watts's car shows damage to the front, while the front of the Trooper's SUV was partially crushed into the windshield.
The suspect was arrested by FHP for impaired driving charges, including: DUI-serious injury, two counts of DUI-property damage, and two counts of reckless driving involving injury and property damage, FHP stated in a press release.
Officer Schuck, now recovering from her injuries at home with family, was hailed for her heroism. "The Florida Highway Patrol applauds the actions of Trooper Toni Schuck, a 26-year veteran of the Patrol who, as the last line of defense to the Skyway 10K runners, placed herself in harm's way to protect others," the FHP stated.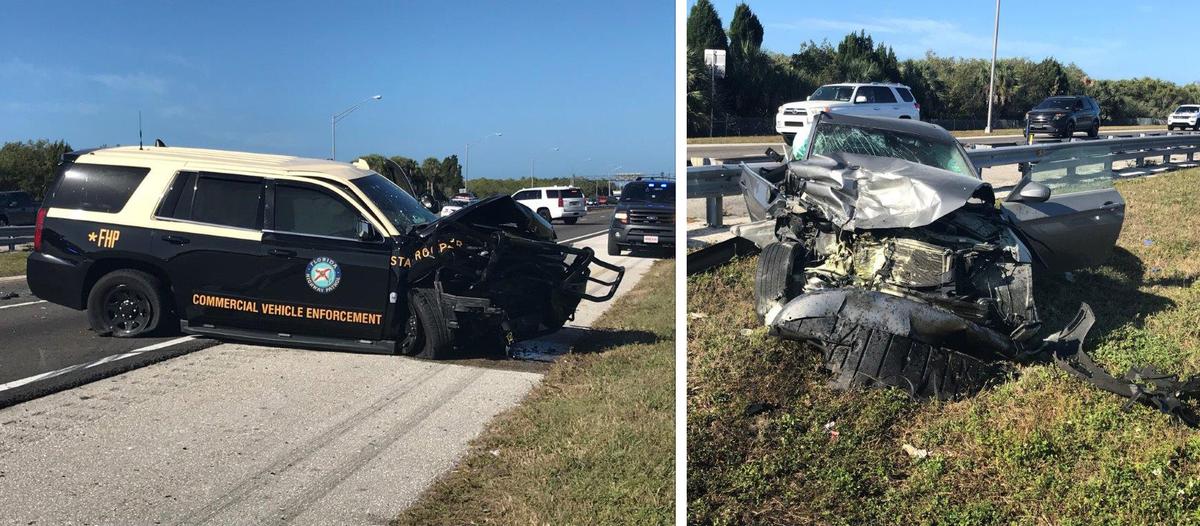 Officers do not believe Watts was targeting the race, which has been supporting military families for the past five years.
On Monday afternoon, Watts was wheeled into court and reportedly laughed after a public defender asked if she would have any trouble getting to court. "Considering I don't have a car. I'll have to fix that, I guess," she said, according to
Fox News
. Watts was booked into Manatee County Jail with a bond set at $52,000.
"There's no telling what would have happened had that vehicle actually reached all of those runners. The bottom line is these troopers saved dozens upon dozens of lives and saved even more people from serious bodily harm injury," said Trooper Ken Watson, the news outlet reported.