Renowned American pewterers Danforth Pewter have been making metalware by hand for generations. Apart from a hundred-year break just after the Civil War, the Danforths have been bringing pewterware to American homes since colonial times. 
Around 1634, widower Nicholas Danforth set sail from Framlingham in England with his six  children in tow, to begin a new life in Boston. (Framlingham may sound familiar:
Danforth's Farms in Massachusetts, was owned by Thomas Danforth, and he renamed the farms Framingham, without the "L," as an allusion to his birthplace
.
Danforth Farms can still be seen on the Framingham town seal.)
But it wasn't until a century or so later that the first Danforth became a pewterer, explains Danforth Pewter's CEO Bram Kleppner in a phone interview. In 1755, Thomas Danforth II opened a pewter workshop in the British colony of Connecticut, in the town of Middletown. That workshop still stands.
At that time, almost everybody ate off of pewter and drank out of pewter, except the wealthy who ate off of porcelain and drank out of glass, Kleppner explained. Pewter "has a lot of great qualities: It doesn't rust. It doesn't tarnish. It doesn't break when you drop it, and it's easy to wash. So it was the common tableware for American households," he said. 
In his workshop, Danforth made teapots, tankards, plates, and so forth, marking each piece he made with a touch mark (trademark) of a rampant lion. Every Danforth pewterer after him used the rampant lion until the Revolution in 1776. "The Danforths apparently supported the cause of independence and they thought the rampant lion looked too British, so they switched to an eagle as their touch mark to keep it clear which side they were on," Kleppner said. 
After the Civil War, in the late 1860s (and as a sign that nothing ever really changes, Kleppner said), the American pewter industry was wiped out by cheap imports from China that made porcelain and glass more affordable for working people.
The last of the early American Danforth pewterers was Thomas Danforth Boardman. And "as they say, 'he died with his boots on,'" Kleppner said. He worked up until the day he died in 1873, when he was in his late 80s. 
For over a hundred years, the Danforth touch mark gathered dust until fate intervened.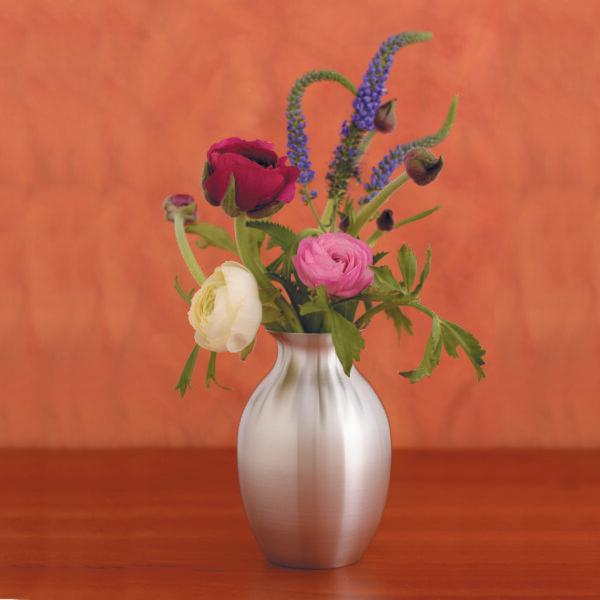 Destined to Be a Danforth Pewterer
Nearly 300 years after the Danforths took the eagle as their touch mark, a new Danforth pewterer picked up the family tradition. Fred Danforth grew up in Ohio, knowing a lot about his ancestors through his father's interest in genealogy. And although he knew that some of his ancestors had been pewterers, he was heading toward a career in woodworking—that was until he met Judi Whipple. 
Whipple grew up in New Hampshire. Having always been creative and drawn to the arts, she studied metalwork at the Rochester Institute of Technology in Rochester, New York, where she was introduced to pewter. She immediately fell in love with the metal and became a pewter designer and worker. 
Fred met Judi in Vermont when they were in their 20s. When Fred introduced himself, Judi said "Oh, did you know there were some guys who worked pewter in early America named Danforth?" And Fred said, "Oh yeah, those were my great-great-grandfathers," Kleppner explained. 
Fred and Judi discovered that they were both craftspeople and artists. And "Judi sort of said: 'Look, you're a Danforth; you can't be a woodworker. You need to work pewter. So forget what you're planning, buddy, and let me show you your destiny and fate,'" Kleppner said. That's how Fred became a Danforth pewterer. 
The couple traveled to Nova Scotia, Canada, where they spent a year or so as apprentices in a pewter workshop. Then in 1975, they moved to Woodstock, Vermont, where "they did what young artists in the 1970s in Vermont did: They rented an old farm and they set up a workshop in the barn," Kleppner said. They displayed their pewterware on a table by the side of the road. When people would stop to look, Fred and Judi would take them around the workshop, and they'd walk customers across the street to their home where they'd set up a little pewterware display in the corner of their living room. On the weekends, they sold their pewter at county fairs and craft markets. Through the 1970s, their pieces sold well, and they were able to earn a living as artisans.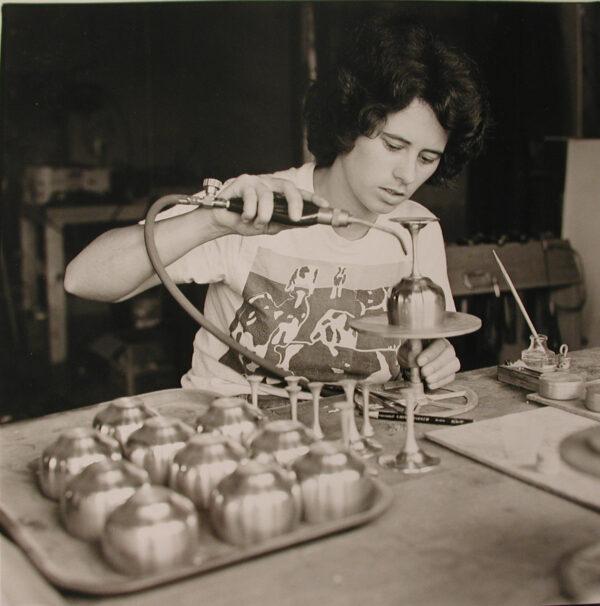 From these small beginnings, and with a lot of hard work, Fred and Judi's business grew. They learned as they went, offering wholesale to gift shops and the like, and then in the late '80s the business changed overnight. 
At a trade fair in New York, a Walt Disney representative offered them the opportunity to become a licensee, making Winnie the Pooh figurines. For around 10 years, the Disney contract brought Danforth Pewter expansion and healthy profits, which the Danforths shared with their artisans. "All the people who worked at the company were getting nice bonus checks during the Disney years," Kleppner explained.
The Disney license ceased in the late 1990s, and over the next decade or so, Danforth Pewter had to find its place in the market again. It was a tumultuous time, when Fred and Judi had to make hard decisions, such as to lay off people, something they'd never had to do before.
The business settled into profitability around 2011 when Kleppner became CEO of Danforth Pewter,
although he'd been involved with the company since 2007.
Then in 2015, Kleppner had a different challenge when, after 40 years, Fred and Judi retired. Fred and Judi's partnership worked very well artistically, business-wise, and in their relationship. Kleppner said: "They've been married for a very long time—to this day, you see them together and they obviously just delight in each other's company, which is lovely." 
The workshop now continues without the Danforths at the creative helm, although they do still help the business. 
The Danforth Pewter Artisans
All Danforth Pewter's artisans are locals from Middlebury, Vermont, a small rural town nestled in the midst of rolling hills, agricultural land, farms, and tiny villages. Some of the artisans have worked for the company for 30 years, with many more having been there for over 20 years, Kleppner said. 
Everything is taught in-house. "We have now been in business for 45 years, and I'm pretty sure we have never hired anyone with experience working with pewter," he said.
In the workshop, two main metalwork techniques are used: casting and spinning. Bronze mold casting (lost-wax casting) has been around for thousands of years, and Danforth Pewter uses the technique for a small number of castings, Kleppner said. 
Spinning pewter is only a couple of hundred years old, and Kleppner likens the process to casting a pot on a potter's wheel. 
Spinning pewter is highly specialized. "We can train someone to cast, and to prep, and finish [a piece of pewter], in a week, but it does take months and months to train someone to spin pewter successfully. It's easy to rip the metal, or to have it deform, or to have it fold—there's lots of ways it can go wrong," Kleppner said. 
After a couple of years of practice and some specialized homemade tools, an experienced pewterer makes spinning pewter look easy."It's really magic when you see it," Kleppner said. "It's a smooth and very kind of rhythmic process."
The pewter is spun at room temperature; as pewter is mostly tin, it's soft enough to shape without heat. The pewterer places a thin pewter disc on a lathe, and as it spins the pewterer pushes against it using a metal tool with just the right amount of pressure so that it transforms from a disc to a plate, a bowl, an oil lamp, or a vase, for example. 
Or Danforth Pewter pewterers can spin a Jefferson cup. It's often thought that Thomas Jefferson designed the Jefferson cup, which is "almost true," Kleppner said. Jefferson had commissioned a silversmith he'd met in France, when he was ambassador there, to make him a set of silver cups. The silversmith made the designs, which Jefferson modified.    
Many Hands Make Pewterware
Just like Jefferson's cup, a Danforth Pewter product is the result of people working together. Kleppner explains that even as the company has grown—opened retail stores, and taken on big design orders or wholesale customers—"each piece is still made by hand and in fact made by a lot of hands." 
Making a holiday ornament is a good example, he says. Lead designer Timothy Copeland creates a design and then makes a model either by hand carving some jewelers wax, which was Judi's preferred technique, or modeling it on a computer and a little mill and then carving it out of a material called butter board. 
The carved design then goes to a mold maker. The lead mold maker used to be Fred and Judi's housecleaner. She learned the technique 35 years ago, when Judi needed help making molds, and she's been a mold maker ever since. The molds are made out of vulcanized rubber and are then passed to a caster, who sets the temperature and pressure and gets the mold ready to pour the molten pewter into it. The pewter is then cast and then removed. 
The pewter ornament is then passed to a prepper, who files away the line where the two halves of the mold come together and corrects any other imperfections. If there is anything missing, the pewter piece gets thrown back into the crucible to be melted and reused. 
From the prepper, the pewter goes to the finisher, who runs it through a process that gives the metal its characteristic look. Then if the ornament needs to be colored, it goes to the enameling room where someone applies the color by hand. In the assembly room, someone ties a ribbon on the ornament and then puts it in its box to be sent to one of the Danforth Pewter stores or shipped out for a customer order. 
Many hands at Danforth Pewter continue to pass on the Danforth metalwork tradition.
Regardless of whether artisans are a Danforth by blood,
pewterware looks like it will course through Middlebury and the Vermont valley for generations to come.