When Leanne Brown moved from Edmonton, Canada, to New York to get a Master's degree in food studies, she had no idea that her thesis would become a digital book that would go viral on social media, turn into a print edition so successful that she would be able to give thousands of copies away for free, lead to a book tour, and land her on the Forbes 30 Under 30 list for Food and Drink. She went to New York University to study the food stamp program, which at the time allocated $4 per day per person for food.
Brown wondered how it was possible to feed oneself well—and to feel good about cooking—on $4 per day.
"In my opinion, there were not enough resources to help people on low incomes to cook, and the ones that did exist were lackluster and sad," she said. "Everyone should have the opportunity to cook for themselves in a way that feels good, to go home and be excited to cook. I wanted to create something that would achieve that."
Her master's thesis was a recipe book, based on the budget of the food stamp program, that gave people creative and tasty recipes to cook. It also offered tips on how to shop on a low budget, how to gradually build up a pantry and a spice drawer, and how to plan for a week's worth of meals. After she graduated, she wanted the book, "Good and Cheap," to be freely available, so she put it online (obtainable in its final Kickstarter version at
LeanneBrown.com/all-about-good-and-cheap
). Someone posted it on Reddit, and it went viral.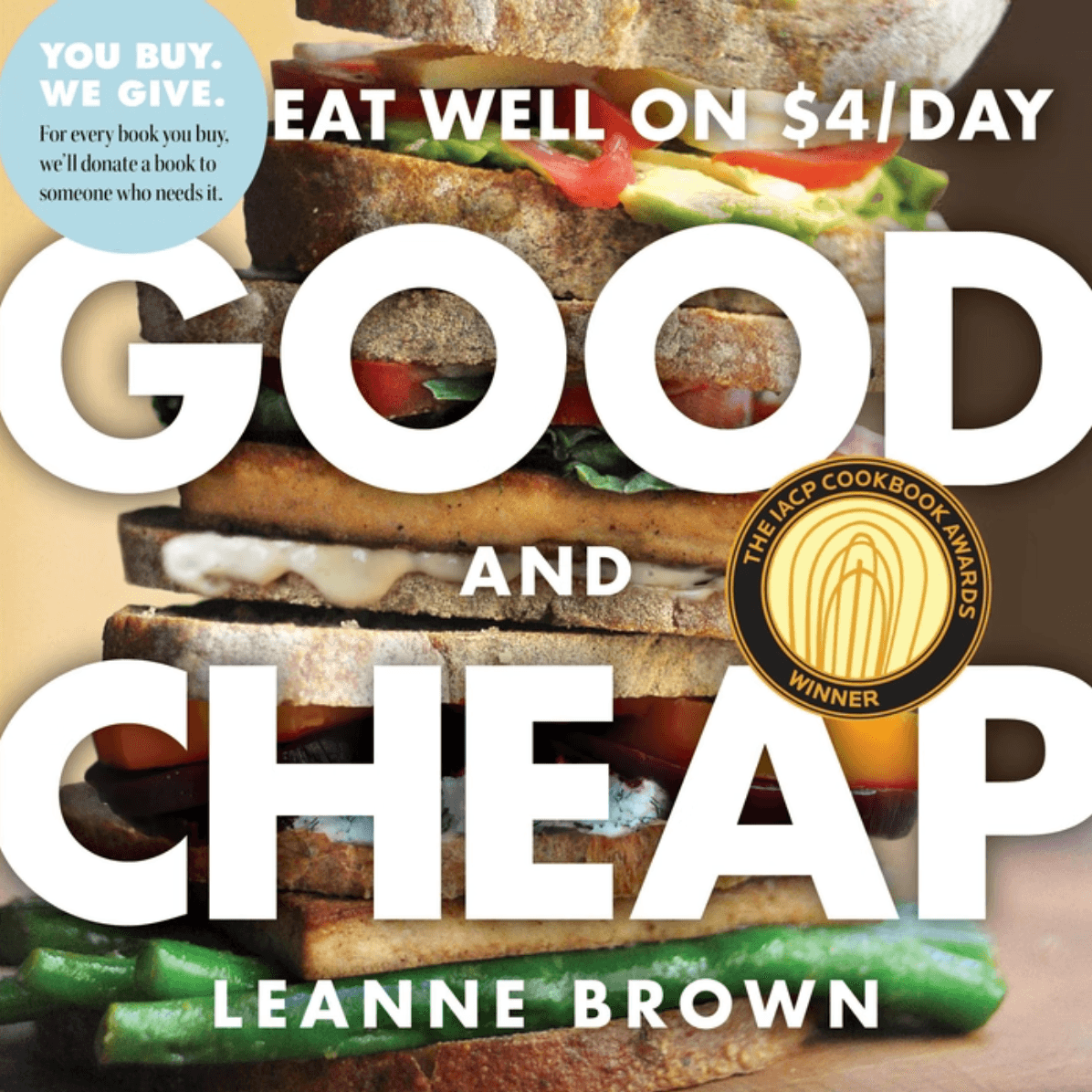 "I was really surprised," Brown said. "I got a lot of encouragement from people saying this was really meaningful to them, really helpful to them."
After an astoundingly successful Kickstarter project allowed her to print and give away thousands of copies, she went on a book tour, which turned out to be an essential ingredient for her second book, "
Good Enough
," published in January.
Brown met "beautiful, sweet, kind souls coming up to me at these events and saying, 'I love what you're doing, but I'm totally hopeless.'" This gave her the beginning of an idea for "Good Enough," in which she hoped to "reset people's beliefs in themselves." The book refutes the statement "I'm a bad cook," and instead offers an internal affirmation: "I'm good enough!"
"We ourselves are good enough—what you give, what you have to offer," Brown said. "And it will change. We are feeding ourselves in our real lives, and our real lives are changing all the time."
Her new book meets people exactly where they are, in dark times and fun times, on sad days and busy days, and teaches them how to believe that the food they prepare is, in fact, good enough.
Tips and Recipes
We're living in times when following the news closely can be exhausting and detrimental to our mental health. We're experiencing inflation, rising costs of living, and supply chain shortages. In the midst of hard times, Brown offers warmth, kindness, and smart guidance to help us feel good about cooking.

"My first actionable tip is to acknowledge that feeding ourselves when we don't feel good is hard," Brown said.

Planning, shopping, preparing, cooking, and serving can be very hard work. Brown advises making a list of what she calls "safe food."

"Foods that will stay down when your stomach is churning. It's a good place to start," she said. "You want to be kind to yourself the way you would be to a friend or a child who is really going through something. Try to get them something that they can enjoy and allow that to be enough."

She also advised rethinking the idea of comfort food: "Food is actually meant to be comforting. It's not a bad thing. When you need comfort, it's good to comfort yourself with food! You're not going to eat mashed potatoes every day. You're eating it now, when you need it. One step at a time."

One of the main challenges and anxieties surrounding cooking is cost. Brown has some advice. First, since meat is more expensive, she suggests making something else the focal point of a dish.

"Take an approach where, rather than meat being the center of the plate, it's a flavor," she said. "Do a stir-fry with a small amount of meat and lots of veggies and rice. Or a soup: Use a tiny bit of sausage, onion, garlic, add beans, greens, stock—you'll have a lovely stew, and it's so delicious and it has this lovely flavor from whatever kind of sausage you have. Use one sausage for a whole pot of soup."
Next, Brown recommends buying five or six ingredients per week: "You can have a different set of ingredients next week."
If you choose ingredients that work well together, you can mix and match them all week long to make different meals.
"Let's say you have chorizo sausage, white beans, greens, zucchini, and eggs. You can make a chorizo-bean soup with greens," she said. "Next, you can make pasta with the chorizo, greens, and zucchini. The next night an omelet, and the next a burrito, and next time fried rice."
It's a method that "simplifies your life and allows you to stay on budget."
Brown is excited for summer vegetables because "they get so cheap, and the vegetables that grow together cook well together, too." She loves zucchini because "it's so adaptable and so cheaply available—often your neighbor is trying to give it away!" She recommends shopping seasonally and making a big batch of a sauce or soup to freeze and have again later.
Brown has advice for some staple ingredients to keep on hand, including dried pasta, rice, and grains. She recommends canned beans and frozen fruit and vegetables: "They're really good value because they don't go off."
And instead of a pre-made sauce, "I love canned tomatoes because they make a great base—infinitely useful." Add garlic and seasoning, and you get a delicious sauce.
Most of all, be kind to yourself, Brown said. She hopes people can enjoy the process of cooking rather than worrying about the outcome: "Listen to the sound of the bubbling broth and the chopping."
"Don't despair," she said. "Just because something is expensive now doesn't mean it always will be. Save up for the occasional treat. If you love carrot cake, make sure you get to have it once in a while."