For the French, no summer is complete without cherry clafoutis. 
This classic
baked dessert suspends fresh cherries, sweet or sour, in a rich, flan-like custard, for a treat as simple to create as it is delicious. It's an
ideal way to use up an abundance of cherries, and makes a fabulous ending to any summer meal, served warm or cold. 
The original cherry clafoutis (pronounced "klah-foo-TEE") is from the
Limousin
region of central France.
Its name 
stems from the word "
clafir" from Occitan, a historic language spoken in the region
, meaning "to fill"—in this case, referring to filling the batter with cherries.
Limousin is an essentially rural region, with a baking repertoire of mostly simple, rustic recipes that rely on basic ingredients. Stone fruits are abundant and naturally make their way into local baked treats, including the clafoutis, by far Limousin's most renowned recipe. 
All you'll need to make cherry clafoutis are fresh, peak-season cherries and a few baking staples: flour, sugar, eggs, and milk. You'll be amazed at how quickly and easily it comes together. A basic, hand-whisked batter—you can think of it as similar to a crepe or waffle batter, but without any leavening agents—is simply poured into a baking dish over fresh cherries, then baked until puffed in the middle, browned and chewy on the edges, and tender and creamy in the center. 
Choose Your Cherries 
Which cherries are best for a clafoutis? 
In France, cherry clafoutis is traditionally made with sweet black cherries; sour cherries, such as the local
griotte
 or
morello varieties
; or the popular b
igarreau
cherries, a pale, firm-fleshed variety often used for baking, jams, and candies.
In North America, try tart Montmorency cherries or sweet 
Bing
cherries as a substitute. Bing cherries are one the most commonly available sweet cherry varieties in North America, and are great to bake with, as they are sweet and firm, and do not release much liquid.
Fresh seasonal cherries are best, but to make this recipe accessible year-round, you can also opt for frozen cherries. Make sure you fully thaw them, then drain them very well and pat them dry with paper towels to remove as much moisture as possible.  
To Pit or Not to Pit? 
Tradition says no. The original, traditional Limousin clafoutis recipe calls for leaving the pits intact, for more flavor. 
The pits contain
amygdalin
, the same active compound found in almond extract. The amygdalin is released into the clafoutis batter while baking, giving it a subtle, almond-esque flavor. Skipping the cherry-pitting certainly makes the preparation much quicker and easier, too. 
However, I feel that a dish laden with pits doesn't make for a very enjoyable eating experience, so I often take the time to pit the cherries regardless. If you opt to do so, slice each cherry in half, twist off one half, and remove the pit from the other half with the tip of a pointy knife.
The Best Vessel
Like most French flans, a clafoutis can be baked in most oven-proof shallow dishes, be it a pie dish, a casserole dish, or a cast-iron skillet. Just be sure that the edges go up at least 1 1/2 inches high.
A skillet will give you slightly browner, firmer, and crisper edges, since it retains more heat. You'll likely be able to slice the clafoutis with a knife, just like cake, and eat it with your hands. 
A classic ceramic or glass pie or casserole dish, meanwhile, will give you a more tender clafoutis, with an almost custardy center. You'll need spoons for eating.  
Variations
When making clafoutis at the peak of cherry season, I like to leave the batter plain and let the delicious seasonal jewels speak for themselves. But if you want some added flavor, a soupçon of kirsch (cherry brandy)—about a tablespoon—is a lovely addition to the batter. 
Once you master the classic cherry clafoutis, you can start playing around with other seasonal fruits and turn the recipe into a flaugnarde.
"Clafoutis" is in fact the name given to this dessert when made with cherries, while "flaugnarde" (also spelled "flognarde") is the name given when it's made with other fruits. 
In late summer, other stone fruits such as apricots, peaches, or plums work great, pitted and cut in wedges. In the fall, try this recipe using apples or pears, peeled and cubed.
Cherry Clafoutis 
This is a simple batter recipe, easily done by hand with a whisk. You should have a smooth batter with the consistency of heavy cream.
If the batter ends up being lumpy, you can simply pass it though a fine mesh strainer to get rid of any lumps. 
Once baked, the clafoutis should be soft and tender in the middle, with a puffy golden top and a satisfyingly chewy rim. You can cut it into slices, just like a cake, or simply enjoy it by the spoonful. Serve it plain or with a light dusting of powdered sugar or a touch of cream—and a little bowl for the disposal of the cherry pits, if you're opting for the traditional, unpitted-cherry route.
Makes one large, 8- to 9-inch clafoutis
1 tablespoon butter

1 1/4 cup milk (2 percent or whole)

2/3 cup granulated sugar

3 large eggs

1 tablespoon vanilla extract

1 tablespoon kirsch (optional)

1/2 cup all-purpose flour

1/2 teaspoon kosher salt

3 cups cherries, pitted or unpitted

Powdered sugar, for serving 
Preheat the oven to 350 degrees F with a rack in the middle.
Generously butter a 8- or 9-inch circular pie dish, casserole dish, or skillet. 
In a large mixing bowl, whisk together the milk, sugar, eggs, vanilla, and Kirsch, if using. Sprinkle in the flour and salt, and whisk until smooth.
Arrange the cherries at the bottom of the prepared dish. Pour batter over the top.
Bake for one hour. The clafoutis is done when puffed and brown on the edges. The center should still be slightly wobbly.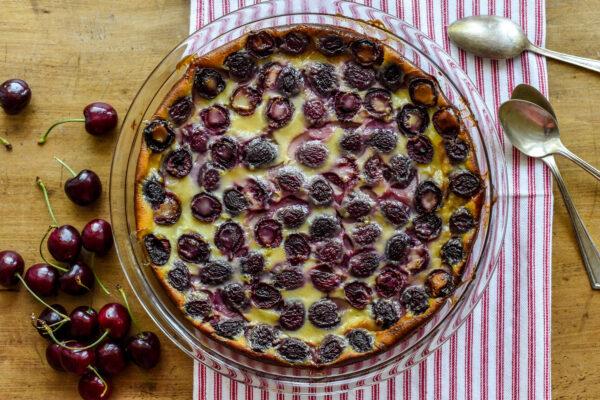 Transfer to a cooling rack. The clafoutis will deflate and firm up as it cools. 
Audrey Le Goff is a French food writer, photographer, and creator of the food blog, "Pardon Your French," where she shares recipes and stories from her beloved home country, France. She is the author of the cookbook "
Rustic French Cooking Made Easy
" (2019). She currently lives in Niagara, Canada. Follow her on Instagram
@pardonyourfrench