Riding high on his Hollywood career, celebrity hairstylist Gabriel Georgiou had a brush with death. The profound experience later led him to find his life purpose: to spread the message of true beauty, harmony, and peace.
The successful 53-year-old Greek Australian, who grew up in an Orthodox Christian family, has a star-studded career spanning more than 30 years. He has worked with Hollywood heartthrobs like Keanu Reeves, Drew Barrymore, Cate Blanchett, Jessica Biel, Chloe Sevigny, and Robert Downey Jr. to name a few. The same goes for Bollywood—the Indian film industry—where he's worked with some of the most celebrated stars: Deepika Padukone, Aishwarya Rai Bachchan, Priyanka Chopra Jonas, Kareena Kapoor Khan, Anushka Sharma, Katrina Kaif, Freida Pinto, and Kangana Ranaut.
"Beauty does have an impulse, a connection with the divine," Georgiou told The Epoch Times. "Look at all sorts of cultures and you will find that when there's faith in the divine, beauty and aesthetics are created—whether it's hair, clothes, or architecture, or living in harmony with the environment. But I find that that doesn't exist a lot today.
"There's a lot of ugliness out there too, and that's become a lot more prevalent … in the clothes, in the hair, in the makeup, and in what magazines are showing and what fashion is portraying as 'cool.' Things are just looking a lot more decrepit, ugly, or undone. So I'm doing a lot less of that stuff. My work is focused more on quality; it's become more based on beauty.
"I find that whatever I do, whether it is very avant-garde, or creative, or something simple, it's still going to be beautiful and harmonious."
Georgiou has also styled celebrities for the ceremonial red carpets of the Golden Globe Awards, Screen Actors Guild Awards, Cannes Film Festival, and more. Currently, he is working on his next Bollywood film, "Fighter"—a mega project starring Deepika Padukone, Hrithik Roshan, and Indian cinema's veteran actor Anil Kapoor.
By the late 1990s, Georgiou was among the top 10 hairstylists in Los Angeles. At this time, he was rich, successful, and a part of the social circle, attending some of the biggest parties. Despite all the attention and success, Georgiou felt like an empty shell.
"I wasn't happy though I was making a lot of money. It was all show off ... and ego and all this stuff," he said. "I just felt like my soul was withering away. I would talk to the universe when I was on my own. I would think, 'What do I have to do to be a good person? What is a good person? Where do I find the guidance to become a good person?"
Searching for His Life Purpose
However, this wasn't the first time Georgiou had such questions. During his teen years, he used to ponder why people fell sick, why death existed, and what was the purpose of life.

"I was seeking and searching generally all my life," he said. "I started reading a lot of books, Taoist and Buddhist books."

In his 20s, as he began to live independently and had more freedom, Georgiou took his search to find the meaning of life to a deeper level. He visited the monasteries of Mount Athos in Greece, which is home to Bulgarian, Russian, and Greek Orthodox monks. Here, Georgiou had the opportunity to live for four days and nights and had some really deep conversations with the monks.

"It was amazing, but I kind of felt that wasn't my path," he said. "That wasn't the ultimate truth that I was seeking."

However, he still continued to read different scriptures and tried to keep himself grounded. Meanwhile, he pursued his graduation in costume, makeup, and hair from Victoria University in Melbourne and started his hairstyling career in the 1980s. Georgiou eventually moved to Hollywood in Los Angeles, found himself lost in the materialistic life, and soon began to do recreational drugs at parties.

He said: "The reason why I started doing more of them was to deal with that superficiality, so that gave me a sense of euphoria. I was able to connect with that level of materialism and fakeness. I was getting into drugs to deal with the hard work, the long hours, the continual travel, and all the ugly energies around. It was just getting very disruptive."
The Out-of-Body Experience
In 2002, while working on a 10-day shoot for a catalog in the British Virgin Islands, Georgiou had a moment of truth and learned the "biggest lesson" of his life.

During those 10 days, Georgiou went cold turkey as he didn't take any drugs. However, halfway through the job, he fell extremely sick and was unable to get out of bed or style the model's hair; a makeup artist filled in for him. Recalling the near-death experience that changed his life forever, Georgiou said:

While I was in my bed, I remember leaving my body, I was very conscious and very aware of it. But I had no fear, it was very peaceful, and I felt complete freedom. I knew I was dying. I knew I was leaving my body. It was very strange, I could see a kind of light and I was moving toward it. ... I heard a very deep godly voice. It was very multi-dimensional, kind of like in the movies. So I can't explain it. And it basically said to me, 'You've lost your way, and we've come to take you away.'

I thought back. I know that I've lost my way, and I know that I've come here for a purpose and a mission. I just haven't found it yet. I said, 'Please give me a chance. I'm not ready to leave yet. Please give me a chance, another chance.' And as soon as I thought that—because I truly meant it from the depths of my heart—I started coming back into my body and my eyes opened, and then I started feeling better.

On his return to Los Angeles, Georgiou stopped doing drugs, and he said his "so-called friends" also disappeared from his life. Exhausted with everything, he considered becoming a monk. But he knew that one can "make leaps and bounds in society with the difficulties and temptations," and thought that monasticism wasn't his path.

With his humble heart longing to find the true purpose of his life, Georgiou believed in the ancient old saying "when the student is ready, the teacher would appear."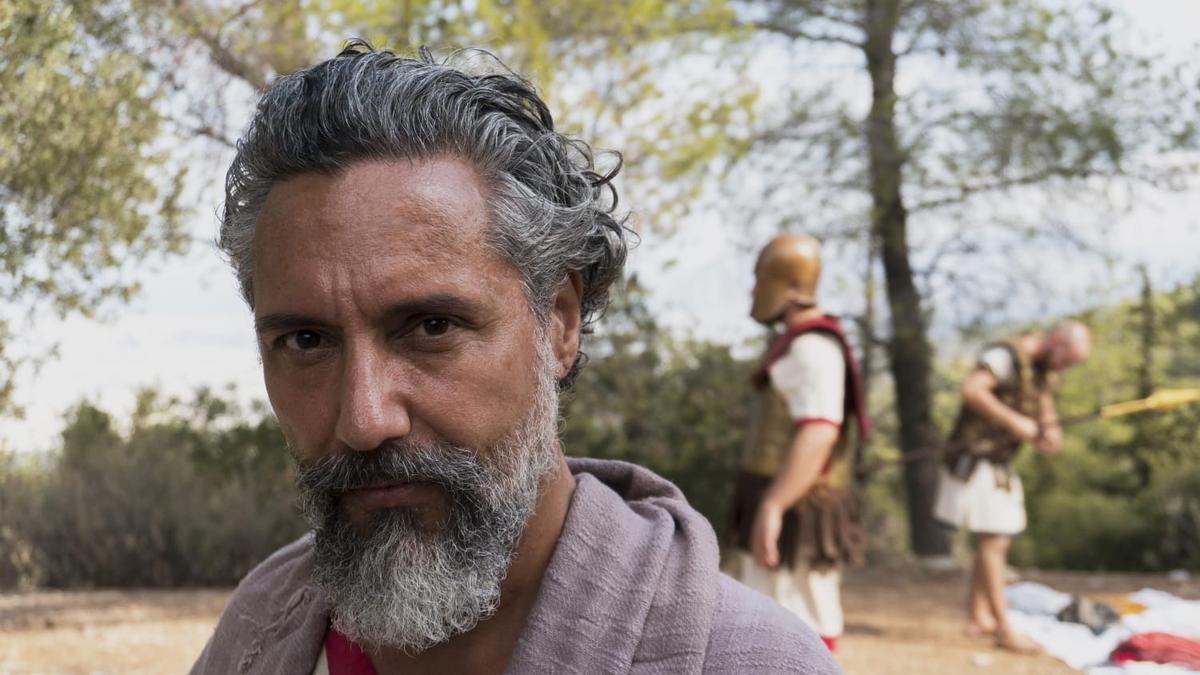 Discovering Peace and Positivity
Leaving everything behind, at the age of 32, he went back to live with his parents in Australia. For the first four months back home, he lived a "hermit" life. "It was kind of like rehab for me, in a sense, because all I did was eat, sleep, and read books," he said.

Soon he realized that he didn't want to go back to Hollywood and instead put down a deposit for an apartment in Brisbane, Australia. Feeling a bit relieved that he had now made a change in his life, he began to look for work.

After a big career overseas, on his first job in Australia, while working on a television commercial for a car company, the talented stylist struck up an interesting conversation with the make-up artist.
"She had a similar background to me, and she used to tour with the big rock bands all over the world. She also said that she had Crohn's disease, a very rare disease, for which there is no cure," he said, adding that she explained coming out of her health challenges after taking up a spiritual practice, called
Falun Gong
, also known as Falun Dafa.
"The first thing that really stood out to me was the fact that it was a practice of mind and body—I really liked that balance, because usually, it's one thing or another. I liked the fact that it was based on the universal principles of 'truth, compassion, and tolerance,' and the fact that it was free of charge," he said.
Impressed, Georgiou went to learn the five gentle, slow-moving
exercises of Falun Gong
in a park the following week. Recalling his experience learning the exercises, he said:
"It was really powerful; it was so intense during the second set of exercises. I was going to black out, everything started spinning really intensely. I felt like vomiting ... and took deep breaths. I understood that it was like something negative was coming out of me. And within a few minutes, I was fine. Everything vanished. I was like, 'Wow, okay!' I got up and finished the exercises. That's when I thought, 'Something really powerful is going on here. I need to know what this is.'"
Georgiou asked for the Falun Gong reading materials. It was 21 years ago.
"It has completely changed my life," said Georgiou, who recalls coming out of a lot of health issues like bronchitis, scoliosis, and depression.
"Because of scoliosis-related pain, it used to be quite painful before I could sleep at night. So, whenever I sat cross-legged in meditation the first few times and followed the exercise movements and got up, there would be the sound of 'crack-crack.' Since then I've never had the pain ever again, like it's just vanished. So there were a lot of amazing things happening.
"I always feel a sense of peacefulness and positivity," he said. "It's a complete 360-degree turn in my life."
Georgiou says he also found the answers to the questions that had been bothering him since childhood. "It was like pieces of a puzzle, but everything was gelling together finally, like, from every level, religion, energy, and the universe to man's purpose of being and his relationship with it all," he said.
Talking about the Chinese Communist Party's 24-year-long
persecution of Falun Gong
, he said he "couldn't believe it" when he first learned about these gross human rights violations. Georgiou says that a lot of governments are turning a blind eye to China due to economic gains.
"I really questioned it. I was like, why would something so beautiful and so helpful, be persecuted? It just didn't make sense. But when I looked back at history, I realized that Socrates, Jesus, Buddha Shakyamuni ... pretty much every one of them was persecuted. I was just blown away to learn that anyone who wanted to improve society spiritually was persecuted.
"I want the world to know about the benefits of Falun Gong and the reality of what is happening in China."
Strong Work Ethics
Reclaiming his health, life, and purpose, Georgiou was ready to venture back to a bigger industry to "be a positive light" toward people.

"I thought, 'Okay, I'm gonna go back to the industry and be a positive influence now, not a negative one as I was before and so lost ... because I know it is quite a dark industry,'" Georgiou said.

After working in Greece for a period of time, he moved to India where, in the past 11 years, he has worked with some of the biggest celebrities in the film and fashion industry. Since following the teachings of Falun Gong, Georgiou has been able to look through every challenge and navigate it with patience and compassion.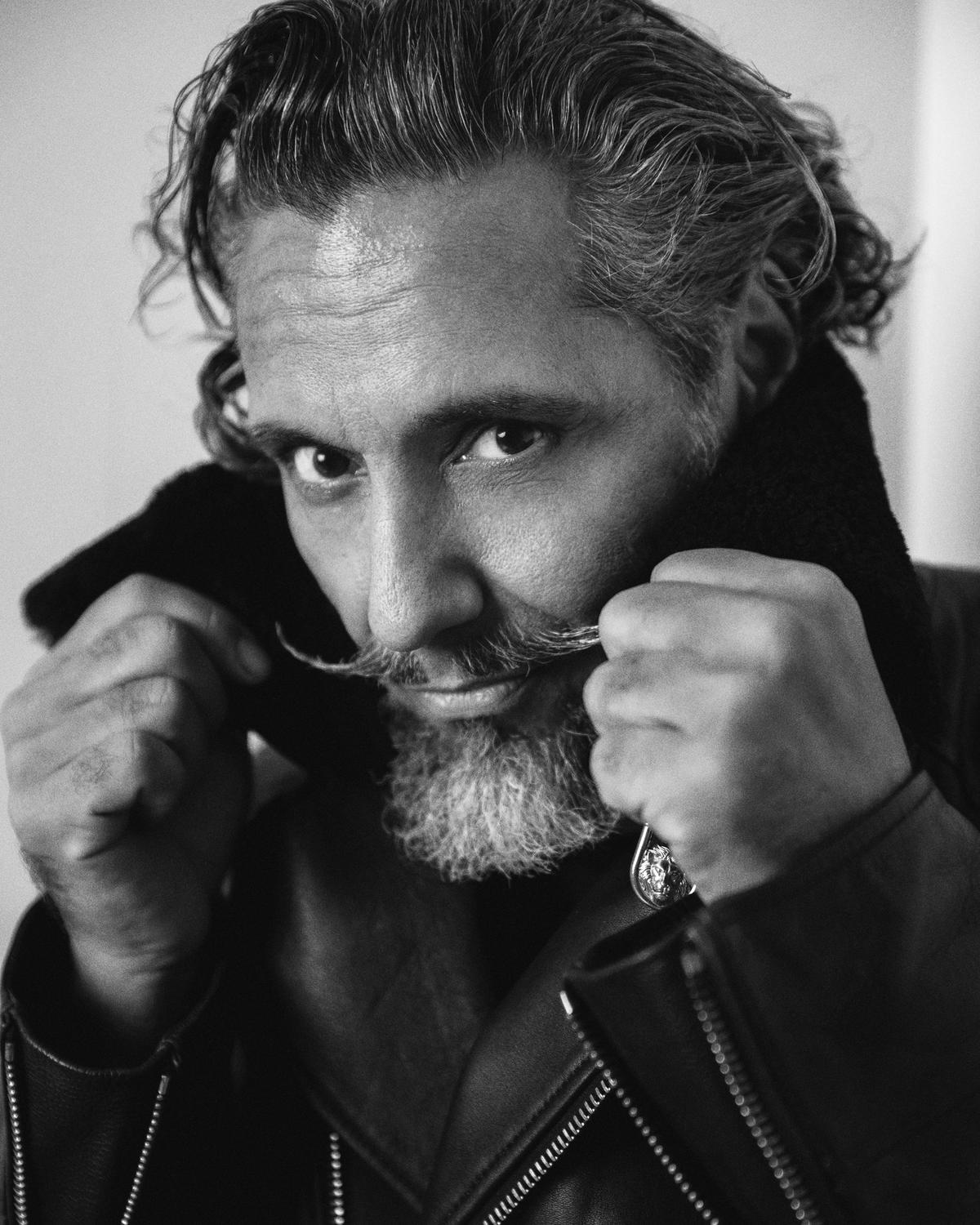 Georgiou's positive energy during a packed schedule is unmissable, and he says, people around him always compliment him for wearing a vibrant smile.
"Now I don't take things to heart or personally, I just look at things in a more understanding and beautiful way," he said. "Even if there are negative energies around me, I won't let them affect me. I will still try and be kind and compassionate, no matter what given situation I'm in—and I think people notice that."
Despite the long working hours and less sleep, Georgiou puts 100 percent into every job he takes up.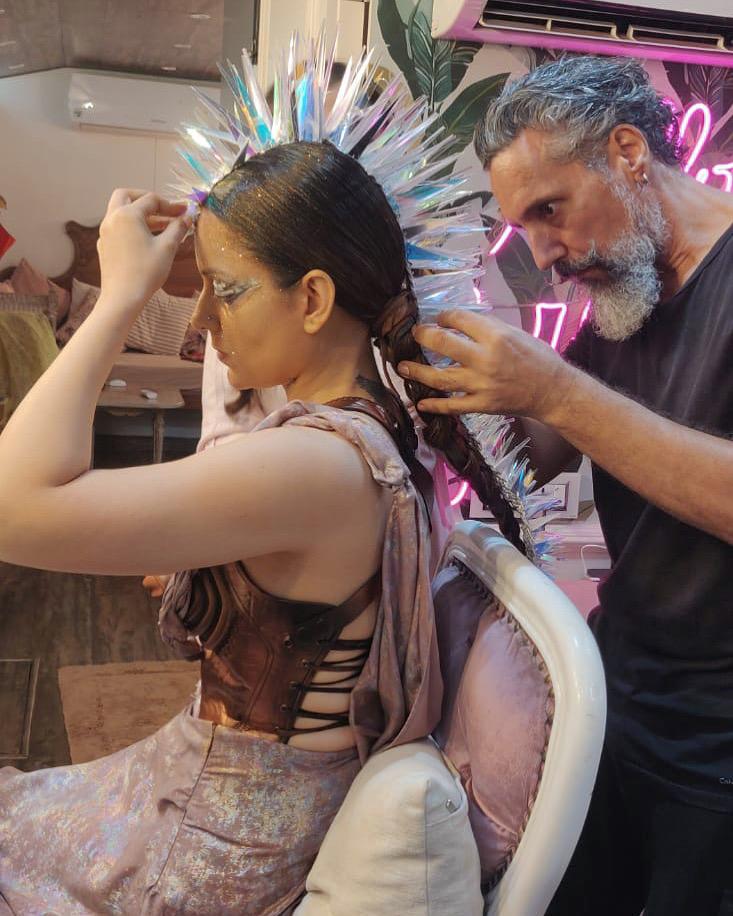 Apart from being a really successful celebrity hairstylist, Georgiou has quite a versatile personality and has even tried his hand at acting. He played an important cameo in the Bollywood movie, Dhaakad. He has also played the role of one of Socrates's main disciples in a documentary called "Socrates Secrets" from 
Divine Messengers
, an Epoch TV exclusive shot in Greece.
When the documentary was released, Georgiou said he was blown away and was left in tears since it showcased the profoundly moving teachings of Socrates.
"I wasn't even looking at myself," he said. "I was just happy to be a part of something that people can connect to and open their minds and find deeper meaning and purpose through it.
"What fulfills me now is working on stuff that can also be something important to humanity, that can create something beautiful, and that can help humanity in a certain way."
Arsh Sarao contributed to this report.