This soup was a special request from a friend who ate a cauliflower soup I made a few years ago.
One fine day she sent me a photograph of my cauliflower soup and said they had tried to make cauliflower soup over the years, but it was never as good as mine.
And could I please post a cauliflower soup recipe?
This message touched me a lot. She had remembered my soup from so long ago? It was almost unbelievable, but she had the picture to prove it.
From the photograph and my own poor memory, I reconstructed that soup, and updated it a bit to reflect my evolving cooking style, as well as what was ripe in the garden.
Enter purple peppers. The early pepper has a mild, unobtrusive flavor that pairs well with cauliflower.
Of course, I understand not everyone has access to purple peppers, so you can easily substitute with any color of bell pepper you like. 
The balance of vegetables in this soup works really well. It includes onions, garlic, turnips, and a few greens, in addition to the cauliflower and peppers.
A variety of pleasing savory flavors—from butter, white wine vinegar, salt, black pepper, and lemon—compliment the abundant vegetables.
To sum up, this is a simple cauliflower soup recipe that packs a savory, lip-smacking punch.
A Cauliflower Soup Recipe That's Elegant Enough For Guests
Finding myself with an abundance of early purple peppers this summer, I was excited to try this soup on dinner guests. I feel it is elegant, and light enough as a first course.
It was a hit.
In particular, our guests loved the texture of the soup.
I had used my chef's knife to chop the vegetables into small pieces, then after the cauliflower is cooked, I used my immersion blender to blend about two-thirds of the soup. (You can also use a regular blender.)
This turned what would have otherwise been a sea of vegetables pieces suspended in water, into a more palatable texture, with a satisfying bite remaining for each spoonful.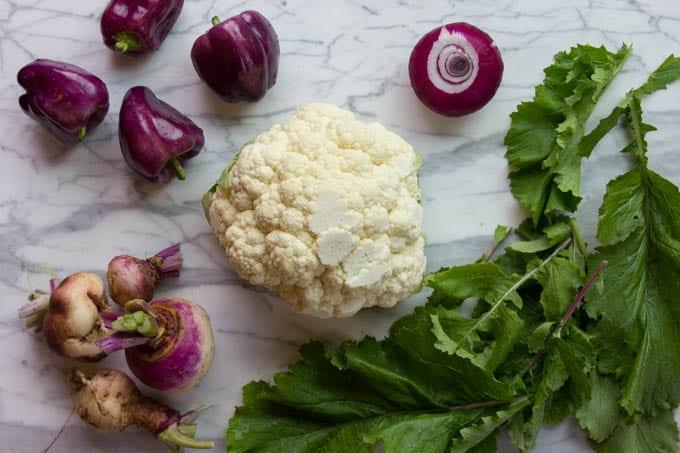 How Do You Make Creamy Cauliflower Soup?
Let's talk for just a minute about the cashew cream in this soup.
Cashews are a fantastic way to make a soup creamy without adding cream. They have a naturally buttery, sweet, and salty taste.
It is really fun to see how easy it is to create the cream in your blender as well. It even gets foamy.
If you prefer, you can also use a quarter cup of heavy whipping cream to make your cauliflower soup creamy. I made it this way the first time, and can attest to the fact that it is great both ways. 
To make this a vegan cauliflower soup, all you need to do is use the cashew cream option, and replace the butter with olive oil.
This recipe is quick and straightforward to make. I really hope you enjoy it!
Recipe For Cauliflower Soup With Purple Peppers And Cashew Cream
Prep Time: 20 minutes

Cook Time: 25 minutes

Total Time: 45 minutes

Servings: 4 servings

Calories: 212 KCAL

Author: Andrea at Buttered Veg

Ingredients

You will need an immersion blender or a regular blender to make this soup. To make this vegan, substitute the butter with olive oil.
1 tablespoon olive oil
1 tablespoon butter
3 cloves garlic, minced
1 red onion, finely chopped
2 cups purple pepper, minced (substitute with any mild bell pepper)
1 tablespoon white wine vinegar, or white balsamic
8 cups cold water
6 cups (large cauliflower), chopped into half-inch pieces (6-8 cups)
1 turnip, peeled and chopped into half-inch pieces (1 cup) (optional)
1 teaspoon Himalayan pink salt, or to taste
½ teaspoon black pepper
30 raw cashews, soaked and ground
1 cup warm water
2 cups turnip greens, or use radish greens, arugula, or kale, chopped into half-inch pieces
½ lemon, juiced, or to taste
Instructions
Prepare the Ingredients
Soak cashews in warm water for 20 minutes or more. Blend well in a blender until you have cashew milk. Strain through a fine mesh strainer, and set aside until needed.
Complete the rest of your prep for this soup. Mince the garlic, onions, and peppers, and keep them in separate dishes. Wash and chop the cauliflower. Peel and chop the turnip. If you have turnip greens, they can be used in the soup, or you can use radish greens, arugula, or kale. Prepare them now or later. You won't need them until the last step.
Cook the Soup
Heat olive oil and butter in a large soup pot. Add garlic and sauté for a minute. Do not allow it to brown. Add onion and sauté until translucent. Add peppers and 1 tablespoon vinegar, and sauté until peppers are just soft.
Add water, cauliflower, turnip, salt, and pepper, and bring to a boil. Reduce heat and simmer, uncovered, for about 15 minutes, until the cauliflower and turnip are soft and fully cooked.
Use an immersion blender to blend two-thirds of the soup. Alternately, remove a portion of the soup and blend it in a regular blender. If using the blender, be sure to cool the soup first. If the soup is still warm, there must be room for the steam to escape through the lid, or it could blast open.
After blending, add the cashew milk, and simmer another 5 minutes. Turn off the heat. Taste, and adjust for salt. Add greens and fresh lemon. Taste again and adjust for salt and lemon. Allow the greens to cook in the retained heat of the soup so they are still green and slightly crunchy when you serve the soup.
Nutrition
Calories: 212kcal | Carbohydrates: 24g | Protein: 7g | Fat: 12g | Saturated Fat: 3g | Cholesterol: 7mg | Sodium: 712mg | Potassium: 888mg | Fiber: 6g | Sugar: 6g | Vitamin A: 3425IU | Vitamin C: 241.8mg | Calcium: 136mg | Iron: 2.3mg