CALISTOGA, Calif.—Tucked away in the winery fields of the Napa Valley in California is a 13th-century Tuscan castle—or so it appears.
A winding road lined with Italian cypress trees leads visitors closer to the castle, revealing its crowned towers. Upon arrival, one realizes a fortress of grapes surrounds the stronghold.
Crenellated with gaps and indentations, the sturdy walls protect the wine and visitors within.
It's called Castello di Amorosa, or the Castle of Love.
Dario Sattui, owner of V. Sattui Winery and Castello di Amorosa, was born and raised in the San Francisco Bay Area. After a trip to Europe, he was inspired to design and build a medieval castle that was as authentic as possible. It was also to honor his Italian heritage.
A Passionate Hobby
Sattui, 79, is a fourth-generation winery owner after his great-grandfather immigrated to San Francisco from Italy in 1882.

As a child, Sattui loved to draw and design architecture like football stadiums and movie theaters. He also built a doghouse, a rabbit hutch, and a chicken coop.

As he grew older, his passion for old architecture grew too, especially for medieval and Renaissance architecture.

In 1989, he took a hiatus to Italy and lived in Rome for six and a half months. On the weekends, he often drove out to the countryside in a rented car and went to abandoned homes, churches, palaces, and castles.

"I always had a backpack with a hammer, camera, sketchpad, and a measuring tape. And I would sketch them, especially the interiors, and measure them. I'm just passionate about them," Sattui told The Epoch Times.

He explained that the hammer was to help him open doors or windows. He would go in, sketch to his heart's content, and then hammer the entrances back into place.

"When I couldn't get into certain castles, I pretended I had money, and I'd dress up in a suit and tie like a real estate broker and say I'm interested in buying the castle," he recalled. "So I got in a lot of places that way."

He said he tries to stay in Italy for six to eight weeks every year, but this year he cannot due to COVID-19.

Over time, he met many artisans who would eventually help him build the castle in Napa.
'Incurable' Fascination With Old Buildings
After returning to California after six and a half months, Sattui ended up buying his first small castle near Florence, Italy.

"The following year—I'm nuts. I mean, I have an incurable disease, I know it—I bought a monastery outside of Siena," he said. "And I eventually sold the [Florence] castle—took me 10 years to sell it—[and] fixed up the monastery."

The monastery is over 1,000 years old, with a courtyard, a deep well surrounded by buildings, and a church.

From there, he would take trips to see the villages and farmhouses whenever he went to fix it up.

He also bought a Medici palace in southern Tuscany, Italy, built by Grand Duke of Tuscany Ferdinando I de' Medici, who conquered the Republic of Siena in 1586.

Three years ago, he bought a castle in France, and he is also a co-owner of a late-9th-century castle hotel. He said he almost bought several other places because it is hard for him to turn down beautiful places.

The only other property of his that makes wine is the Medici palace. He has caretakers at all his other properties, and he rents rooms out at the castle hotel.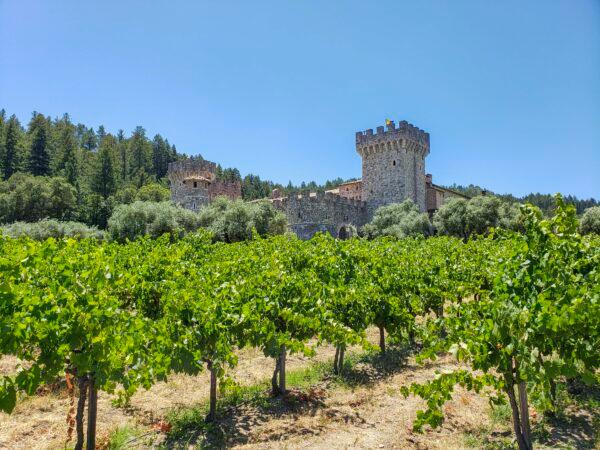 Building His Dream Castle
Castello di Amorosa is his second winery. Proceeds from his first winery, V. Sattui, in St. Helena, California, helped build the castle.

About 30 years ago, he started doing research out of passion and bought 60–70 books on related topics.

"Back in the late '80s and in the '90s, I took thousands of photographs of railings, walls, chimneys, of everything, you name it," he recalled.

Eventually, he collected all the research he needed to start on the castle. In 1993, he finally purchased the 171-acre property. He finished designing and building the castle in 15 years, opening it to the public in 2007.

Spanning three acres or 136,000 square feet, the castle consists of eight levels with four underground and four above. There are five towers and 107 distinctive rooms, 95 of which are used for wine making.

A lush, picturesque moat surrounds the castle's base. Visitors cross a drawbridge to enter the castle.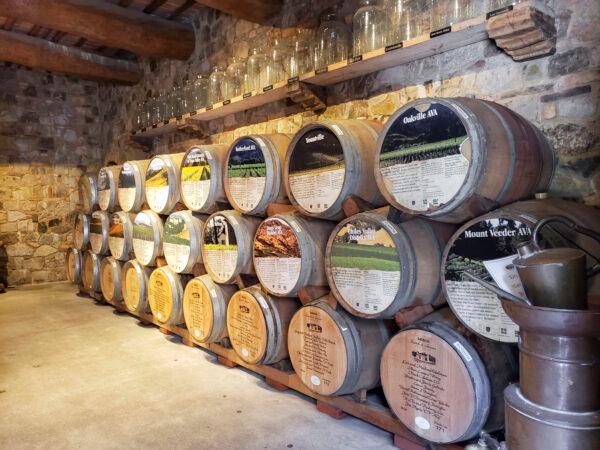 Sattui wanted to make it as authentic as possible, so he built it using the techniques people would have used centuries ago.
"You can't build an old building with new materials, so the bricks are several hundred years old, all handmade; they all have imperfections. All the lights, fixtures, doors, the hardware on the doors, the gates, and all the windows...they're all handmade," explained Sattui.
He had up to 17 people chisel the basalt stones by hand, and he used grout—a mixture of lime, sand, and water—to hold the stone and bricks together like people did in the Middle Ages.
He said they shipped over 200 containers of materials (mostly bricks) from Italy, Austria, and Romania. In total, about 850,000 old bricks were shipped from Europe. Some of the stones are also from Napa.
When trees on his property fall, the wood is used to make the ceilings and rafters. The castle walls also have narrow slits like the ones used for shooting arrows at enemies.
Frescoes on the walls of the Great Hall provide a glimpse into a centuries-old Italian lifestyle. The 2,000-pound doors at the hall's entrance are hand-hewn from Italy.
Other featured rooms include the main tasting room, a church, a deep well, an armory, a knight's room, and even a torture chamber.
"All the instruments [in the torture chamber] are replicas except one. We forged all the iron over the open fire," said Sattui. "We have one, it's called the Iron Maiden, it has spikes inside, that's over 300 years old."
His favorite room in the castle is the Great Hall.
"The fireplace in there is more than 500 years old; it's beautiful," he said.
Another favorite room is the 12,000-square-foot Grand Barrel Room, which is temperature-adjusted to age wines. The ceiling is 14 feet tall and has 40 ribbed cross vaults.
"It's a beautiful, beautiful room," said Sattui.
He said people come for the architecture and good wine. The castle has a wide variety of wines for sale, with La Fantasia being the top seller. It also sells two types of non-alcoholic grape juice.
All of Castello di Amorosa's wines are sold either at the property or online. They are never distributed.
Every year, 425,000 people normally visit his castle, making it the second most visited winery in California, said Sattui. His first winery sees about 500,000 people a year.
Due to the pandemic, they were closed for three months, and their business has tanked.
"Both of my wineries sell 100 percent of their wine directly to the consumer," he said. "We've been fairly successful doing that. So when we had to shut down, all those sales are lost."
He said they are doing some telemarketing and online sales, but it is still a fraction of what they were doing before.
Like many businesses, the winery is having a horrible year, but he believes they will pull through.
"I really don't have any debt, so we'll survive it," he said.